Author: Chef Caitlin Howington
There is something magical about a steamy cup of chai, the blend of spices and vanilla aroma, especially on a chilly winter day. And what I love even more is a chai tea latte; when the frothiness of the milk unifies with the spices.
This month I'm celebrating chai in all its glory. Every brand blends it a little differently, and if you're a chai junkie you could even go so far as to make your own blend. I'm celebrating it the best way I know – as an ice cream sandwich.
The key for me was for the outside cookie to not overpower the ice cream, to let the chai shine through. A lacey Florentine cookie is just the ticket – soft, chewy, buttery, with a blend of pecans and oats to compliment the ice cream.
And what to listen to while having these delicious little pockets of spicy autumn love? Something warm and spicy..maybe with a little sitar to bring in the eastern influence of chai's origination. A Beatles track from Sgt. Pepper is perfect: "Within You Without You, " written by George Harrison.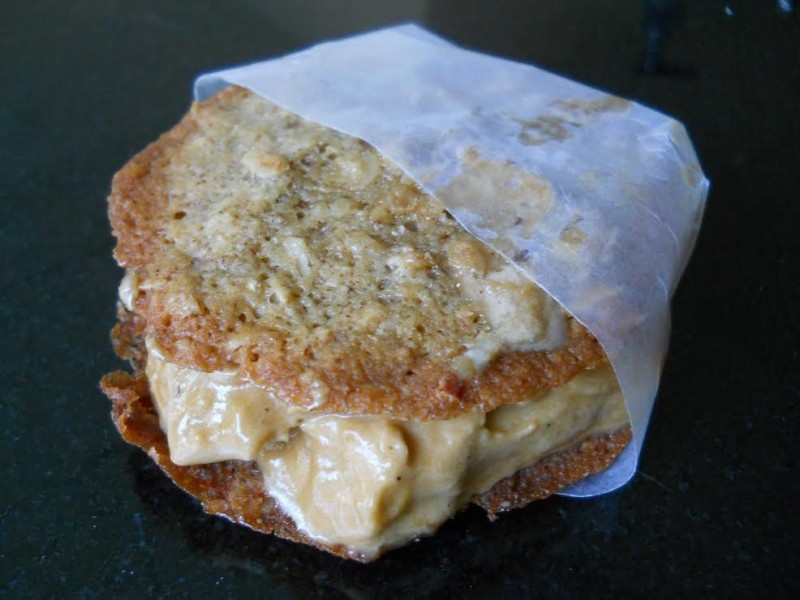 Chai Ice Cream
-3 of your favorite chai tea bags
-3 cups cream
-1 cup whole milk
-1/2 cup sugar
-1/4 cup brown sugar unpacked
-6 egg yolks
-1/2 tsp salt
In a medium saucepot, bring the cream, milk, chai tea, and half the sugar to a boil. Remove from heat, cover, and allow it to steep for 20 minutes. Return the mixture to a boil. Remove from heat and temper with remaining sugar, egg yolks, and salt. Strain. Cool and then chill in fridge for at least 4 hours. Spin in ice cream maker according to manufacturer's instructions. Freeze for at least 2 hours.

Pecan Florentine Cookies
-3/4 cup oatmeal
-3/4 cup ground pecans
-1 ½ cups brown sugar
-2 tbsp. all purpose flour
-1/4 tsp salt
-2/3 cup melted butter
-1 egg, beaten
-2 tsp vanilla
Preheat oven to 350F. Mix oatmeal, ground pecans, brown sugar, flour, and salt. Stir in butter, then add egg and vanilla.
On a parchment lined cookie tray, drop batter by tablespoon, with 2 inches of space between. These cookies will spread! Bake until golden, about 8 minutes. Allow to cool.
To build the ice cream sandwiches:
Working quickly, scoop about 1/3 cup of the ice cream onto an upside down cookie. Place another on top, smoosh lightly, and place in the freezer. Work through until all the ice cream has been used. If your ice cream is rock hard, stick it in the fridge for about 10-15 minutes or until it's easier to work with. And if it's too soft and runny, stick it in the freezer till it firms up.