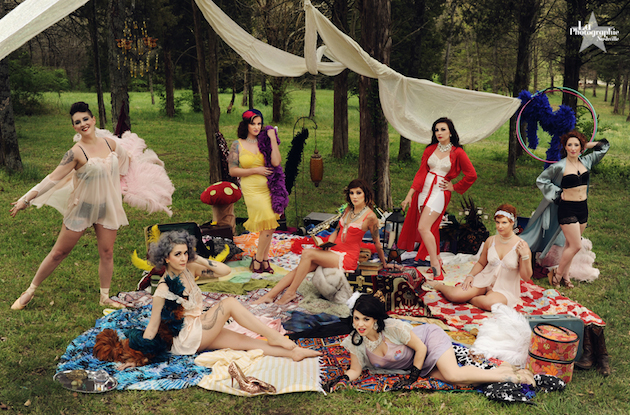 Photo courtesy of La Photographie Nashville
Author: Shap
Music City Burlesque is a collection of 8 of Nashville's Best Burlesque performers which include Lux-o-Matic,Rose Hips,Freya West, Kinetic Kristen, BeBe McQueen, Bettie B. Cupp, Shan DeLeers and Truvy Trollop. This cast of gals has collectively made thousands of performances across the nation and performed at events such as Katy K's Girlesque Shows, The Bonnaroo Music Festival, The New York Burlesque Festival, Miss Exotic World, The Palace of Wonders, and Viva Las Vegas.They have shared the stage with stars such as Tempest Storm, Dirty Martini, Panty Raid!, Jamie Deadly, Starshine Burlesque, Kitten DeVille, Kitten on the Keys, Rev. Spooky LaStrange, Elvez, Scotty The Blue Bunny, Murray Hill, Jo Boobs, Torchy Taboo, Modern Gypsies, Fluffgirl Burlesque Roadshow, Southern Culture On The Skids, The Enigma, Reverend Horton Heat and The Yard Dog Roadshow just to name a few.
Aside from their amazing Burlesque talents, these ladies really care about their home town, Music City, and whenever someone is in need to raise money for their charity or cause..the Burlesque ladies are always willing to lend a helping hand. I just love performers who use their talents for both entertainment and the greater good..kudos to the ladies !
I recently had the privilege of interviewing these ladies and the ladies really had my recipe wheels turning. So, I decided to make their feature a four part featuring with four sinfully delicious recipes inspired by these talented divas. Music City Burlesque encompasses 8 very talented, individually unique performers and I really just couldn't sum that up with one dish. 🙂 Here's part one of what the ladies had to say about all things Music City Burlesque….
Shap: What is Music City Burlesque and how did the group get started ?
Freya: Lux is our founding member, so I'll let her take the starting part, but Music City Burlesque is a collective of eight variety performers, mostly specializing in burlesque entertainment. I like to say burlesque is low brow entertainment for high brow people – silly, flashy, but there's a lot more to it than striptease if you're looking for it. In addition to burlesque, a few of us perform with fire, hooping, aerial and belly dance. We put on four extravaganza shows each year, curating the best local and regional performers into a ball of sparkly magic. We also do smaller local shows, rent ourselves as showgirls for hire, and do charity events, like our summer car washes.
Bettie: We throw the term "Sparkle Sisters" around a lot in sort of a joking way. But for me, this group of girls truly are my Sparkle Sisters. Because, even though we can sometimes go for weeks without seeing one another, we always pick right back up where we left off and it's as if no time has gone by. And, when you are in a bind, in need of some serious help or are going through a serious life change; they are here to support and guide you through it- adding a dash of sparkle along the way. We learn from each other, we grow with each other, we fail with each other and we shine with each other. Sisters is definitely the appropriate term.
Lux: Music City Burlesque is Nashville's premiere burlesque troupe, featuring Lux-O-Matic, Freya West, Rose Hips, Truvy Trollop, Shan de Leers, Kinetic Kristen, Bebe McQueen, and Bettie B. Cupp. …saving the world one pastie at a time! Music City Burlesque was born in the winter of 2007 formed by former Panty Raid members, Lady and the Tramps members, and freelance performers. Collectively there were 18 us and it was quite a circus!
Shap: Who were the biggest influences in each of the members performance development ?
BeBe: I think I can speak for a couple of members of the group when I say that my main inspiration for becoming a burlesque performer was our own Freya West. I signed up for one class at Delinquent Debutantes and she made me feel so confident and prepared that I put together an audition for MCB and I have been in every show since then. Once I started to learn more and see other performers from other parts of thee country, the most inspirational ones for me have been less traditional artists. Sammich the Tramp from St. Louis is a vaudeville masher and punk rock hobo of sorts that makes me ANGRY she's so good at what she does. Perle Noire is another favorite. That woman is made of liquid muscle and nobody movees like her. I also feel really inspired by the male burlesque performers that are taking over right now. . . Especially Russell Bruner and also the Stage Door Johnnies- Ray Gunn, Jette Adore, and Bazuka Joe. I feel like those guys are really flipping the script for the whole art of Burlesque right now. Really turning things on its ear.
Freya: I started burlesque while living in Chicago studying with Michelle L'Amour. Her incredible timing, poise, and downright dirty dancing still awes me when I watch her. I absolutely adore Trixie Little and The Evil Hate Monkey, a married duo who use acro circus and aerial alongside striptease to create wholly unique acts that are as breathtaking skill-wise as they are gut-busting hilarious. This sounds super cheesy, but I'm also extremely influenced and honored by what's happening with the other members of MCB. Last show Bebe did a fantastic stocking peel and then made the stocking a hand puppet and sang with it. We feed off the sexiness and silliness of each other, and it makes for a beautiful, sometimes batshit, brew.
Bettie: My first real influence came from Bettie Page. After learning she was from my home town, I became interested in learning all things Bettie. I love and particularly admire her naughty innocence, her provocative adorableness; her ability to exude raw sexuality while smiling a sweet smile or simply winking at the camera. My name is a tribute to her, as is much of my on-stage persona.
My desire to actually perform Burlesque came after attending Eric Powell's "The Goon's 10th Anniversary Show" at Cannery Ballroom in 2009. There, I saw Lolly Pop, Lux-O-Matic and Larry the Panty Boy perform their Siamese Twins number and I was IN LOVE. There were a lot of other amazing acts there that night, but theirs is the only one I remember because I was so entranced by them. To this day I remember how that moment made me feel and it gives me chills. I've been fortunate enough to be able to share the stage with Lolly once and Lux more times than I can count on every pastie I own. I'm also continually honored to share the stage with my fellow MCB members. We challenge each other with each new show and try to bring our best with every performance we do. What an honor to perform with such talented people.
I also attribute a great deal of who I am as a performer and as a person to the lovely Freya West. More than a year after seeing Lolly & Lux perform I finally mustered up the labes to take my first Burlesque class and was genuinely surprised with how approachable and absolutely fucking awesome Freya was. After a lifetime of being intimidated by the female sex, especially the confident, pretty ones; it was refreshing and liberating to come to know and adore her as not only a performer but as a friend as well. She opened the door for my freedom to love and revere my body freely as well as love and praise other bodies as well. Through many classes with Freya at Delinquent Debutantes I learned and experienced the art and technique of Burlesque as well as got to know and love so many wonderful women who are now some of my closest friends. After my Student Body Showcase I performed with MCB for the first time at their First Annual Guilty Pleasures Show and the rest is glitter coated history.
Rose: I started studying tribal fusion belly dance in 2006 where I was introduced to Rachel Brice and Zoe Jakes, who basically created the style that I was learning. I started traveling around the country to take weekend intensive workshops from the best. So my major influences were Rachel and Zoe of course, Heather Stanz and E-Chan & Mila. The deeper I got into the more I found myself wanting to incorporate more styles into which is when I found my ultimate ' dance hero' Anasma Vuong-Rajau from France. The first time I saw her perform she danced a remarkable story of a woman who found her love, got married, had a child, watched her child grow up, felt the pain of her child leaving her, moved through time as her body aged and died. I felt like I experienced every human emotion in 5 minutes and it left feeling stunned and hungry. I wanted to be able to make people feel what she made me feel. What she did was a mixture of a style she created called liquid fusion belly dance and theatrical dance. I have never been the same since that moment.
Lux: Lili St Cyr has always been my favorite and I studied her films like a cat when I discovered burlesque back in 2006. However I give most of my credit to Elvis…. "I'm not trying to be sexy…it's just my way of expressing myself when I move around"
Kinetic Kristen (Kiki): This is a difficult question for me because I truly cannot put a finger on one or two people as my biggest influences! I have a dance and color guard background. Both bled directly into hula hooping, which I started in 2008, learning moves via Youtube and weekend workshops with other hoopers such as SaFire and Caroleeena. I began aerial training (tissu and trapeze) in 2010 with Molly Graves of the Aerial Fabricators and she is a HUGE influence and encouragement for all of my circus performance development. My work with MCB started in 2010, with a couple of guest spots and then I was invited to join in 2011, when it became Freya, Rose, Lux, Bebe and myself. Style-wise, I pull from EVERYTHING. The other girls in MCB – examples: I was totally channelling Lux-o-Matic in my Diamond Dogs hoop act, I picked up some hip-hop belly dance style from watching Rose Hips and shimmies for days from Shan and Freya; shows like League of Extraordinary Dancers that showcase skill and style; and musicians such as Freddie Mercury, David Bowie and Trent Reznor.
Stay tuned for more on the ladies of Music City Burlesque in part two of their interview…
Today's recipe feature has been inspired by the lovely and talented, Lux-o-Matic, who says when it comes to food ,"Italian food is the way to my heart, but my own personal specialities are: Lux-O-Meatloaf,Chicken Curry, jalapeño cornbread, carrot cake with cream cheese icing topped with toasted coconut. " Yum..I say ! I decided to make a light and absolutely delicious Italian dish inspired by Lux called Pulchritude Tomato, Basil and Bocconcini Pasta Salad filled with fresh tomatoes, basil and Bocconcini cheese..this is one Italian pasta salad you won't soon forget !
Pulchritude Tomato, Basil and Bocconcini Pasta Salad

Ingredients
– 1 Pound Dried Pasta of choice
– 1/3 Cup Extra Virgin Olive Oil
– 1/4 Cup Fresh Basil, chopped and one leaf cut into ribbons for decoration
– 1 Cup Red Cherry Tomatoes , cut in halves
– 1 Cup Yellow Cherry Tomatoes, cut in halves
– 2 Cloves Garlic, minced
– 1 Tablespoon Freshly Squeezed Lemon Juice
– 1/2 Teaspoon Sea Salt, plus additional for your taste
– 3 Tablespoons Freshly Grated Parmesan Cheese, plus extra for garnish
– 1 cup Bocconcini ( Italian Mozzarella Balls) , you can chop them or serve them as small balls if you like
– Freshly Ground Black Pepper
Directions
1) Bring a 6- quart pot two-thirds full of lightly salted water to a boil over high heat. Add the pasta, decrease the heat to medium-high and cook, stirring occasionally, for about 10 minutes, or until al dente.
2) While the pasta is cooking, in a large bowl combine the olive oil, basil, tomatoes, garlic, lemon juice and the 1/2 teaspoon sea salt. Add the 3 tablespoons Parmesan and the bocconcini and stir to mix well.
3) When the pasta is ready, drain it in a colander and shake it dry. Add the cooked pasta to the tomato mixture and toss thoroughly to coat the noodles evenly. Season with salt and pepper.
4) Divide among 4 large plates and top each with some Parmesan and a few Basil ribbons. Serve.