Author : Chef Caitlin Howington
I'm craving springtime.
I'm craving the warmth of sunshine on my face. All the mystique of the holidays is long gone and now I'm just left with the doldrums of winter. The naked trees look so lonely against the grey sky – occasionally covered with pure white snow that quickly melts away, leaving the branches just as lonely as before. The snow that looked so beautiful as it fell has turned to a grimy black slush that traces the roads.
I ache to see green grass poking up unevenly through the dirt and slush – valiantly making its way through. Every day I scan neighboring gardens for budding yellow tulips and violets – maybe even a glimpse of a robin fluttering by. Soon, there will be an abundance of green vegetables in season. Ramps, asparagus, peas, fresh herbs, and artichokes will all sing with flavor.
And in my daydreams of springtime, I wanted to make something that bursts with the color that I long for. I almost felt silly making these, it's as if a 6 year old made an ice cream sandwich. Katy Perry is a perfect match – super poppy and full of energy and color.
It's time for sunshine again, and I simply can't wait.
Sugar Cookies
– 1 ½ cups sugar
– 1 cup butter (2 sticks), softened
– 2 eggs
– 1 tablespoon vanilla extract
– 2 ¾ cups flour
– 2 tsp cream of tartar
– 1 tsp baking soda
– ¼ tsp salt
Heat oven to 375F. Cream together the butter and sugar until light and fluffy. Add the eggs and mix until combined, be sure to scrape the bottom and sides of the bowl. Mix in vanilla. In a separate bowl, stir together the flour, cream of tartar, baking soda, and salt. Add to the wet mixture and stir till combined.
Shape the dough into 1" balls. Roll the dough in sugar if desired and place on a greased baking sheet. Bake 8-10 minutes, rotating in between, until just lightly golden on the edges. Cool on a wire rack.
Cherry Pop Tart Ice Cream
– 1 cup cream
– 2 cups whole milk
– 4 cherry Pop Tarts, broken into pieces
– 1/2 cup sugar
– 1/4 cup brown sugar unpacked
– 6 egg yolks
– 1/2 tsp salt
In a medium saucepot, bring the cream, milk, Pop Tarts, and half the sugar to a boil. Temper with remaining sugar, egg yolks, and salt. Pour half of the ice cream base into a blender. On low speed, blend the ice cream until pureed and then strain into a clean mixing bowl. Repeat with remaining ice cream base. Cool and then chill in fridge for at least 4 hours. Spin in ice cream maker according to manufacturer's instructions. Freeze for at least 2 hours.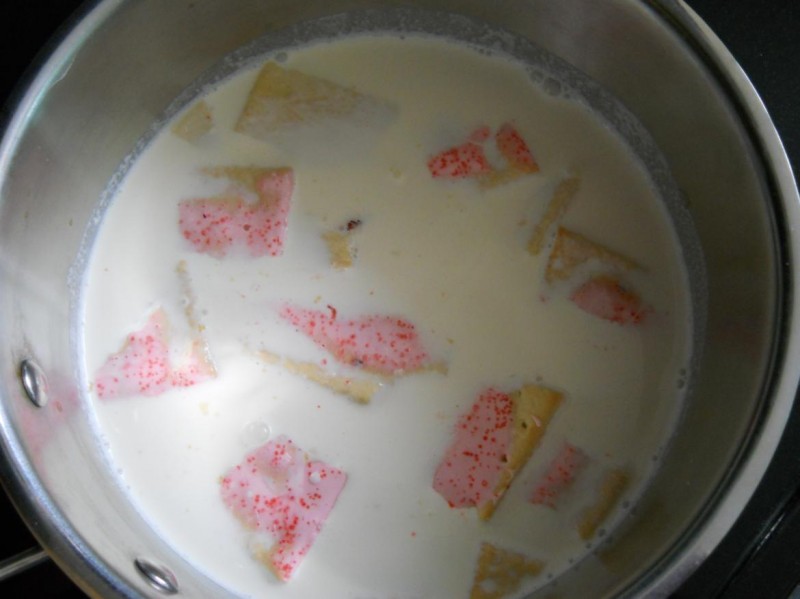 To build the ice cream sandwiches:
Have a bowl of rainbow sprinkles ready. Working quickly, scoop about 1/3 cup of the ice cream onto an upside down cookie. Place another on top, smoosh lightly, and place in the freezer. Work through until all the ice cream has been used. If your ice cream is rock hard, stick it in the fridge for about 10-15 minutes or until it's easier to work with. And if it's too soft and runny, stick it in the freezer till it firms up.
Once all of them have been built; starting with the first one you made, roll the sandwich sideways through the sprinkles so that they stick to the ice cream and place back in the freezer immediately.