A well-made churro is a magnificent thing. One of my first jobs in a kitchen was at a modern Mexican restaurant where we fried them to order, served with a chocolate dipping sauce in a little ramekin atop sliced banana leaves. We used canella and sugar instead of cinnamon for the coating – its fragrance still brings back memories of a busy dinner service.
With the influence of Valentine's Day I wanted to do something with a bit of spice. Chiles and cinnamon lend themselves easily to the chocolate ice cream – with just the right amount of heat to give you a little tingle. Crank up the salsa music and you'll be jamming along feeling all kinds of great. Maybe even some Shakira or Ricky Martin. No judgement here.
Though there is much debate around what type of dough is best for churros, I'm sticking with the classic pâte à choux. This is an incredibly versatile French dough that can be used for eclairs, profiteroles, fried for doughnuts and beignets, savory gougères, and more. You know those little pastry swans you see sometimes? That's pâte à choux. (Oh, and don't let the French words intimidate you – it translates to "Puff Pastry" and there is nothing intimidating about puffy pastry.)
Treat your lover right with these ice cream sandwiches.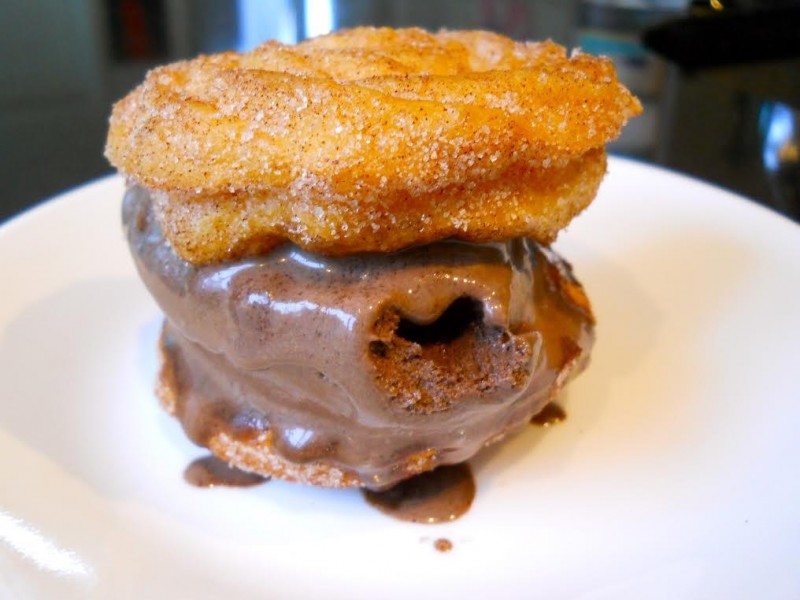 Chocolate Chile Ice Cream
Adapted from David Lebovitz's Chocolate Ice Cream recipe
– 2 cups cream
– 3 tablespoons unsweetened Dutch process cocoa powder
– 5 oz bittersweet chocolate, chopped (55-70% cacao range)
– 1 cup whole milk
– ¾ cup sugar
– 1 1/2 tsp salt
– ½ tsp ground cinnamon
– ¾ tsp dried pequin chile powder
– 5 egg yolks
– ½ tsp vanilla extract
Warm 1 cup of the cream with the cocoa powder, salt, and spices in a medium saucepan, whisking thoroughly to blend the cocoa. Bring to a boil, then reduce the heat and simmer at a low boil for 30 seconds, whisking constantly. Remove from the heat, add the chopped chocolate and stir until smooth. Stir in the remaining 1 cup of cream. Pour the mixture into a large bowl.
Warm the milk and sugar in the same saucepan. In a separate medium bowl, whisk together the egg yolks. Slowly pour the warm milk into the egg yolks, whisking constantly. Pour the mixture over a strainer into the chocolate mixture until smooth, and then stir in the vanilla. Cool and then chill in fridge for at least 4 hours. Spin in ice cream maker according to manufacturer's instructions. Freeze for at least 2 hours.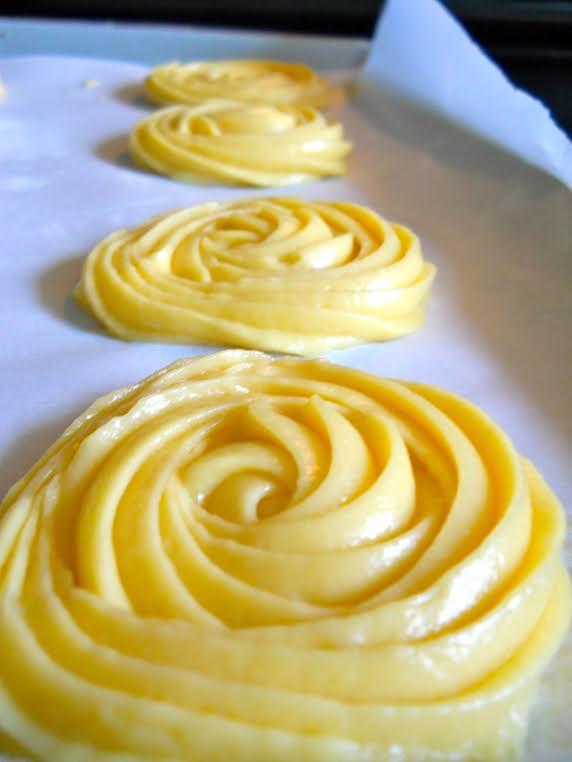 Churros
– 1 cup water
– 4 oz (1 stick) unsalted butter
– pinch salt
– 1 cup all purpose flour
– 4-5 eggs
Cinnamon Sugar
– 1 cup sugar
– 1 tablespoon ground cinnamon
stir together
Heat medium pan about ½ way with your favorite frying oil – I prefer peanut or corn oil. Heat oil to 350F.
Combine the water, butter, and salt in a saucepan. Bring to a boil over medium high heat. As soon as it boils, add the flour.
Over medium heat immediately start beating the mixture with a wooden spoon. While stirring, cook until the dough pulls away from the sides of the pan and a thin film begins to form on the bottom of the pan.
Turn the dough into a clean bowl, stir for 1-2 minutes to cool slightly. Add 4 of the eggs one at a time – beating vigorously into the dough before you add the next. When each egg is added, the dough will split and then come together as you beat it. When it comes together again you can add the next egg. This can be done on a standmixer with the paddle attachment.
After the fourth egg is evenly incorporated then determine if you need the 5th egg. If the 5th egg will make it runny, there is no need. If the dough is stiff and slightly sticky, then add the final egg and beat until fully incpororated.
Place the dough in a pastry bag with a tip and pipe into your choice of shape onto a parchment lined tray. Cut out the sections you want to fry and place into the oil, parchment included, and as it fries the parchment can be peeled away with tongs.
Fry the dough until golden brown, remove from the oil with tongs, and toss with cinnamon sugar mixture.
To build the ice cream sandwiches:
Working quickly, scoop about ½ cup of the ice cream onto a churro layer. Place another on top, smoosh lightly, and place in the freezer. Work through until all the ice cream has been used. If your ice cream is rock hard, stick it in the fridge for about 10-15 minutes or until it's easier to work with. And if it's too soft and runny, stick it in the freezer till it firms up.