Author : Chef Caitlin Howington
Discipline has been a much-deliberated concept for me as of late. Discipline affects so much of our lives, and chefs are well aware of how it affects them, their food, their cooking, and their career.
An undisciplined chef is sloppy, cuts corners, and even unsanitary. Young cooks all over the world are learning the precision of a knife cut – the difference between a medium dice and large dice may seem trivial to outsiders, but is paramount to any culinarian. A julienne should be exactly a 1/8" x 1/8" x 2" cut; nothing more and nothing less. I have vivid memories of working in pastry kitchens where I would cut large sheet cakes down into individual pieces for retail sale, and my chef coming behind me with a ruler to measure them and ensure they were the proper size. Precision is essential.
The angry chefs that yell and cause commotion that are so glorified by reality television are not representative of all kitchens. While dining in a 3-Michelin star restaurant, when the door to the kitchen swings open there is no clanging or yelling that comes streaming out…only silence. It is a team of disciplined chefs and cooks working together for a smooth dinner service.
Heavy metal is one of the most technical genres, so it only seems appropriate to inspire a dessert when discipline is the subject. And what dessert could be more metal than a chocolate whiskey torte with BLOOD oranges? Nathan Explosion would be proud. Yes, Metalocalypse is the most exposure I have to metal.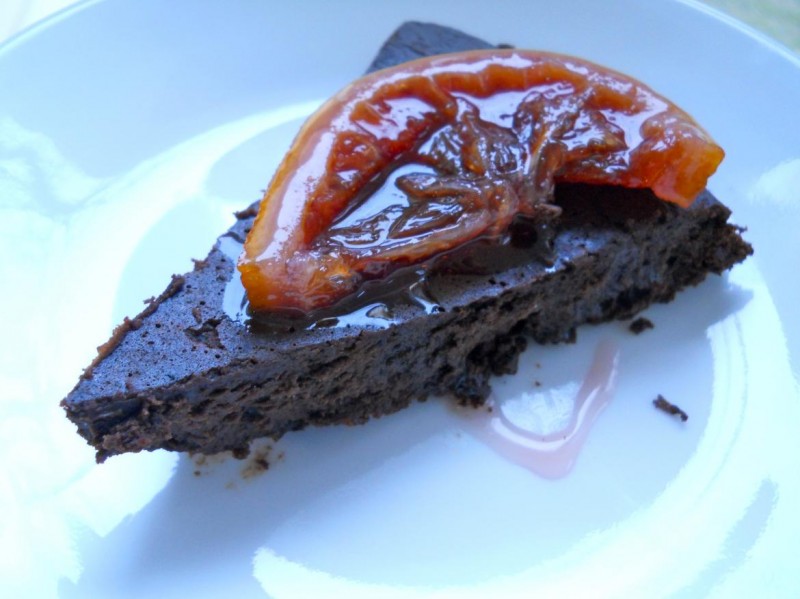 Served unadorned, I would likely cut the amount of whiskey to ¼ cup instead of 1/3 cup. But when paired with the sweet candied citrus, the strong whiskey flavor is softened. This is a dense, brownie-like torte – be sure to not overbake it or it will become dry and lose its fudgy-ness.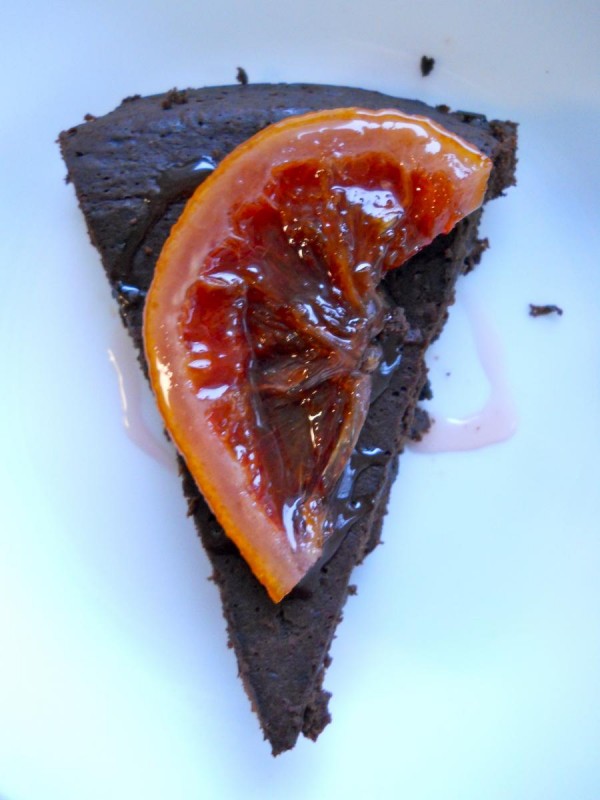 Chocolate Whiskey Torte
• 6 oz dark or semisweet chocolate, chopped
• ½ cup butter, cubed
• ½ cup sugar
• 4 large eggs
• 1 ½ tsp vanilla extract
• ½ cup cocoa powder
• 1/3 cup whiskey
Preheat oven to 375F. Grease an 8" cake pan and set aside.
In a small sauce pan over low heat, melt the butter and chocolate together, stirring until smooth. Remove from heat, transfer to a mixing bowl, and whisk in the sugar. Whisk in the eggs one at a time until smooth, then add the vanilla, cocoa powder, and whiskey and combine until smooth.
Pour into the prepared pan and bake for 25 minutes, do not overbake! A toothpick inserted should be mostly clean with a few crumbs. Allow to cool, then invert onto a serving plate.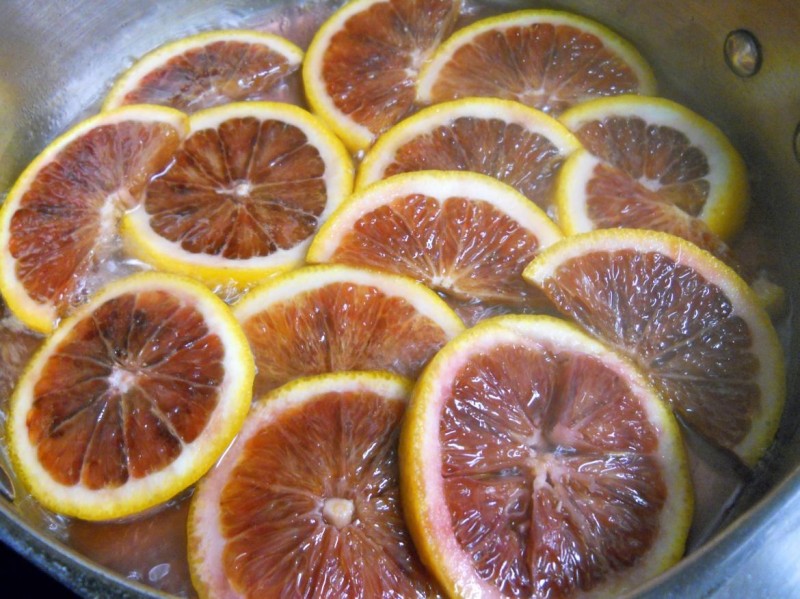 Candied Blood Oranges
• 1 cup sugar
• 1 cup water
• 1 or 2 blood oranges, sliced into ¼" slices (however much you can fit in a single layer in your skillet)
Bring the sugar and water to a boil in a skillet. Reduce heat to low. Place the orange slices in a single layer in the syrup, then simmer about 45 minutes, turning occasionally. The white pith and rind will become translucent. Turn off the heat and allow the orange slices to cool in the syrup.