A few months back I was lucky enough to be a guest on and online show called Aubryn's Musiconversation through www.ConcertWindow.com. In a nutshell we took turns playing music and harmonizing to a virtual audience. It was strange at first, but there is a chat feature that allows you to interact with the audience, which made it less awkward. After I kind of got the hand of trying to play my song and read comments in real time it was surprisingly super fun! My interest was peaked for sure.
Now, Aubryn Stevens has been doing these weekly musiconversations for a couple of years now and she has the set up down to a science. Admittedly the tech part of almost anything is usually a stumbling mental block for me…I go crosseyed and I can't form a complete thought… but after hearing encouragement from Aubryn and another fellow artists, Mary Jennings, I decided to leap out of my comfort zone and do my very own Concert Window show!
At the time, I was promoting my holiday, "Long Distance Christmas," and with the holidays in full swing it seemed like a great theme! I enlisted the talents of Mamie & Ethan Gardiner of A Rake & The Rosebud's. We got dressed up and set up shop in front of their gorgeous Christmas tree. They provided the lighting (which was great cause what the heck do I know about lighting?), and I brought the laptop and good USB mic. That's about all you need for a basic show! Concert Window provides a sound check feature so you can make sure you get a good test run in before going live.
We got about 52 people log in to watch which was AWESOME. I've never had attendance like that at any of my live shows. Working on it, though…
There are some great, user & audience-friendly features with Concert Window. We chose to make the concert free, but you have the option to charge. Another great feature is the option for audience members to tip you during the show. You can also provide tip rewards as incentive! Again, most shows I've played have paid me nothing so you can imagine my excitement at getting a tip here and there. It was also great market research because I could see in real-time what songs people responded to the most.
At the end of the day we made about $118 in tips, had a blast playing music and giving our friends, family and fans a way to connect with us when they otherwise would not have been able to. This is a tool that I intend to use many more times.
The only let down was that I forgot to use record the show option so there was not archive of it, oh and, the site kept freezing when I tried to make a highlight video (which it prompts you to do at the end). Additionally, I would love to have been able to make clips of each song to use on Youtube or my website, but perhaps that is coming down the pipeline.
If you are an indie artist or band and have not considered this platform, I strongly urge you to check it out. Start by checking out the artists who already have show going on and get inspired. Concert Window is very user friendly and they pay out the tips via Paypal within 36 hours. Be mindful that they do keep 30% of sales and tips. But with such low overhead, it's totally worth it!
…So Tell Me This:
1. What social media/ performance platforms do you find most useful?
2. What's your favorite music or food person or thing to follow on Instagram?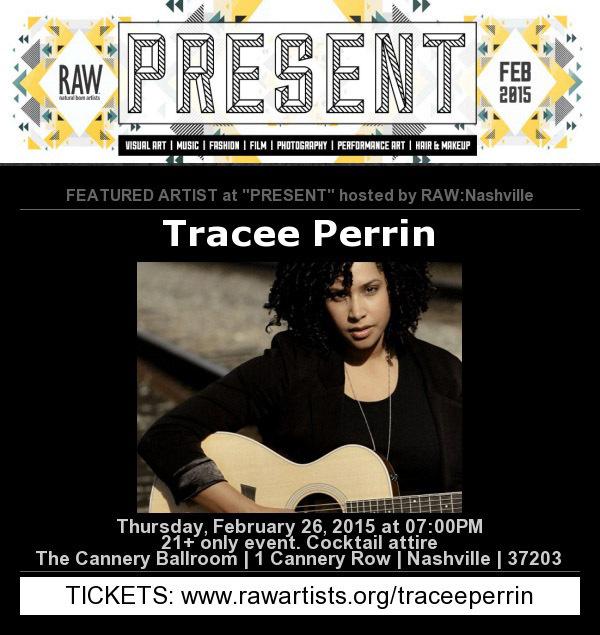 To Purchase your TICKETS, go to: http://www.rawartists.org/traceeperrin
To learn more about RAWNashville, go to: http://www.rawartists.org/nashville/present