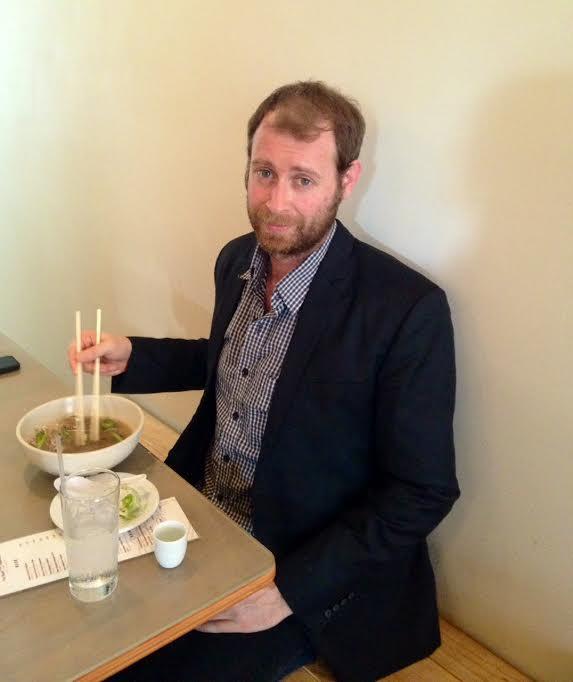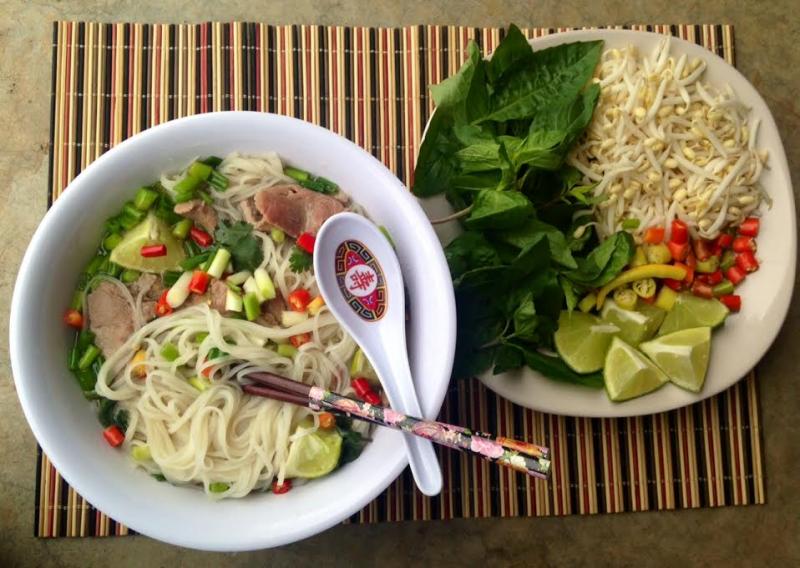 Author : Shap
During the Americana Festival in Nashville I contacted Dan Waters. He said would love to do an interview with Lhyme over his favorite dish, Pho. So, he invited me to come out to Far East Nashville to check out his favorite place to have Pho when he's visiting Music City from Australia. Of course, I have a hard time turning down an offer to break bread or Pho, so I was all in to meet Dan Waters and enjoy some delicious Beef Pho.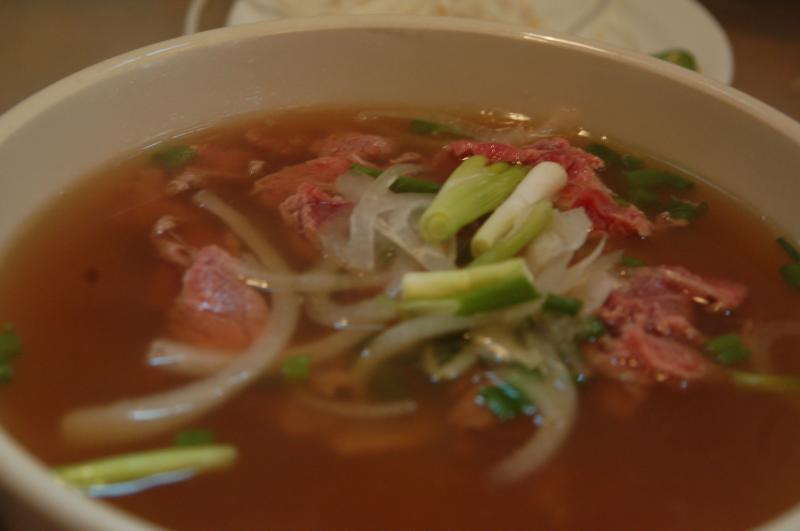 As I walked into Far East Nashville, I was greeted by a jet lagged, friendly Australian with an ochoko of Sake waiting for me. I took my shot of Sake and got down to the Lhyme nitty gritty, Dan Waters and Pho.
Originally from Melbourne, Australia , Waters is an award-winning Americana singer and songwriter with a taste for great food. With industry reactions like, "Why the hell hasn't anybody told me about Dan Waters" from Marty Jones of Rhythms Magazine; Dan's music combines southern influences with the dark personal truths of life. Recently awarded Best Country Album by the Age Awards and Debut Album of the Year by Rhythms Magazine for his latest release La Vita E Bella, Dan's music is being ranked among great Americana musicians in Australia.
However, the path of music wasn't a clear one for Dan Waters. After continuing to write songs and play music for years without seriously pursuing a music career, he finally came to terms with his passion and creative outlet. Dan realized his talent had potential and he wanted to continue to work on his craft seriously rather than hobby. This decision has proved to pay off with his latest release, La Vita E Bella. Personal favorite song off the album is Until The Evening's Through with Dan's warm and raspy tones really making this a perfect afternoon drive song.
For all things Dan Waters : http://www.danwaters.net/
For Dan Waters on Facebook : https://www.facebook.com/danwaterssongs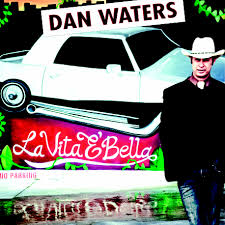 Waters has tailored his diet to account for his Celiac Disease by eating Gluten-Free and staying healthy by avoiding Oat, Rye , Wheat and Barley. However, these days being Gluten-Free doesn't mean you can't eat yummy foods. Aside from Pho, which Dan makes at home for himself as well, he also appreciates a good Lamb Roast made traditionally with fresh herbs and spices. One thing I did learn about Dan is that when it comes to food, he likes it fresh and healthy but he's not afraid to broaden his palate and try new foods a la Gluten- Free.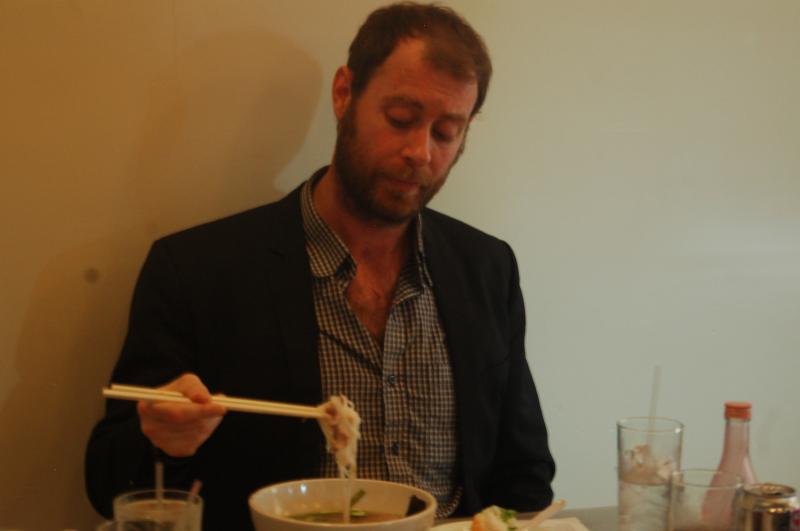 After having the privilege of sharing some delicious Pho and Sake with Dan Waters, I decided to make some homemade Pho myself and experience the local Asian International Market in Murfreesboro, TN . The owner immediately knew I was making Pho based on the ingredients I was picking up and gave me some helpful pointers to make the Pho even better. While making Pho at home , I got a chance to really understand all the flavors and work that go into a savory, comforting bowl of Pho. I must say, it turned out quite lovely with possibly too much noodle but still a delicious labor of love.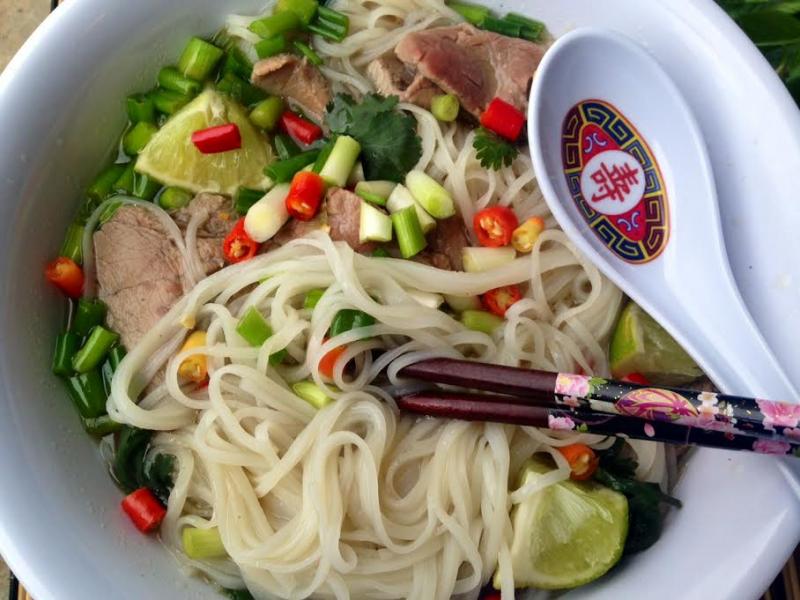 Vietnamese Beef Pho Noodle Soup
Ingredients For Broth
– 1 Medium Yellow Onion
– 1 Three- inch stem of fresh Ginger
– 2 Pounds of Beef Marrow Bones
– 1 Pound of Beef Roast, cut into 2 inch cubes
– 1 Pho Spice Pack ( you can purchase this at any Asian International Market so you don't have to purchase the spices in bulk..it includes cinnamon, spice bag, star anise, cloves)
– 2 Tablespoon Fish Sauce ( make sure to ask if you don't know which to purchase at the market as some taste very salt and have high MSG)'
– 1 Teaspoon Sea Salt
Ingredients for Noodle Bowl
– 1/2 Pound Banh Pho Noodles
– 1/2 Pound Raw Sirloin, thinly sliced
– 1 Medium Yellow Onion, thinly sliced
– 2 Green Onions, Chopped
– 1/4 Cup Cilantro
– Freshly Ground Black Pepper
Ingredients for the Pho Garnishes
– Three Sprigs of Fresh Thai Basil
– 1/2 Cup of Bean Sprouts, rinsed
– 1 Lime, Quartered
– Thai Chilies, Chopped ( You can use simply the red ones but I purchased a combination bag for more color with yellow, red and orange)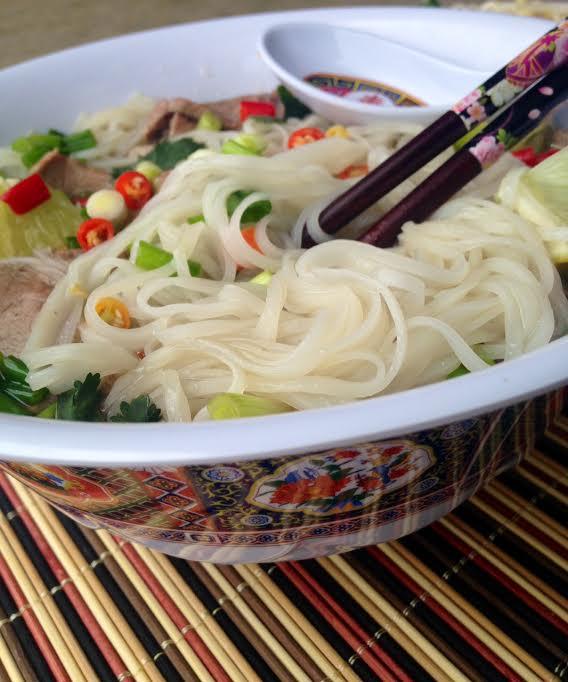 Directions
1) Using a grill or flat top griddle, char the onion and ginger for the broth for about 10 minutes. Their skins will become charred and blackened, but don't worry about that…the good stuff is in the inside. Make sure to flip the onion and ginger as you char them so they don't simply burn on one side.
2) Remove the ginger and onion from heat and run them under warm running water to remove the charred skins. You can use a knife to remove the skins if needed and then set them aside to cool.
3) In a very large stockpot ( it has to at least hold 12 quarts of liquid), place the marrow bones and cover them with cold water. Bring the bones to a boil for 3 minutes and then drain the water. Rinse the bones with warm water and set aside. Then thoroughly scrub the stockpot before moving on to the next step so that it is clean of anything boiled off from the marrow bones.
4) Place the stockpot back on the stove and add all the remaining ingredients including the previously cooked marrow bones, ginger and onions. Bring to a boil and then reduce to medium-low heat and cook uncovered for 1 hour. Remove the beef cubes and set aside to cool. Continue to cook the broth for another hour and half. Be sure to continuously skim the top of the broth as it is cooking. Once the broth is finished cooking, remove all the marrow bones, spice bag, onion and ginger.
5) Now its time to get your bowls ready, place the pho noodles in a medium bowl and cover with hot water. Let them sit for 20 seconds and then drain and but in each serving bowl. Then place your COLD beef sirloin slices on top of the noodles as well as the remaining ingredients for your bowl. Prepare your garnish plate.
6) Ladle the broth into the Pho bowl and serve hot.