Author : Kevin Janaway
"David Bowie was an outcast and I've always been a fan of outcasts," a friend said to me over the phone. That's true David Bowie was always breaking trends with his music, life, career, and style. This same friend also told me that right before a Sandra Bernhard comedy performance in the late 90s, David Bowie walked in with Iman, and that everyone fell silent, for over a minute. Even though Bowie is not considered excessively mainstream, so many people are shocked by his talent and artistic career.
I especially liked his acting career in "Labyrinth," and how he sang and danced with all those Muppets. Those were some pretty cool jams he sang too. Almost as wild as his look (as if he were some Swedish figure skater struck by lightning). However, my mother was made uneasy by him in that role, and that was the only time I ever saw "Labyrinth" as a child.
Now back to the story; David Bowie was an incredibly productive artist. He turned out many more albums, virtually every year from the late 60s through the early 80s. He traveled the world with his then wife, Angie. Also, a lot of his sound was enhanced by his outstanding guitarist Mick Ronson. Throughout this period he came out with a Folk Album, a Rock album, Hippy Album, Soul Album, Disco Sounding Album, and many other sounds that attracted diverse audiences. Also, all albums were good. He also had shocking different "looks" that enhanced these albums. His famous Androgynous looks, Rocker, Punk, etc looks. Even though each album had a cult following, he had so many, that he had a big following.
Fans still bond and connect over his music via Bowienet on-line. He made a lot of money, and influenced a lot of people. However, Iman said on Wendy Williams, that their kids are pretty mainstream, and wear clothes from "Old Navy." Totally rebelling from their parents I suppose.
What kind of snacks would you munch while listening to David Bowie songs? Well, I would say it varies. With the rock and soul albums, I would say, fancy soups, or cheese and crackers. However for disco-esque sounds, such as "Just Dance," I would want some type of marshmallow confectionary treat. Something to give me a rush and make me feel I am at Studio 54. And it's okay to get food on your clothes. Adds to the look. Whatever you do this Holiday season, I hope you have time to have a David Bowie moment. Play him for your kids over the Holidays. Tell them Santa loves David Bowie. I'd rather hear him than "Jingle Bell Rock," but maybe that's me, because I am an Outcast, and have always been fans of Outcasts.
Author: Shap
Since Kevin mentioned a marshmallow treat, I thought what better way to enjoy watching David Bowie in Labyrinth than to be curled up with a hot cup of cocoa ..with a giant marshmallow to dip of course !! 🙂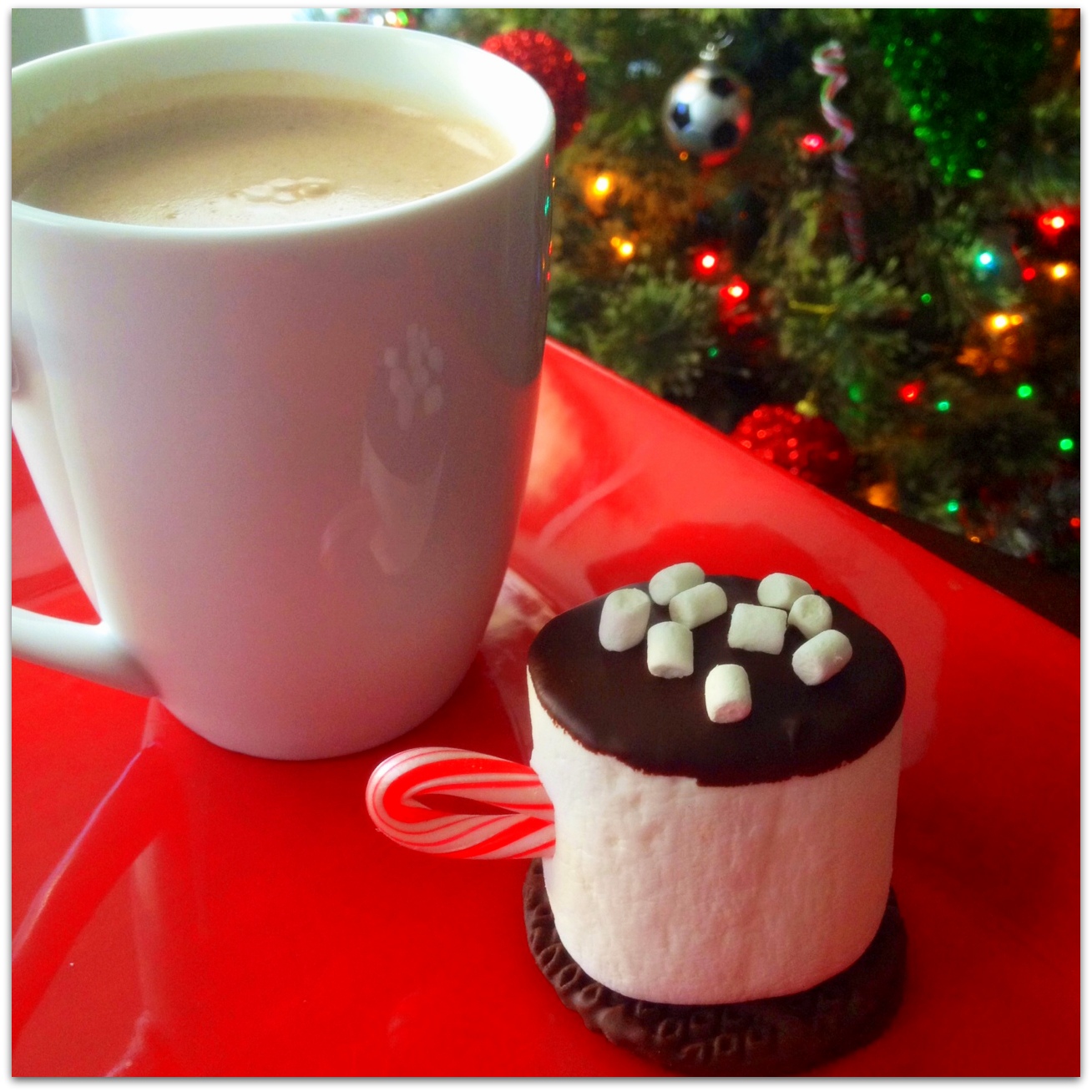 Oh! You Pretty Things Marshmallow Hot Cocoa Cups with Hot Cocoa Recipe
Yields 4 Servings
Ingredients for Hot Cocoa
1/3 cup unsweetened cocoa powder
3/4 cup white sugar
1 pinch salt
1/3 cup boiling water
3 1/2 cups milk
3/4 teaspoon vanilla extract
1/2 cup half-and-half cream
Ingredients for Cup Marshmallows
4 Jumbo Marshmallows
4 Dark Chocolate Fudge Stripe Cookies
4 Mini Peppermint Candy Canes
1/4 Cup Mini Marshmallows
1/2 Cup Melted Baker's Chocolate ( I used Dark Chocolate to go with the cookies, but you could use milk chocolate as well )
Directions
1) First make your marshmallow cups. Melt the chocolate down as instructed on the package and dip the top of each marshmallow into the chocolate to only cover just the top. Sprinkle the top with mini marshmallows and set aside to dry for 1 hour.
2) Place the Jumbo marshmallows on top of your cookie and insert a candy cane into the side of it to create the effect of the handle. Set aside and make your hot cocoa.
3)Combine the cocoa, sugar and pinch of salt in a saucepan. Blend in the boiling water. Bring this mixture to an easy boil while you stir.
4) Simmer and stir for about 2 minutes.
5) Stir in 3 1/2 cups of milk and heat until very hot, but do not boil! Remove from heat and add vanilla.
6) Divide between 4 mugs. Add the cream to the mugs of cocoa to cool it to drinking temperature.
7) Dip your jumbo marshmallows into the hot cocoa and nosh on your cookie while watching Labyrinth 🙂