Author : Chef Caitlin Howington
"More self-respect, more respect for fellow man. Respect for fellow students and instructors. Respect for all styles and techniques. Body conditioning, mental conditioning, meditation for calming and stilling of the mind and body. Sharpen your skills, increase mental awareness, for all those that might choose a new outlook and personal philosophy. Freedom from constipation.
All techniques into one. Elvis Presley 8th. Applying all techniques into one."
This, my dear readers, is the TCB oath – created by our holy savior, Elvis Presley. Each member of the Memphis Mafia was given a 14k gold bracelet when reciting these words, and instructed to follow as such.
I grew up with Elvis. I still remember my dad playing it on surround sound, all of the good 1950s tracks. As I got older I discovered my love for the terribly gaudy 70s Elvis. The jumpsuits and capelets, Elvis striking Kung Fu poses as he raced through intensified versions of his old songs with new horn lines and a whole damn chorus behind him.
I love his weird food habits. Burnt cheeseburgers, burnt bacon, the Fool's Gold Sandwich (peanut butter, jelly, and bacon sandwich). And so I'm celebrating Elvis with one of his more known and delicious combinations: peanut butter and banana. As decadent as the sandwich he loved – a peanut butter banana sandwich fried in butter. Suck on that, Paula Deen.
Sandwiched between two gooey peanut butter blondies, the banana ice cream is unique and intensely flavorful – but not that crap artificial banana taste. These are a delight year round.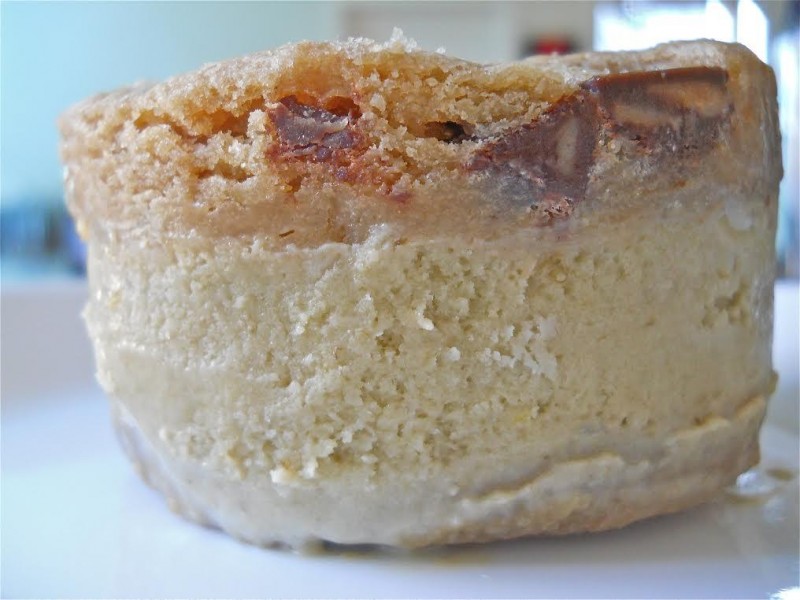 Banana Ice Cream
– 3 cups cream
– 1 cup whole milk
– 1/2 cup sugar
– 1/4 cup brown sugar unpacked
– 6 egg yolks
– 1 1/2 tsp salt
– 2 very ripe bananas
– 4-5 drops yellow food coloring
In a medium saucepot, bring the cream, milk, and half the sugar to a boil. Temper with remaining sugar, egg yolks, and salt. Pour some of the ice cream base into a blender. On low speed, blend in both bananas and food coloring until pureed. Add to the remaining ice cream base. Cool and then chill in fridge for at least 4 hours. Spin in ice cream maker according to manufacturer's instructions. Freeze for at least 2 hours.
Peanut Butter Blondies
Yields (8) 3" Ice Cream Sandwiches
– 2 cups packed light brown sugar
– 1/2 cup (1 stick) butter, softened
– ½ cup peanut butter, melted
– 2 eggs
– 2 tsp vanilla extract
– 2 cups all purpose flour
– 1 tsp salt
– 1 cup Reese's peanut butter chips
Heat oven to 350F. Beat together brown sugar, butter, and peanut butter until light and fluffy. Beat in eggs and vanilla extract.
Add flour and salt, beating just until blended. Stir in peanut butter chips. Spread evenly onto a parchment lined and pan-sprayed cookie tray. Bake for 11 minutes, rotating the pan halfway through. Allow to cool completely.
To build the ice cream sandwiches:
Cut your blondie layer with 3" round pastry cutters.
Working quickly, scoop about ½ cup of the ice cream onto a blondie layer. Place another on top, smoosh lightly, and place in the freezer. Work through until all the ice cream has been used. If your ice cream is rock hard, stick it in the fridge for about 10-15 minutes or until it's easier to work with. And if it's too soft and runny, stick it in the freezer till it firms up.
Once fully set, melt 2 cups of dark or semisweet chocolate over a double boiler. Working quickly, dip half of each ice cream sandwich into the chocolate, allow any excess to drip off, and immediately place back into the freezer.