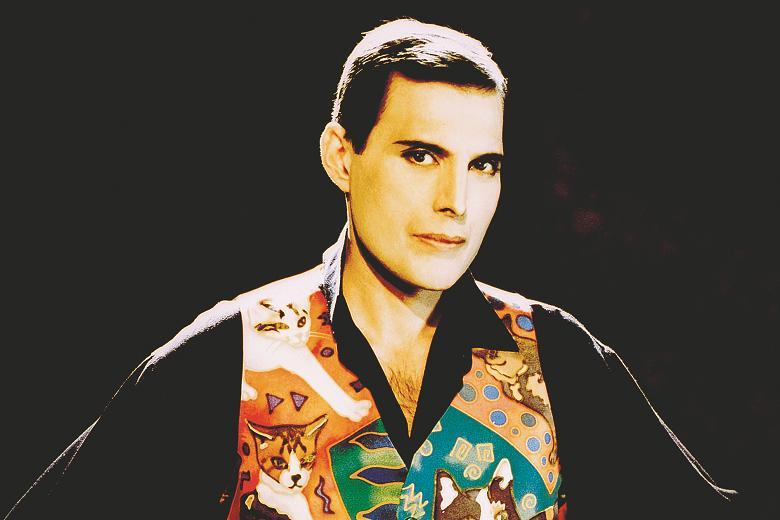 Its December, and this holiday we've decided to turn all of our dedication features into cookie features for the month. All cookies all December !
Freddy Mercury is one of my personal favorite musicians of all time and we just happen to share the same Persian heritage…makes me love him even more. Anyone that knows anything about Persian cuisine knows that Barberries and Saffron are staple ingredients that are included in so many traditional Persian dishes. So , in honor of Freddy Mercury and Cookie Month here at Lhyme, I decided to create a recipe for a delicious Barberry and Saffron shortbread cookie topped with candied Kumquats and sugar. I got the idea for the Candied Kumquats from Culinary Concoctions By Peabody, but wanted to kick the cookie up a notch 🙂 This is a flavorful, tart , sweet and aromatic cookie that is a great accompaniment to a cup of hot tea.
While you're waiting for your cookies to bake, make sure to scroll down after the recipe and allow Ducklord to enlighten you all on things Freddy Mercury.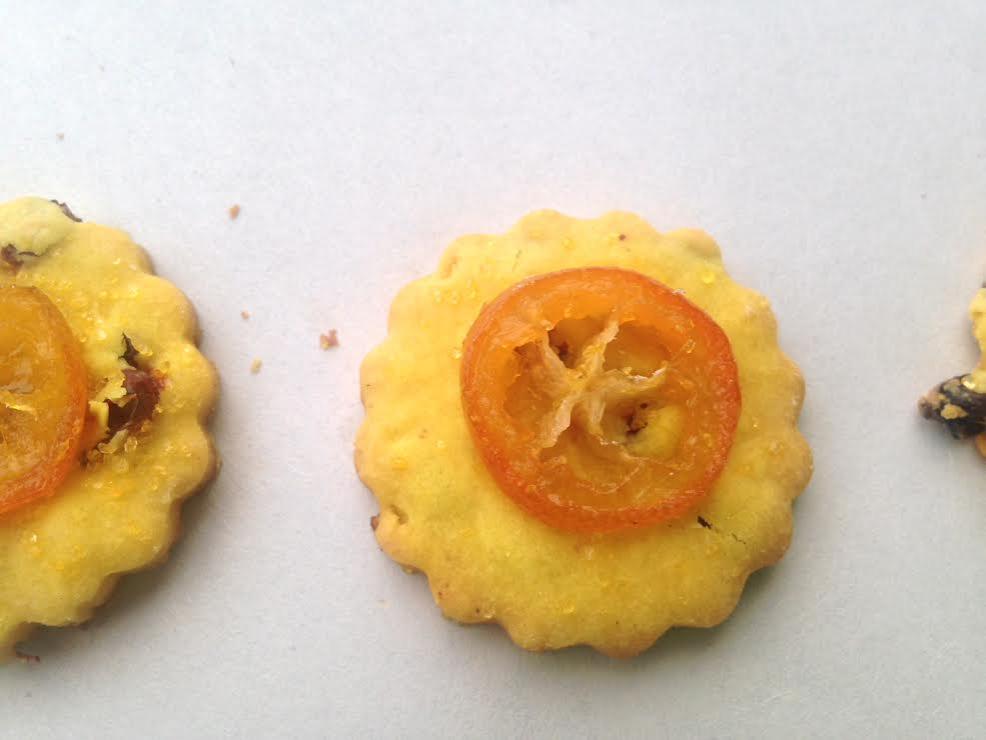 Made In Heaven Barberry Saffron Cookies with Kumquats
Ingredients for Cookies
2 1/2 Cups All Purpose Flour
1/2 Tsp Baking Powder
3/4 tsp Saffron Threads, Crumbled
1 Cup Dried Barberries
1 tsp Vanilla Extract
1 Cup Butter, Room Temperature
1/4 Tsp Sea Salt
1/2 Cup Confectioner's Sugar
1 Tsp Finely Grated Tangerine Zest
1 Tbsp Warm Water
Decorating Granulated Sugar ( I used some yellow decorating sugar sprinkles on mine)
Ingredients for Candied Kumquats
15 Kumquats, rinsed and dried
1 Cup Water
1 Cup Granulated Sugar
2 Tbsp Light Corn Syrup

Directions
1) Line a baking sheet with parchment paper. Using a small sharp knife, cut 1/4 inch off the ends of each Kumquat. Cut the kumquats crosswise into 1/8 inch slices. Remove the seeds as you see them in the slices.
2) In a small saucepan, combine water, sugar and the corn syrup. Bring to a boil over medium-high heat and then add the Kumquats to simmer on low heat for 20 minutes.
3) Drain the kumquats and then place them on the parchment lined baking sheet without each slice touching one another.
4) Stir together flour, baking powder and salt in a mixing bowl. Whisk until well blended and set aside. Beat the butter and sugar on low speed with an electric mixing in a medium mixing bowl.
5) Add the saffron and tablespoon of warm water in a small bowl. Whisk until well blended and add to the butter mixture. Add vanilla extract to butter mixture along with barberries and tangerine zest. Mix thoroughly.
6) Add flour mixture to butter mixture gradually on low speed with mixer. Once the dough starts to come together in large clumps, wrap the dough and refrigerate for 1 hour.
7) After one hour. Preheat the oven to 350. Roll out the dough on a floured surface until 1/8 inch thick. Using a fluted cookie cutter, cut out as many cookies as you would like.
8) Put a candied Kumquat on top of each cookie and sprinkle with decorative sugar. Bake for 9 minutes. Transfer to cookie rack and allow to cool. Serve.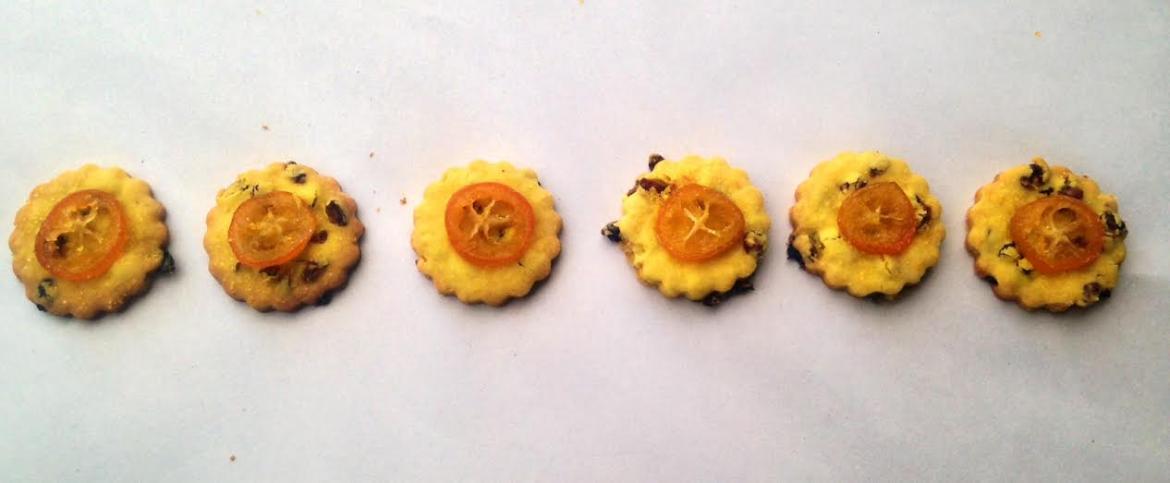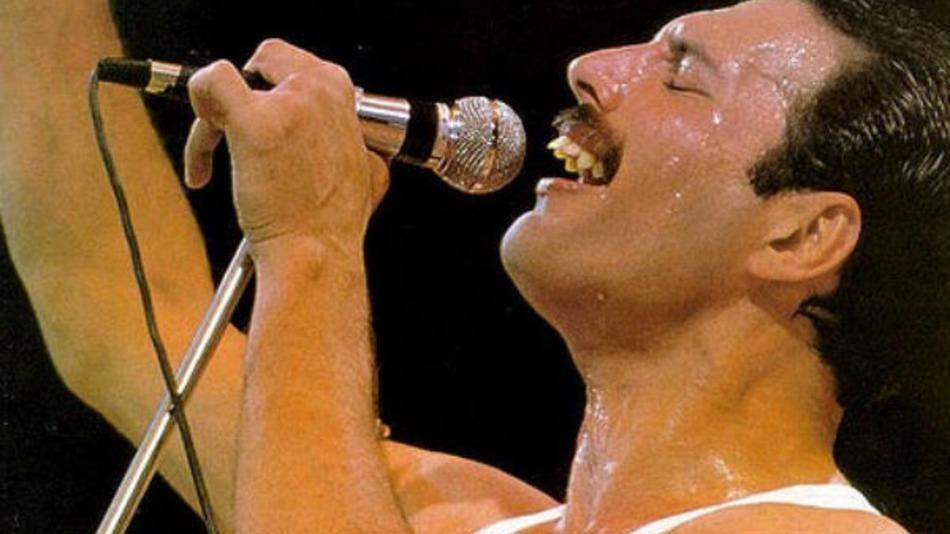 Author: Ducklord
"Here we are, born to be kings, we're the princes of the universe" sings the sudden sound wave, swimming around Duncan MacLeod of the clan MacLeod. His cold stare towards the camera indicates it is time. It is time for the last head to roll. Again. And again. And again. For "immortals", they do a lot of non-immortal dying in this movie.
Before Highlander, Russell Mulcahy had given us only a bunch of music videoclips. His experience combining music with video seemed to help in his first cinematic experiment, where Freddy Mercury's voice and Queen's music worked as irreplaceable blocks of its very "structure". Russell, knowing how to meld audio with imagery, gave us the cinematic equivalent of a computer "demo", a multimedia experience crafted from the very best in images and audio, fast, brutal, unforgiving and unforgettable.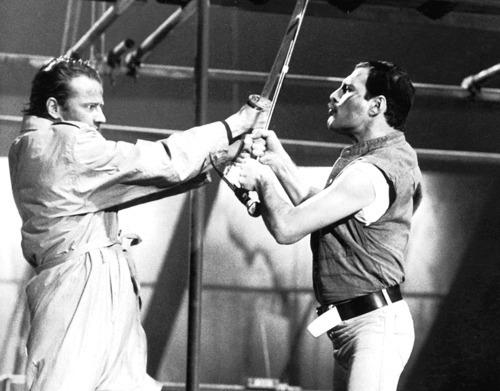 Please, forgive my forgetting of Freddy's career up to then. Or after. I never wanted to imply that "Somebody to Love", "Don't Stop Me Now" or "Under Pressure" are not classics. And no, I didn't actually forget about them – how could I? It is just that Highlander was appropriate in this case for two reasons.
The first one is that, for my first article on Lhyme, I turned to something a bit personal. Freddy Mercury was the sound of my teenage years, the voice that helped me get through any problem I (thought I) had. It wasn't until I saw Highlander that I started actively seeking to hear more of his work. The more I found, the more I heard, the more I could not believe my ears. I was sure his phonetic abilities were not the result of his eating lots of spicy foods. I also ate spicy.
Freddy Mercury sang in a way you could describe in one word as "unreal", jumping with ease from octave to octave, starting from a deep bassy baritone earthquake all the way to an ear piercing high-pitched tenor siren. That was way before "vocoders" and "digital enhancements" where the norm, and yet there he was, a voice bigger than life, better than any tinkering with keyboards and mice could ever produce. Was he actually human under the skinny tights and neat mustache? We learned the hard way that, yes, he was.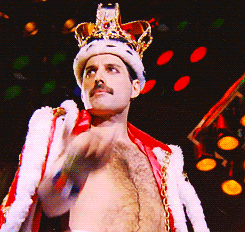 Mercury died on the 24th of November 1991, at the age of 45, one day after he publicly acknowledged he had AIDS. Although I've got a terrible memory, I clearly remember the specific moment, hearing the news, a punch in the gut, an instant immense sense of loss.
According to Dave Clarke, the birthday before his last he held an amazing dinner for his closest friends, with more than 30 courses created by his personal chef, Joe Fanelli. We don't know if Chicken Dhansak, one of his favorite dishes, was among them.
As for the second reason? He was the first major rock star to die of AIDS, but also one of the first artists to be "digitally resurrected". "You don't fool me", a digitally enhanced and corrected version of one of his last recordings, became an instant hit. Soon after Queen released their final album with Freddy, aptly named "Made in Heaven".
The man who knew very well that "The Show Must Go On" shall return once more: November 10th of this year Queen released,"Queen Forever", the first album in 20 years with "new", unheard up to now vocals by Freddy Mercury. It is as if, like Highlander's Duncan MacLeod, Freddy Mercury's voice has proved to be immortal.
To make things even more surreal, Michael Jackson will return with him, in the duet "There Must Be More To Life Than This". Now, isn't that "A Kind Of Magic"?