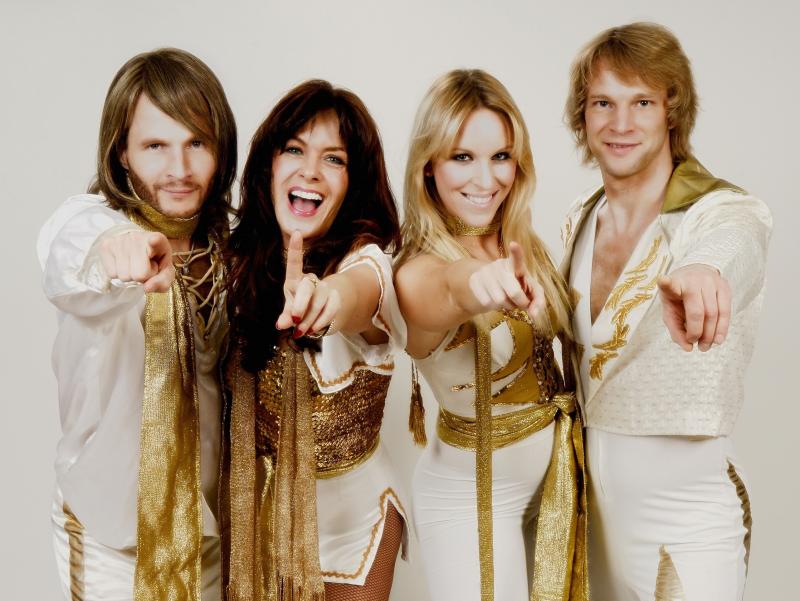 By Kevin Janaway
Like me on Facebook
Follow me on Twitter, Lusciouskevin
"You can dance, you can jive, having the time of your life," as you read this thrilling show-stopping article about ABBA. Forever ABBA. What do you think about when you think of ABBA? I think about the famous film, "Muriel's Wedding." Where Toni Collette is rocking out in her bedroom to "Dancing Queen," and obsessing about weddings. Then later, after her life improves once meeting her swell gal pal, Rhonda, she confesses, "since I met you my life is as good as an ABBA song. It's as good as 'Dancing Queen.'" I hope my article has the same impact. And no, I'm not obsessed about weddings. LOL.
However, many people who are obsessed with ABBA, actually are into weddings. Did anyone see "Mamma Mia?" That is all about weddings and also inspired by ABBA songs. I guess because ABBA songs always make people want to move around and dance. Writing this article makes me want wedding cake really badly. Maybe some champagne too. After all, "The Winner Takes it All!"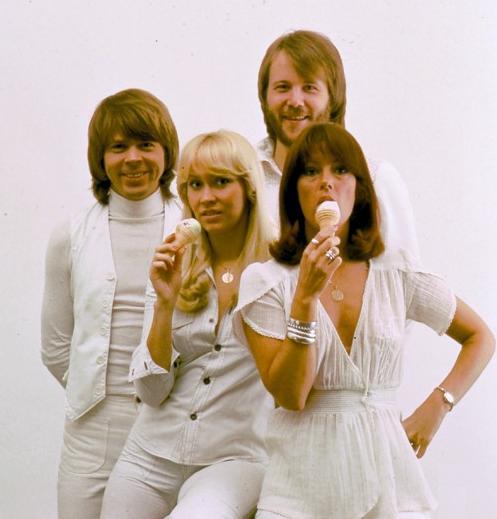 I guess I'll finally be facing my Waterloo. But while we're on the topic, "Waterloo," was ABBA's first hit song, when it played on Eurovision in 1974. Eurovision was like "American Idol," except it aired in all of Europe. Hence, ABBA became famous all over Europe, literally overnight. After that, many more hits followed. This was also significant because it was the first victory for Sweden in the Eurovision Song Contest, and became the most successful band ever to take part in the competition. They later sold over 380 million albums and singles worldwide. Mamma Mia!
Throughout the next few years, ABBA members got married and divorced, and totally stopped touring by 1982. However in the 90s, with films like "Muriel's Wedding," and "Priscilla, Queen of the Desert," ABBA songs were revived for a younger audience. The play, "Mamma Mia," made the-at-first unwilling producers, into some of the wealthiest women in the UK. It's safe to say, they made some "Money Money Money."
"When you're gone, how can I even try to move on?" SOS! I guess you can "Take a Chance on Me," when you read this enchanting article. ABBA began as a guilty pleasure Swedish pop band that inspired so many films and weddings, and brought so much joy and entertainment to people's lives. Who would have thought this band's contributions to our pop culture history would have stood the test of time like this? Now everyone plays "Dancing Queen," at all weddings and Bat Mitzvas.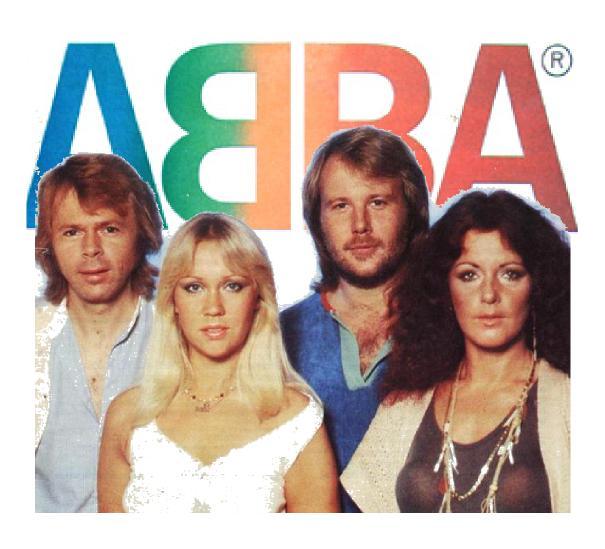 What delectable edible would you enjoy while listening to a cheesey album or watching a film with an ABBA laden soundtrack? How about wedding cake? Or something cheesey and fun? If you are lactose intolerant or gluten free, maybe just drink champagne and sing the songs. LOL. Mamma Mia! How about Swedish meatballs? These can also be prepared vegetarian style with veggie balls. The Swedish foods I love are pickled herring, ligonberry sauce, Swedish meatballs, and a nice apple crisp or apple crumble for dessert. Also, the Swedes love this wine concoction that is prepared on the stove, called "Glogg." It has brandy, wine, cinnamon, almonds, raisins, rum, etc in it, and is a warm drink served during Swedish Holidays. How do you say "drunk as a skunk" in Swedish? Since I don't know how to say that, just sing along to "Dancing Queen." It's the next best thing after all.
Now lets really think about some food for Abba.
Kevin kept bringing up how Abba reminded him of Wedding Cake. I (Shap) decided to step outside of the box and take a crack at the Swedish Sandwich art known as Smörgåstårta also known as Swedish Sandwich Cake. This cake is generally layered with a good thick bread, a Smoked Herring Mousse, Smoked Salmon, Cucumbers, Tomatoes, Shrimp and iced with a cream cheese and sour cream mixture for frosting. After which you decorate however you feel with fresh vegetables, luncheon meat , and seafood. This is a very rich sandwich with many layers allowing for a lot of creativity. I decided to do something different and make single serving Smörgåstårta filled with Smoked Salmon Mousse, layered with shrimp, cucumbers and mayonnaise. This is a very easy dish to make and can be decorated to look absolutely beautiful if you let your creativity lead you. Hope you have the "time of your life" making this recipe in honor of Abba.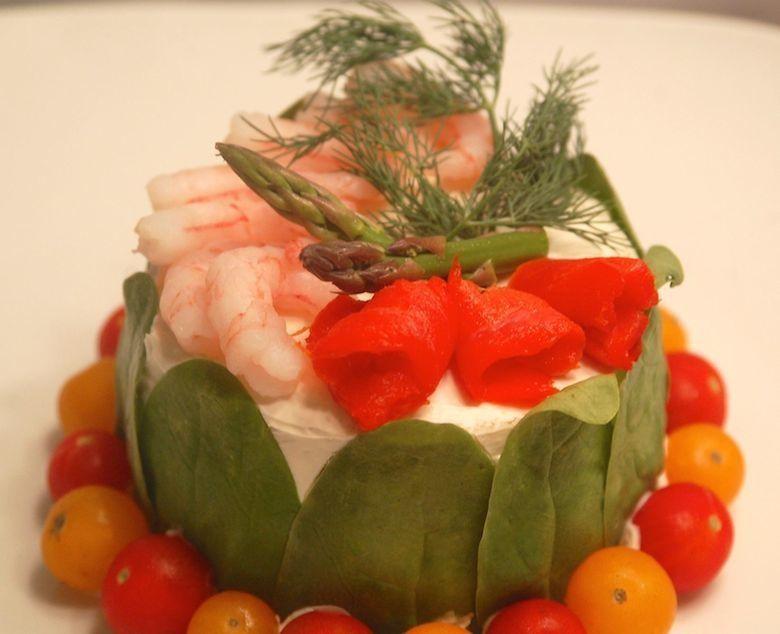 Ingredients
– 3 slices Smoked Salmon ( Save one for decoration)
– 1/2 Cup Heavy Cream
– 11 oz Whipped Cream Cheese
– 3 very thick slices of Sourdough Bread ( you can get whatever flavor of bread you like and have it sliced for you at your local deli or bakery)
– 1 Cup of Salad Shrimp, Cooked
– 1/2 cup Fresh Baby Spinach( stems trimmed off)
– 1 Cup Cherry Tomatoes ( Whichever color you please)
– A few stems of Fresh Dill
– 1/4 Cup Fresh English Cucumber Slices
– 1/2 Cup Mayo for Mousse( I used the Olive Oil Mayo but whichever you like)
– 1/4 Cup Mayo for Filling
– 1/4 Cup Shredded Lettuce
– 2 Pieces Asparagus ( Lightly Steamed, should still be crunchy)
– 1 Tsp Butter
– Sea Salt
Directions
1) In a blender, mix two slices of smoked salmon, mayo, and heavy cream until smooth. Set aside.
2) In a medium mixing bowl, mix the cream cheese and sour cream. Season with sea salt. Set aside.
3) Using a cookie cutter or whatever you choose to shape your bread. Cut the bread slices into the shape you would like.
4) Place the first slice of bread on a serving dish. Lightly moisten the bread with a few drops of water. Spread the smoked salmon mousse over the first slice and then top with sliced cucumbers. Then layer another piece of bread and moisten again. Spread some butter onto the bread slice and then top with shrimp with shredded lettuce. Spread Mayo onto the bottom of the top slice. Top the layers with a final slice. Moisten the top layer as well.
5) Spread the cream cheese icing on to the cake. Decorate with the remaining ingredients as toppings however you like. Repeat for as many single serve cakes as you want.
6) Refrigerate for one hour and serve.