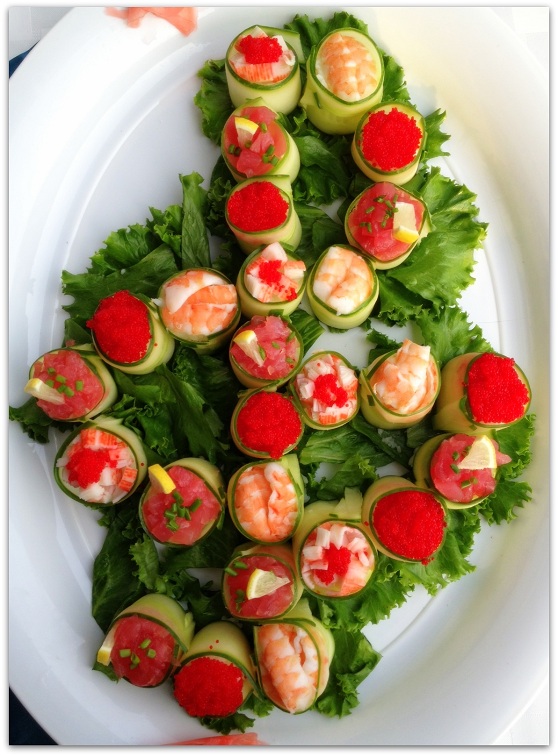 We decided to make Cucumber Wrapped Sushi that could be served as appetizer for any get together or anyone in the mood for a lighter Sushi. This type of sushi is called Gunkan or Gunkan Maki in Japanese. This is a very easy recipe to create and has a great presentation as well. Its a little time consuming but worth the effort. Enjoy !
Gunkan Maki Sushi
Ingredients :
– 3 English Cucumbers
– 3-4 cups Japanese Sushi Rice or regular Japanese Steamed Rice.
– 4 oz Sashimi Grade Tuna
– 4 oz Crab Meat ( you can use real or the imitation used for California Rolls sold at your local International Market )
– 4 oz Roe of your choice ( you can use Salmon Roe or whatever you like ..I used Masago..its what they had available at the store)
– 12 Cooked and Butterflied Shrimp
– 20 pieces of Leaf Lettuce cut into small two inch pieces ( they will be the foundation of your Sushi)
– 1 Lemon
– 3 pieces of Fresh Chive, chopped
– 1 round cookie cutter (I used one with 1 3/4 inch diameter)
Directions :
1) Cut the cucumbers in half and slice them with a peeler to make long thin strips.
2) Place the leaf lettuce pieces on a serving platter and put the cookie cutter on top of each piece of leaf lettuce one at a time while stuffing the sushi rice into the cookie cutter about half way and remove the cutter gently. Roll the cucumber slice to surround the outside of the rice and make slits at the end of cucumber slice with knife and interlock the strip around the rice. This will hold your sushi rolls in place and prevent them from falling apart.
3) Fill each cucumber wrapped sushi with your favorite combination of toppings from the ingredients above. Garnish the tuna rolls with lemon and chives. Garnish the crab rolls with roe. Serve