Before the end of summer it was imperative that I got my hands on pizza from one of Nashville's newest pizza eateries, 312 Pizza Company, located at 371 Monroe Street in Nashville's Historic Germantown. The Germantown location adds to the authenticity of a Chicago neighborhood throughout the dining experience.
312 Pizza Company graced Nashville with its presence in April of this year and I was highly anticipating the opportunity to give this place a shot. 312 Pizza Company is the first authentic Chicago-style pizza place to hit Nashville. The restaurant has received rave reviews and has been voted by Nashville Lifestyles Magazine as One of the Top 5 "Must Try" Pizza Places in Nashville. And with notoriety of that caliber, I too, felt the need to give it a try.
Upon entering the restaurant, it was bustling with patrons seeking to get a taste of this Chicago-style pizza. As I walked promptly to my seat, I noticed that the restaurant was full of energy from everyone already seated and engaged in lively conversation. The establishment has a fairly large bar area which gives the feel of a pub or tavern, but it also gave a feel of a place to have a great dining experience with all its dining tables and high tops. This is definitely perfect for those interested in the pizza aspect of the experience and not just the booze. There is Chicago and sports memorabilia adorning the walls and the view from the windows lends itself to persons passing by in the Historic Germantown area. Since you brought up booze (because I wasn't going to), 312 Pizza Company has an extensive beer list from almost every local brewery and even includes some Chicago favorites. But let's get down to the business at hand, PIZZA!
I have never had authentic deep dish pizza and I wanted to know what all the hype was about. I was aware of their claim to fame which was authentic deep dish, but the question that I had to pose was, could they do it vegetarian? After being reassured by my server that they could in fact handle my request, I quickly placed my order for a vegetarian deep-dish pizza. However, I was informed that due to the thickness of the crust that the wait would be about 45 minutes. My initial thought was that I had waited my whole life to experience authentic deep-dish pizza so what was another 45 minutes? So I decided to order some mozzarella sticks while I waited. The mozzarella sticks were delicious and very filling. The marinara sauce was thick and seasoned to perfection. The appetizer portion comes with 8 mozzarella sticks, which is ideal for sharing. My hope was that I wouldn't get too full before the main reason for me being there arrived.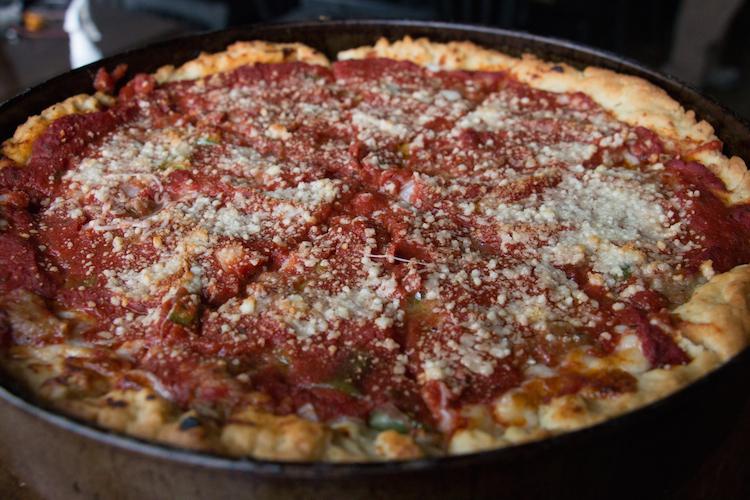 After 45 minutes, it appeared: A piping hot authentic Chicago deep dish pizza in all its glory. A 12", 6 sliced piece of heaven, topped with their special pizza sauce blended with herbs and seasoning marinated overnight that had been passed down from their grandmother decades ago. My deep dish pizza included spinach, mushrooms, green peppers, and tomatoes. This combination topped on the thick crust was enough to bring me to tears. Well not real tears, but I thought about it!
The pizza was so massive and filling that I was only able to finish one slice. I was so amazed at the portion size of the slice, which forced me to flag down my server and ask for a to-go box. Not only because I couldn't eat all of it, but because I wanted to be able to experience the slice of heaven again . . . and again. And I did, over the course of 3 days (because that's how long it took me to finish the rest of it)!
I was absolutely thrilled with my experience at 312 Pizza Company and my first time encounter with authentic Chicago-style deep dish. I would recommend this restaurant to anyone without hesitation. It is a great addition to the Historic Germantown area and Nashville as a whole. They definitely have made me a fan of their authentic Chicago deep dish and I anticipate that I will be returning soon to get my next fix. 312 Pizza Company gets a homerun for "beeting down the block" and doing pizza right!
All Smiles,
Jarvis "Juicing Jay" Turner