Author : Shap
Justin Timberlake's third LP, The 20/20 Experience, is a prime example of when the formula works don't change it. Timberlake has always been known for pushing the envelope when it comes to pop, soul and r&b, and now he's using his experience and cred in the industry to put together an album that spans decades of pop, soul and r&b. When listening to this album, I could really tell that Timberlake is trying to separate his music for the typical sounds that are all over the radios and itunes right now. He also brought back Timberland's signature production to his album with songs like, " Mirrors ", that really take fans to the style of music that made them fall in love with Timberlake all over again. I personally was really glad Timberlake kept it real with his musical roots and still kicked it up a notch for fans. That's how you come back with a great album and that's how you continue to stay true to what your fans want.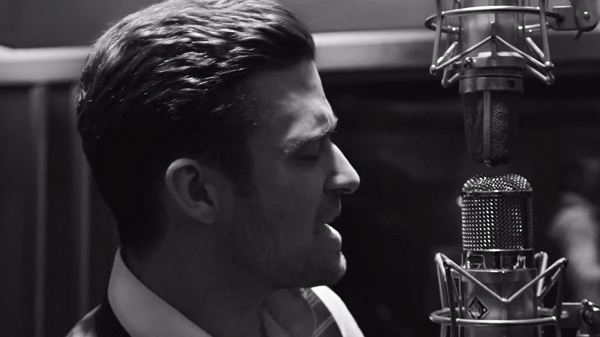 Overall , I'm not the biggest Justin Timberlake fan and the album didn't have the same shock and pop feel as some of his work before , but overall I give the album a thumbs up and I am sure Timberlake fans are enjoying this LP. He really showed his commitment to his music past , present and future.
Now on to the food !
I couldn't do food without paying homage to Justin Timberlake's home town of Memphis, TN so when I found out pasta was one of Timberlake's favorite foods I decided to put a spin on it and make sure to put some nice Tennessee Smoked Pulled Pork in that pasta. I made a warm fall pasta with nutty butternut squash and kick it up with some nice salty pulled pork. In honor of Justin Timberlake here it is :

I'M LOVIN' IT BUTTERNUT SQUASH HARVEST PASTA WITH PULLED PORK
Ingredients :
– 1 Butternut Squash (2 lb.), peeled, cut into 1-inch cubes
– 2 Medium Beets , peeled, cut into 1 inch cubes
– 1 cup chopped Fresh Baby Spinach
– 1 1/2 cup Smoked Pulled Pork ( without sauce)
– 1 Sweet Onion, Chopped
– 1/2 Teaspoon Crushed Red Pepper
– 2 Tablespoons of Olive Oil
– 4 ounces of Cream Cheese , softened
– 1/4 cup Italian Style Bread Crumbs
– 2 Tablespoons Fresh Parsley, chopped ( for garnish at the end)
– 1 8 ounce package of Triple Cheddar Shredded Cheese , set aside 1/2 cup for topping later
– Salt
– 1/4 cup Milk
– 3 1/3 cups of uncooked Rigatoni pasta
Directions:
1) Preheat oven to 400
2) In a 13 x 9 inch baking pan, drizzle one tablespoon olive on the bottom. Place squash, beets and onion. Drizzle with remaining olive, red pepper and sprinkle with salt. Bake for 30 minutes.
3) Meanwhile, cook Rigatoni as instructed on the package, drain and set in a large mixing bowl.
4) Add cream cheese and milk to pasta until cream cheese is melted and everything mixed well. Add cheese.
5) Once the squash mixture is finished baking, add the squash mixture, spinach and pulled pork to the pasta. Only fold the pasta to make sure everything is well incorporated . Do not over mix you will mush the pasta. Place back into the 13 x 9 inch baking pan.
6) Top with remaining cheese and Italian bread crumbs.
7) Bake for 20 minutes , garnish with fresh parsley and serve 🙂