"I get weak when I'm next to you, weak when we touch. I'm in deep when I look in your eyes," while I listen to songs by Belinda Carlisle. She actually is a dazzling diva to listen to while cooking something delightful. She always had great videos too.
Most people in the younger generation might recognize her from "Dancing with the Stars," and certain other reality shows she has appeared on, or sing along while her songs are played in a restaurant. However, they don't know her, the Go-Go's, and everything she has contributed to our Pop Culture History. According to PETA, The Go-Go's were the first all-female band in history to hit #1 writing their own songs and playing their own instruments.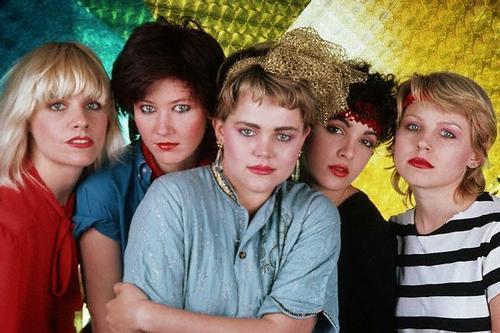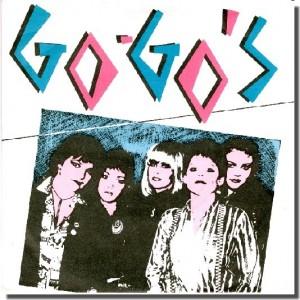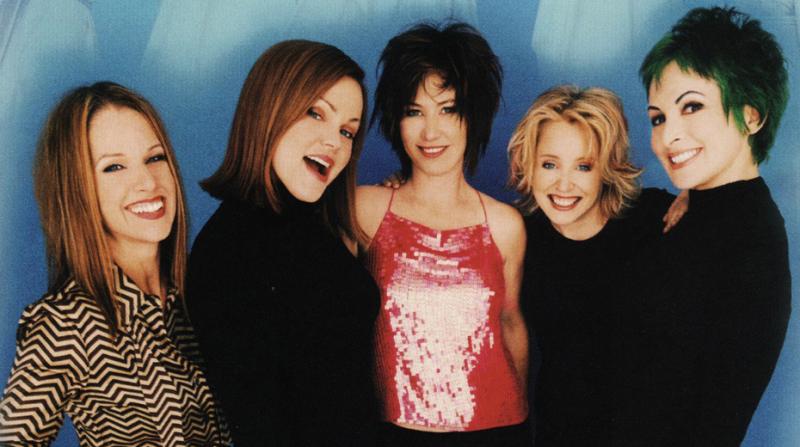 After reading her memoir, "Lips Unsealed," I have become somewhat of a Carlisle Connoisseur. She began forming a band early on in her late teens. They were inspired by the British punk scene in Los Angeles, and the Go-Go's always felt they were a punk band. The Go-Go's toured around and did a lot of drugs, and had sex with a lot of guys. They even opened for Sting and The Police, which helped launch them. Belinda and the Go-Go's hit it big with "Our Lips are Sealed." Eventually becoming The Most Successful Female Rock Band of All Time !
Carlisle said, that MTV was in its second week when the video aired, and the band had no idea what a video would do to launch a career. The initial idea from I.R.S Records was for the band to drive around and be followed by a camera. Belinda Carlisle would sing, and the other members would do cute things. They wanted an older-style convertible and found a 1960 Buick at Rent-A-Wreck. In their video, they were just having a lot of fun and because they didn't know what to do ; the band decided to play in the infamous Electric Fountain as an ending to the video.

By the time "Vacation" came out, Belinda Carlisle was doing drugs and taking first class trips to Japan, Brazil, and all over making her drug connections. She was on cocaine pretty much every time she was on stage, through the 80s. Each Go-Go band member had their drug of choice, which eventually led to the band break-up, after their Manager had to quit.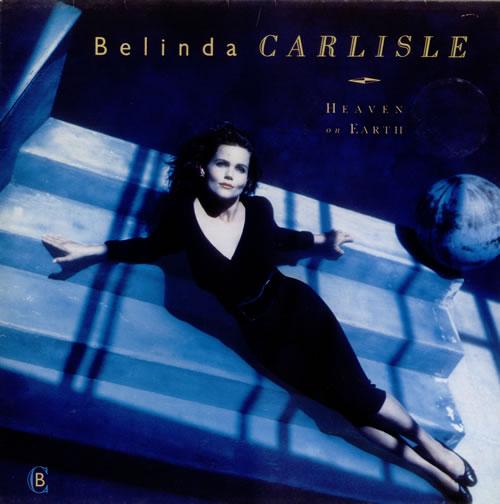 By then Belinda, did learn that "Heaven is a place on Earth," as she rocked her libretto and her solo career. "Mad About You" and "I Get Weak," became big hit songs. Belinda was going strong and was much more successful than her Go-Go cohorts.
Also, in Ms. Carlisle's recovery, she never got evicted from her mansions, or had to go to college or had to prostitute herself for drugs. Must be nice. Most people who are hooked on substances can't still afford an amazing rock-n-roll lifestyle.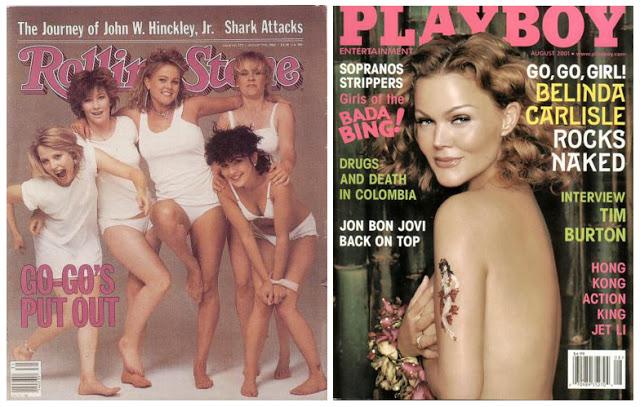 I highly recommend her page-turning memoir, "Lips Unsealed." She discusses her career and how on 9/11, she was in Italy purchasing cheese and sausages. Sounds wonderful. I would love some cheese and sausages and fancy world class cuisine while rocking out to Belinda, wouldn't you? Then, maybe "Heaven (could be) a place on Earth." Enjoy whatever European, Brazilian, American, whatever cuisine while reading this article. "I get weak when I look in your eyes."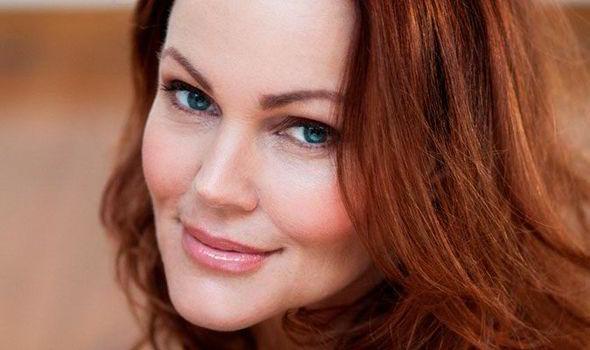 Now on to the food !
Author: Shap
After doing a little snooping around, I learned Belinda Carlisle is an avid Vegetarian and animal lover. She initially became a Vegetarian several years ago and then decided to begin eating meat again. She decided to become a Vegetarian once again after starting to practice yoga and felt the non-violent premise behind yoga doesn't mesh well with eating meat. She has been a Vegetarian ever since. Her go-go to foods include hummus, Vegan sloppy Joes and Vegan BLT's. As long as it doesn't have a "bloody aftertaste", Belinda Carlisle is game.
I decided in honor of her lifestyle to create a completely Vegan and healthy dish. I was inspired by a recipe on Proud Italian Cook, however, I decided to kick it up a notch by making it completely Vegan. Here's my version of this deliciously rich and healthy all veggie tart with no bread..all veggies and an eggplant crust. Yum !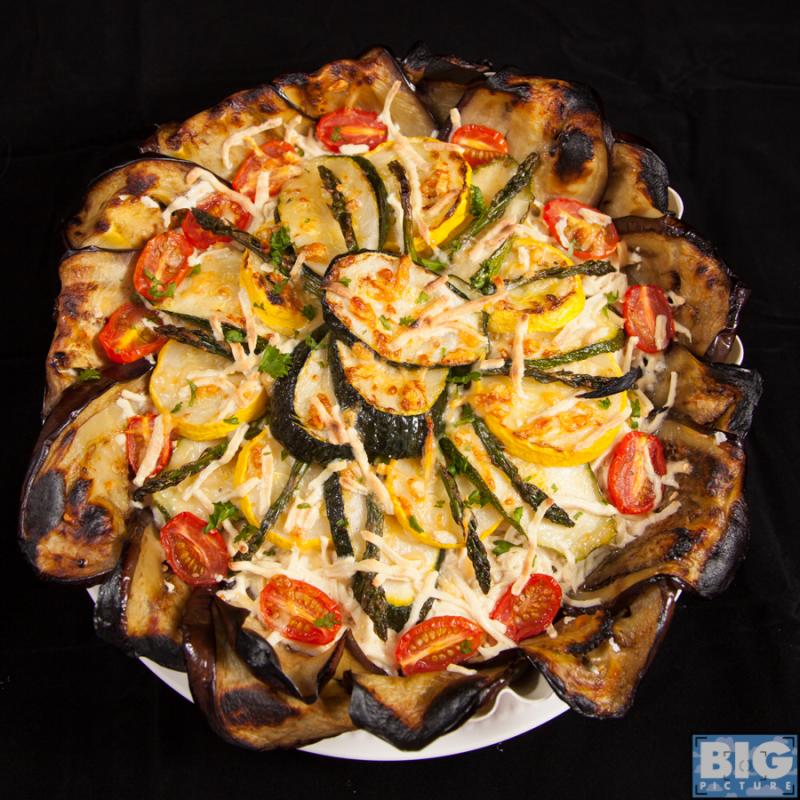 Heavenly Vegan Roasted Vegetable Tart with Eggplant Crust
Ingredients
– 9 inch flutted tart pan with removable bottom
– 3 medium Eggplant, cut longwise into 1/2 inch slices
– 2 Zucchini, cut on the diagonal
– 1 Yellow Squash, cut into round slices
– 1/2 cup of Grape Tomatoes, halved
– 10 small Asparagus
– 1 Package Shredded Daiya Cheese
– Chopped Fresh Parsley For Garnish
– Non-stick Olive Oil Cooking Spray
– Sea Salt
– Freshly Ground Black Pepper
– Extra Virgin Olive Oil
Directions
1) Heat oven to 425 F. drizzle a sheet pan with olive oil, place eggplant slices on top, sprinkle with sea salt and black pepper and more olive oil, roast until soft and nicely golden. Make sure not to over roast them otherwise they will become crispy and hard, thus making it impossible for you to mold your crust. They should be slightly flexible after roasting. Set aside.
2) Roast the zucchini and yellow squash the same way. No need to roast asparagus or tomato slices.
3) Spray the tart pan with non-stick spray. Then arrange the Eggplant on the bottom of the tart pan.
4) Top your shredded Daiya Cheese all over the Eggplant at the base of the tart until it is nicely covered. Then arrange your remaining vegetables and top with more Daiya Cheese.
5) Place tart pan on top of a baking sheet and place into a 400 F. preheated oven for 15 to 20 minutes, the cheese should be melted and the top a golden brown. Some edges may get slightly burned from being previously roasted, but that's ok.
6) Set the tart aside to cool. Remove from the tart pan and serve.