It's here. Finally, spring is here. I have been awaiting the burst of sunshine that brings life and warmth to the world. Tulips are blooming, robins are nesting, and soon I'll be cooking with fresh local berries.
This month, I wanted to create something that brings brightness to my lips the way sunshine illuminates my day.
Lemon meringue pie has always been a favorite of mine – the purity of citrus, depth of roasted meringue, and flaky crust is what I wanted to replicate as an ice cream sandwich. This lemon ice cream is not as rich as others – it is made with half and half, and so the fat content is lower – creating a lighter product. The airy meringue that's then folded in makes the entire experience an ethereal delight.
When I eat one of these, there is a very specific image that comes to mind – Fry from Futurama singing "Walking on Sunshine" by Katrina and the Waves. The lemon ice cream explodes with flavor, flecked with bits of torched meringue and then followed by the buttery shortbread. You'll find yourself dancing and singing at the top of your lungs too – you go ahead and walk on that lemony sunshine with your bad self!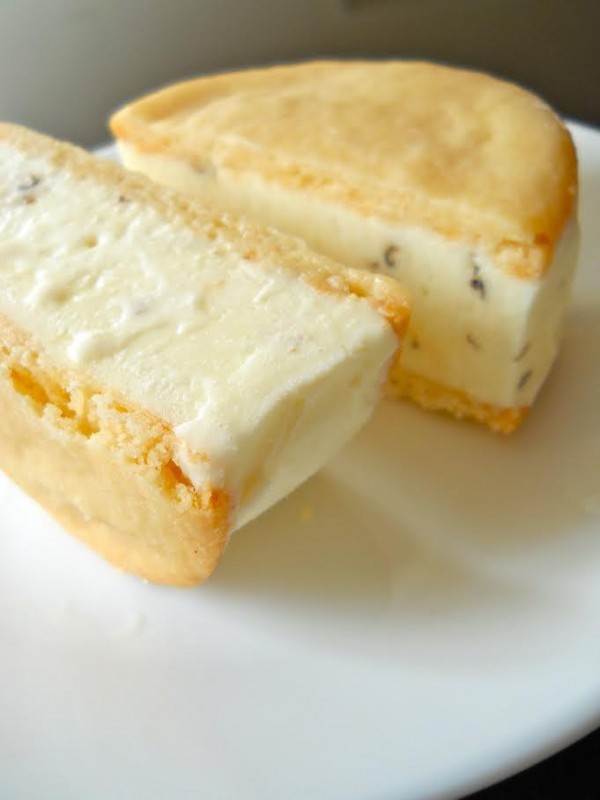 Shortbread
– 1 cup butter (2 sticks), softened
– 1 tsp salt
– ¾ cup sugar
– 2 cups all purpose flour
Cream together the butter, sugar, and salt until light and fluffy. Mix in the flour and blend until cohesive.
Roll the dough between two sheets of parchment or wax paper to ¼" thickness. Preheat oven to 300F. Place the sheets of rolled dough on a cookie sheet and chill for 30 minutes. After chilling, remove the top layer of paper and cut with a 3" round cookie cutter as many as you can get from each sheet. Place the cut out cookies onto a greased cookie sheet about an inch apart.
Bake in pre-heated oven for about 20 minutes, until the bottoms pick up a light sand color. Allow to cool.
Note: you can re-roll the dough one more time with the scraps and get more cookies out of it!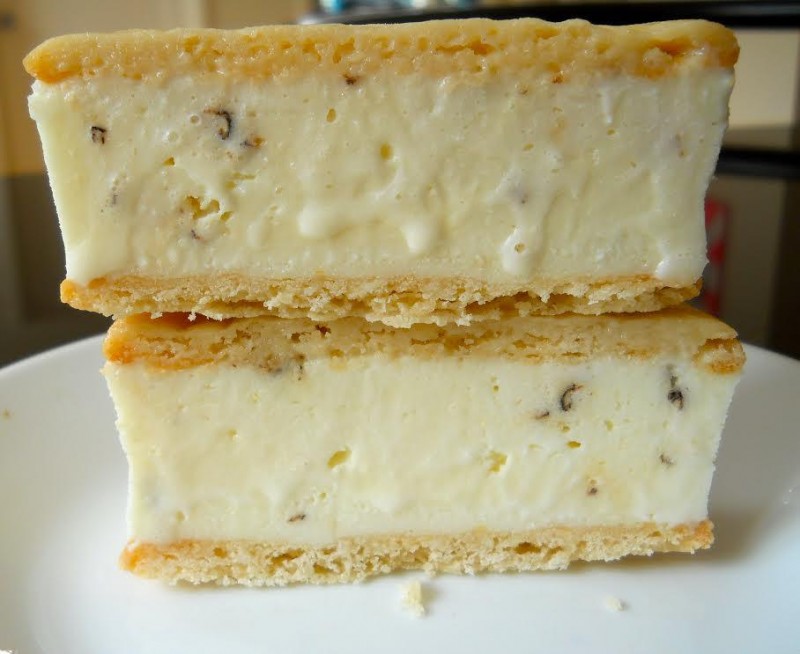 Lemon Meringue Ice Cream
Adapted from David Lebovitz's Super Lemon Ice Cream
– 4 lemons
– 1 cup sugar
– 1 cup freshly squeezed lemon juice
– 4 cups half and half (1 quart)
– 2 tsp salt
Zest the lemons directly into a food processor or blender. And the sugar and blend until the lemon zest is very fine. Add the lemon juice and blend until the sugar is completely dissolved.  Blend in the half and half and salt until smooth.
Cool and then chill in fridge for at least 1 hour. Strain the ice cream base through a fine-mesh strainer, and then spin in ice cream maker according to manufacturer's instructions.
Meringue
– 2 large egg whites, room temperature
– 4 tablespoons sugar
Place the eggwhites in a bowl of a stand mixer with whisk attachment. Whip on medium speed until eggwhites become foamy, then slowly add the sugar. Once the sugar has been added, turn the speed up to high and whip until stiff peaks have formed.
Scrape onto a cookie sheet tray lined with sprayed parchment and then spread out as thinly as you can. If you have a handheld torch (the type you can get for crème brulee), now is the time to use it to torch as much of the meringue as you can until it's a deep brown color. If you don't own a torch, pop the tray into your broiler for the same effect – keep an eye on it!
When the ice cream is ready, gently fold in your torched meringue, without stirring it completely in. There should be swirls of meringue. Freeze for at least 2 hours.
To build the ice cream sandwiches:
Working quickly, scoop about 1/2 cup of the ice cream onto an upside down cookie. Place another on top, smoosh lightly, and place in the freezer. Work through until all the ice cream has been used. If your ice cream is rock hard, stick it in the fridge for about 10-15 minutes or until it's easier to work with. And if it's too soft and runny, stick it in the freezer till it firms up. Enjoy as-is or smooth out the edges with a knife or offset spatula.