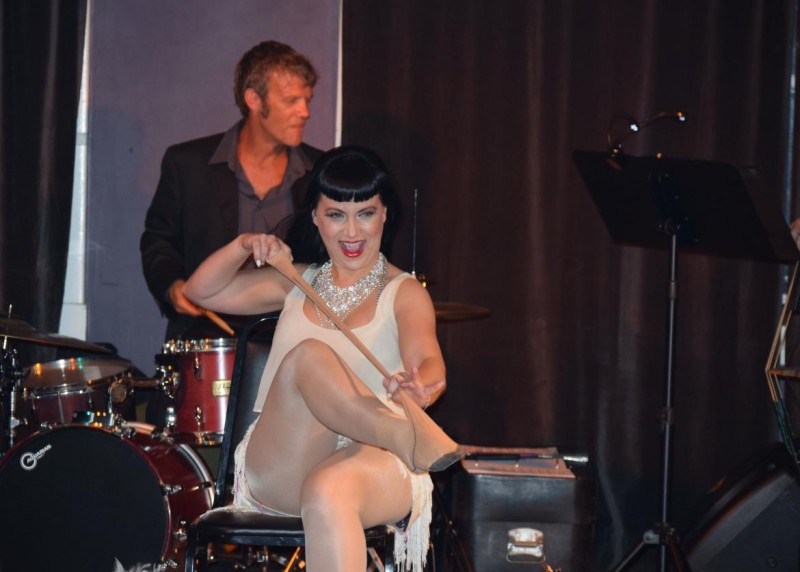 Author : Shap
What do you get when you combine the smokey and powerful voice of Jazz Singer, Stephanie Adlington, with the beautiful and feisty ladies of Nashville Burlesque ?
You get an absolutely stunning and classy Jazz Burlesque show that is sure to channel your inner Hepcat.
This show was so amazing. I'm doing a two part feature with a entree and dessert recipe each inspired by the ladies of Nashville Burlesque and Stephanie Adlington.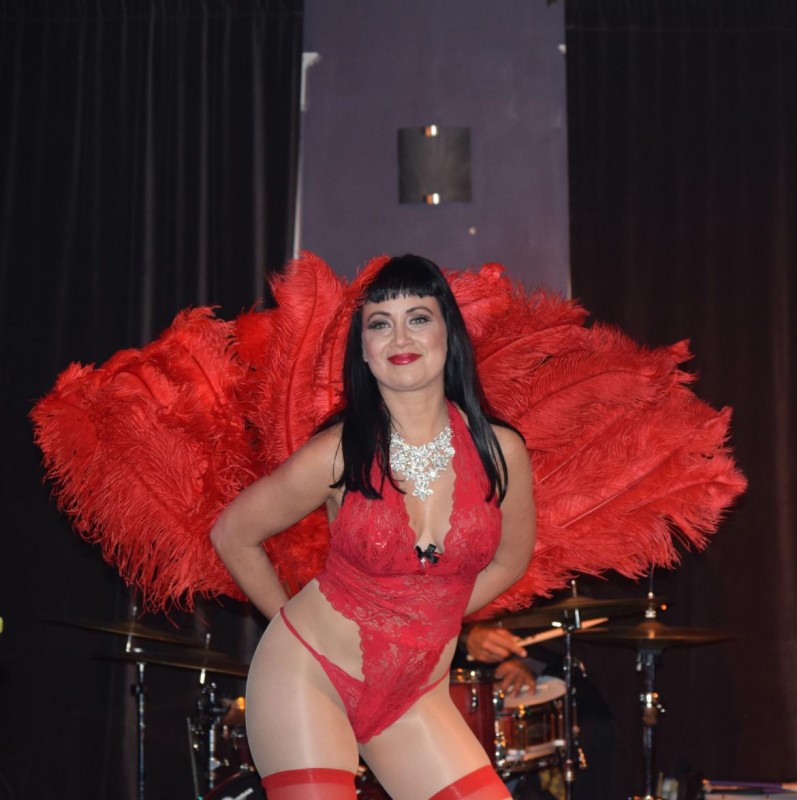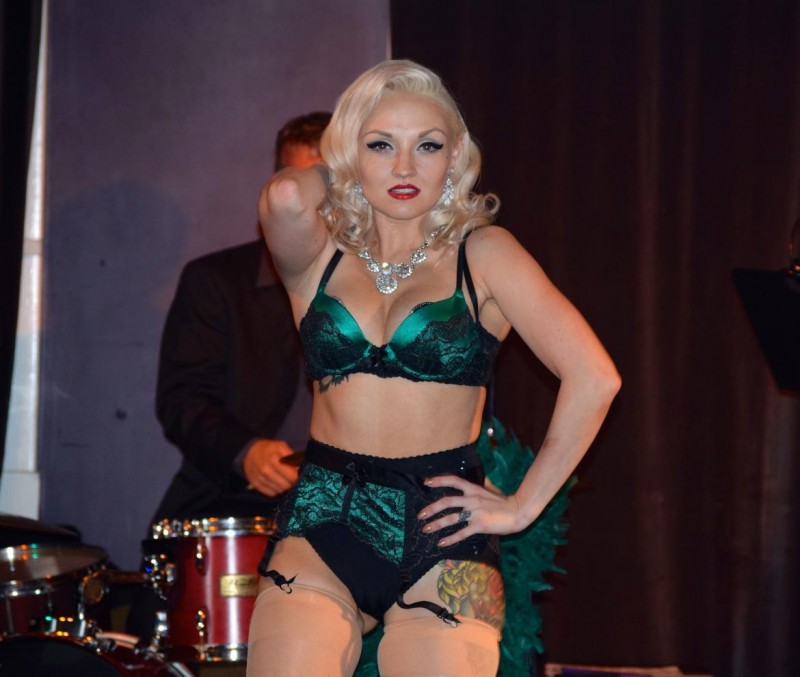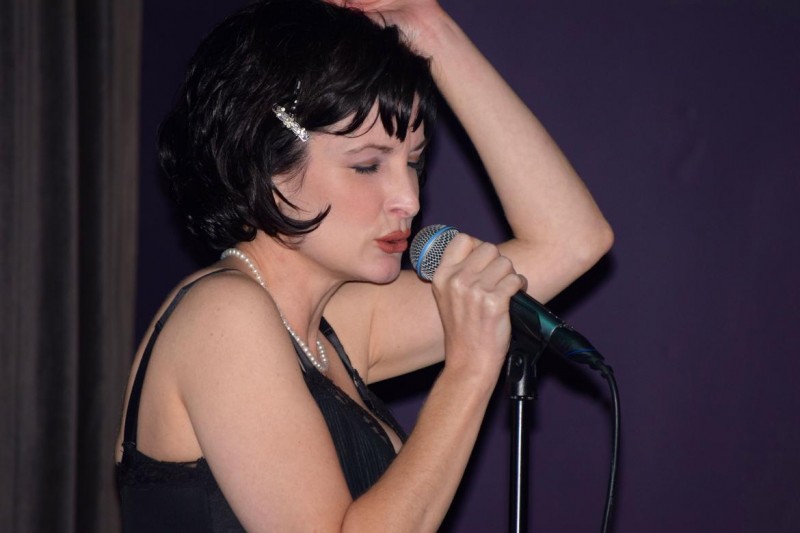 Shannon Million, Bonnie Valentine and Lita Van Ella of Nashville Burlesque put together an amazing show with a live Jazz band to accompany the talented Stephanie Adlington's vocal stylings. Songs of the show included Adlington's originals, Billie Holiday and Nine Simone to name a few. And to top it all off talented local Jewelry Designer, Tony Perrin, was one of the evening's sponsors with plenty of eye catching jewelry inspired by the secrets of notable women in history. The perfect merch compliment to an event overflowing with talented and beautiful women.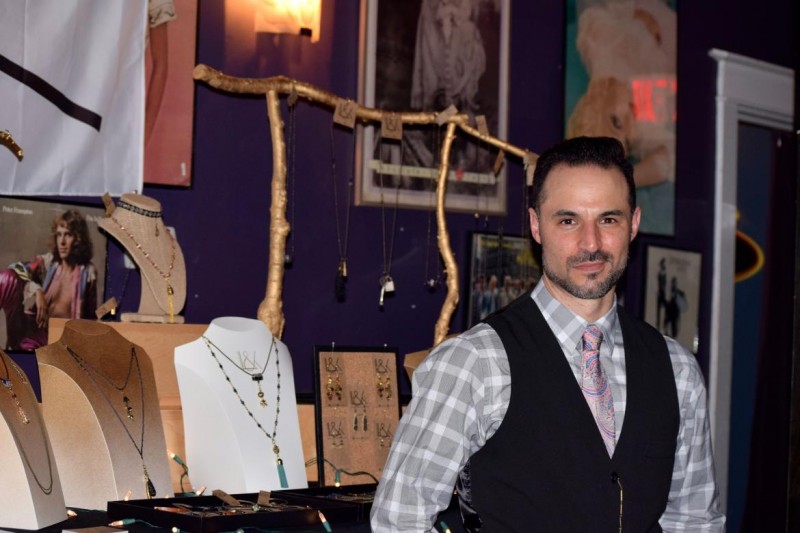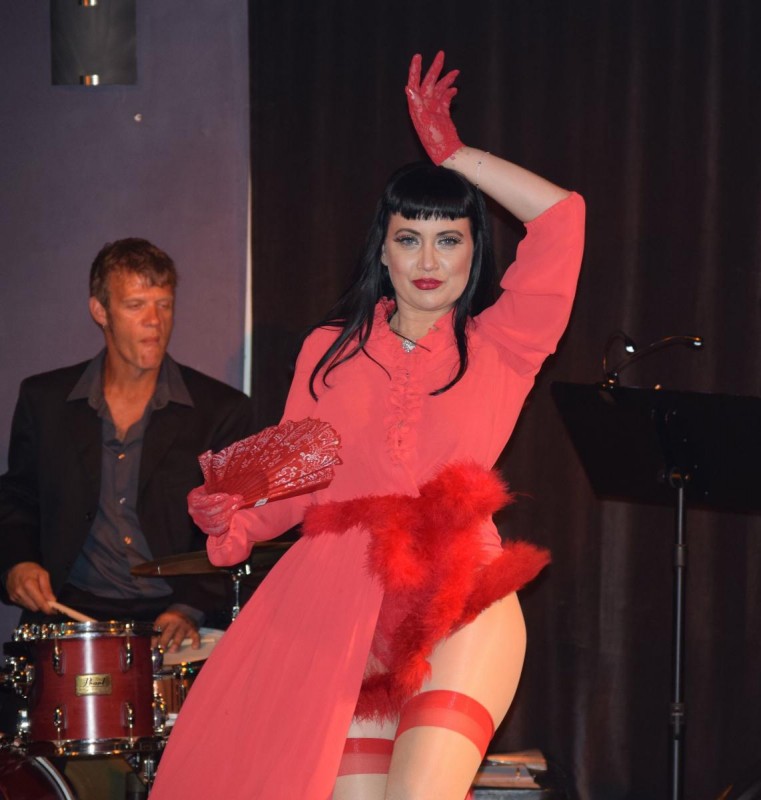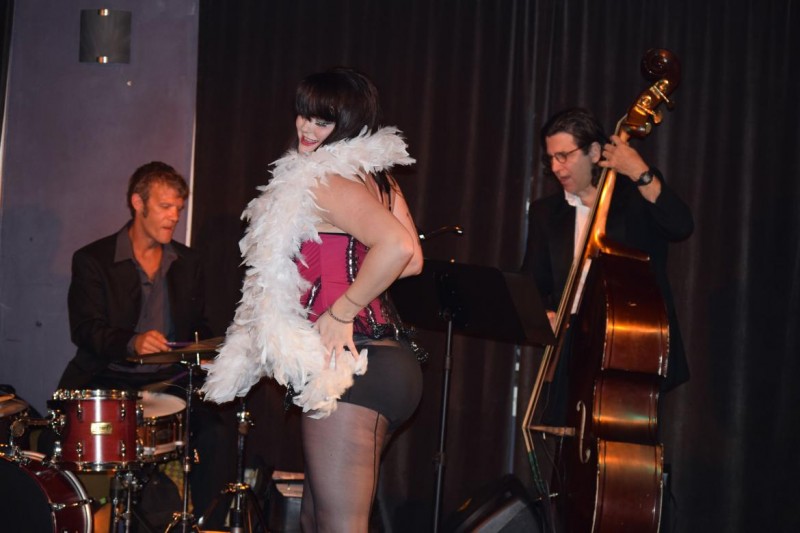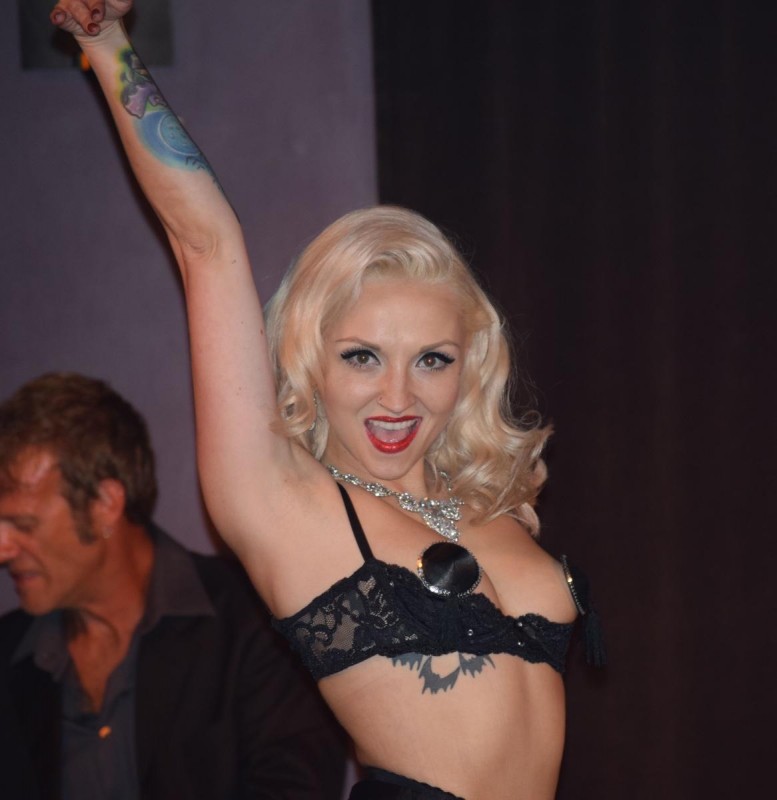 The term "Burlesque" is generally defined as a variety show involving striptease in case any of my readers may have been living in a cave. However, what I found to be wonderful about this show and many of the other Burlesque shows I've attended is the women control Burlesque. The feeling of degrading the dancers is obsolete in Burlesque. There is a sense of empowerment each of the women possess on stage that is felt by the audience. Everyone in the crowd is able to really enjoy a show the Burlesque show…women included. The ladies put so much energy and passion into their choreography and costumes, I was simply left wanting to see routine after routine and see how creative these performers could get alongside Stephanie Adlington's voice. I wanted to put on a feather boa myself by the end of the show while listening to I Put A Spell On You on my drive home.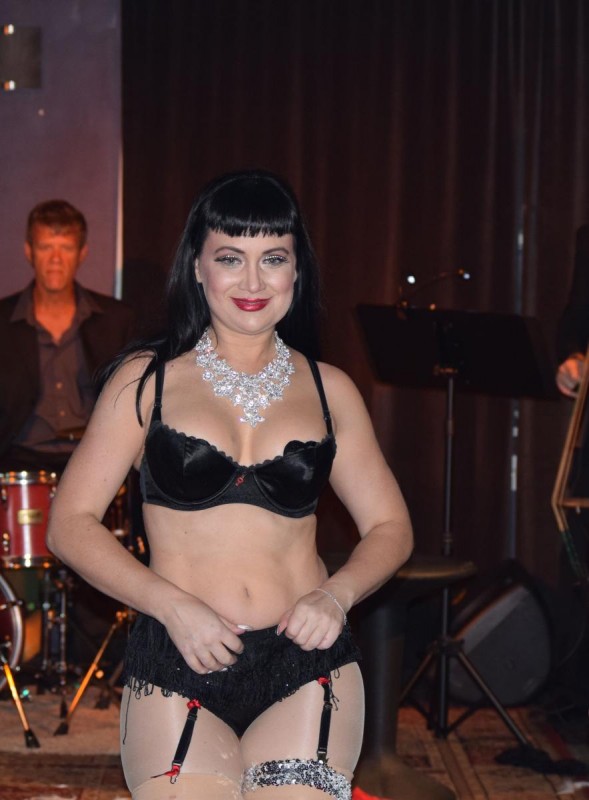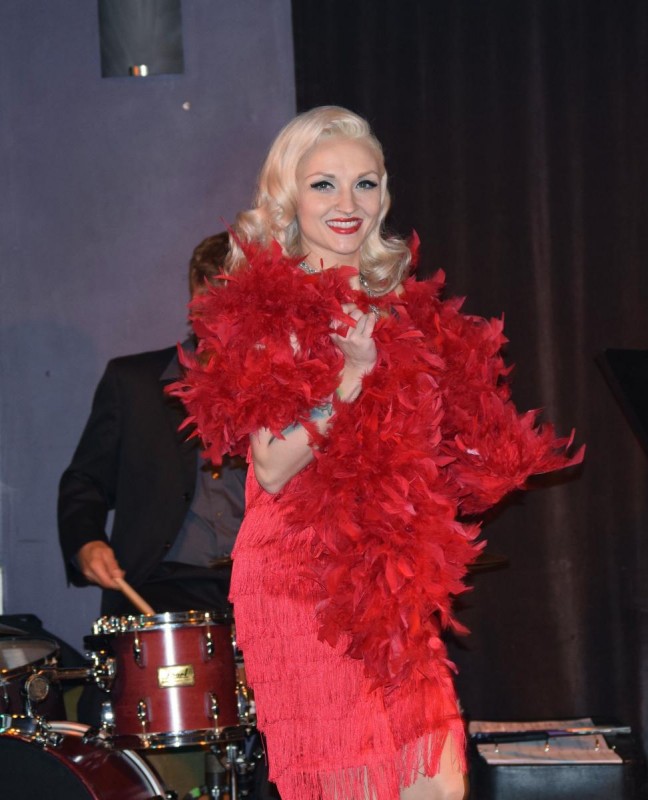 If you are in the Nashville area , be sure to check out these talented and beautiful ladies at one of their shows.
Check out their Facebook page for updates : Nashville Burlesque Facebook Page
I recently had a chance to catch up with Shannon Million and Stephanie Adlington to get the low-down on these ladies favorite noshes. When I asked Shannon Million what her all-time favorite meal,she replied with ," Snow Crab legs with drawn butter anywhere on Cape Cod" YUM !! A meal that is right up my alley if I do say so myself. Million's go to noshes before and after show day are, " Anything quick & easy. It's grab & go on the days before & of the show. After that it's time for comfort food of any kind (and wine)." But, the dish that really captured my attention is Million's favorite childhood meal, Homemade Chicken Cacciatore. This dish is a perfect feature because we are just starting to see fall and the colder days ahead. This comforting warm dish is the perfect compliment to a fall day and I made it even more comforting by serving it with some homemade Polenta to really tip this dish over the comforting edge. Make sure to turn up your favorite Jazz number while letting this savory deliciousness simmer.
Stay tuned for tomorrow's feature for Stephanie Adlington's recipe that is sure to satisfy anyone's sweet tooth . In the mean time , I hope you enjoy this perfect fall comfort food recipe for Chicken Cacciatore with Polenta inspired by the lovely Shannon Million.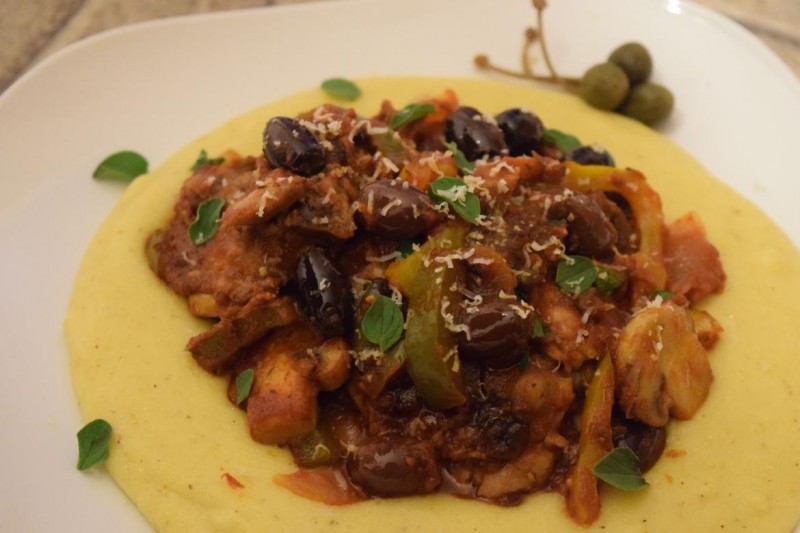 Feelin' Good Chicken Cacciatore With Polenta
Ingredients
2 Tablespoons EVOO
8 Chicken Thighs (Skin-On)
1 Yellow and 1 Green Bell Pepper ,sliced ( you can use whatever color bell pepper you like)
1 Cup of Mushrooms , sliced ( for this recipe its really your own preference..I used white)
1 Yellow Onion, finely chopped
4 Pancetta Slices, coarsely chopped
2 Garlic Cloves, crushed
3 Anchovy Fillets, drained, finely chopped
1/2 cup Good White Cooking Wine
2 Cups Crushed Tomatoes with Juice
1 cup Kalamata olives
2 Tablespoons Baby Capers, rinsed, drained
Sea Salt
Crushed Black Pepper
3/4 Cup Unsalted Chicken Stock
1/4 Cup Fresh Oregano Leaves, finely chopped
Fresh Italian Parsley , Chopped for Garnish
Whole Fresh Oregano Leaves, For Garnish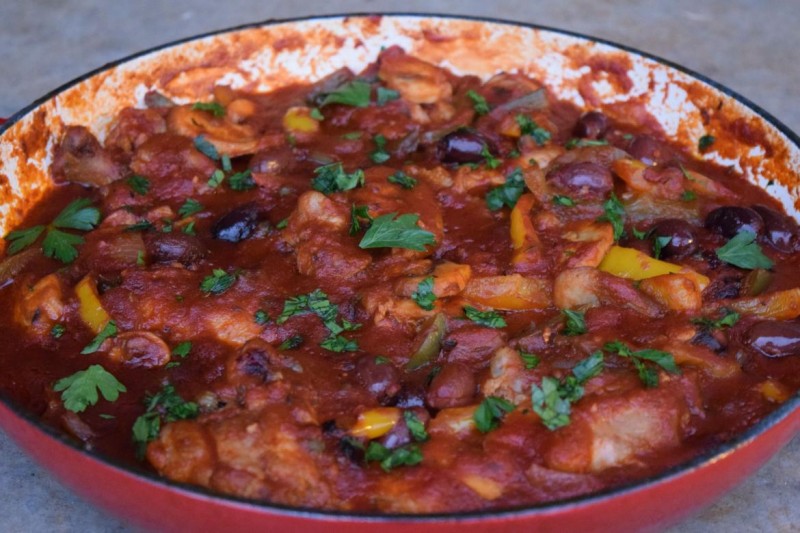 Directions
1) Using a dutch oven, Heat 1 teaspoon of the oil over high heat. Season chicken with sea salt and black pepper. Add half the chicken and cook, turning occasionally, for 5 minutes or until golden brown. Transfer to a plate. Repeat with the remaining chicken.
2) Add half the remaining oil to the pan over high heat. Add mushrooms and cook, stirring occasionally, for 2-3 minutes or until golden. Transfer to a plate. Heat remaining oil over medium heat. Add onion, bell peppers and pancetta; cook, stirring occasionally, for 5 minutes or until onion softens. Add garlic and anchovy and cook for 2 minutes. Add the chicken stock.
3) Add the chicken and mushrooms to the pan. Pour over the wine and bring to the boil. Add the crushed tomatoes and stir to combine. Reduce heat to medium-low. Cook, covered, turning occasionally, for 35 minutes or until the chicken is cooked through and sauce thickens slightly. Add the olives, capers and half the oregano; stir to combine. Remove from heat. Garnish with Parsley.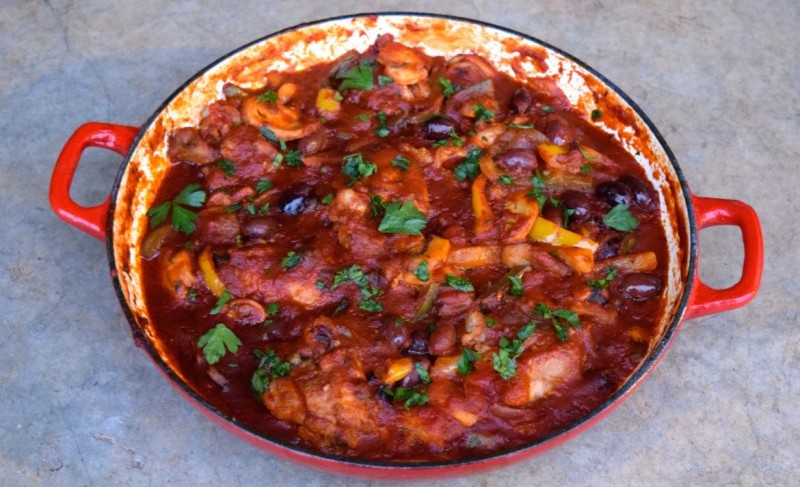 Now for the Polenta….
Ingredients
4 cups water
1 teaspoon sea salt
1 cup polenta (not quick-cooking) or yellow cornmeal
2 tablespoons unsalted butter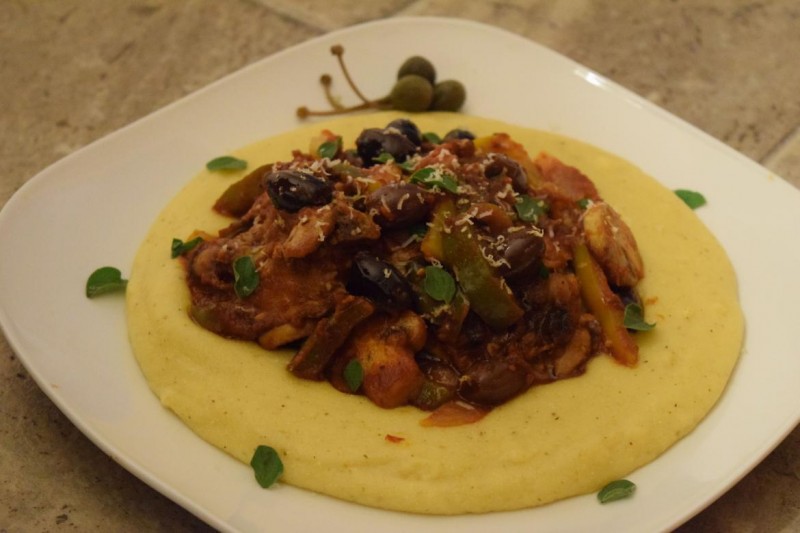 Directions
1) Bring water and sea salt to a boil in a 3-quart heavy saucepan, then add polenta or cornmeal in a thin stream, whisking constantly.
2) Cook over medium heat, whisking for 2 minutes. Be sure to accommodate if you have an electric stove. It will have to be on medium-low in order to keep from burning the polenta.
3) Reduce heat to low and cover pan, then cook at a very very low simmer, stirring for 1 minute after every 10 minutes of cooking, 45 minutes total.
4) Remove from heat and whisk in butter until incorporated. Serve immediately or warm. Do not allow this to cool or you will have a cornmeal pancake on your plate. Enjoy !