Author : Tee Mayberry
As the seasons change, so do our taste in music. During warm times we like to listen to upbeat music, conducive to sunshine, the beach, and partying. When it' cold and frigid, we like to lay by the fireplace, and listen to something warm and sultry. During this frigid time of year my favorite artist to warm up to is Norah Jones. Norah's voice is the epitome of warmth and might I add a little sexy at times. Listening to her just brings comfort me into my comfort zone and makes me feel good inside.
New York native Norah Jones found her exceptional sultry jazz voice while listening to the likes of Billie Holiday and Bill Evans, two artists whom she found their styles to be very comforting. Norah really didn't start singing jazz until she attended a performing arts high school 1997 in which she won awards for "Best Composition" and "Best Jazz Vocalist". Once she graduated high school, she went on to perform at many coffee houses and jazz clubs around the world. She was finally recognized by producers Arif Mardin and Craig Street in which she recorded her first album "Come away with me" in 2002. This garnered Jones much world recognition. She has since then recorded eight phenomenal albums, she has been nominated for many awards and has appeared on several collaboration efforts.


I love Norah Jones, I think she will be around for as long as she pleases. The music style may change around her but her voice is timeless. She is able to adapt to any genre of music and sing it flawlessly still with the Norah Jones twist. She's a very sensual artist that appeals to men and women. What is so awesome about it, she's just herself and doesn't have to sell an ounce of sex. I can't wait to hear more and more from her in the future. She just released a new cd on November 25th 2013 named "Billy Joe and Norah" Yes, THE frontman Billy Joe from the famous band "Green Day!" The snippets that I heard from the new album are sickeningly great! Please go out and purchase it. For more information about Norah Jones, appearances and concerts. Visit her webpage @ www.norahjones.com
Now on to the food…..

Author : Shap
Looks like we have a lot to choose from with Norah with her favorite noshes being Lamb and Vegetarian Meat Pies, deli sandwiches and for breakfast bacon egg and cheese croissants. With the holidays just around the corner, I decided to make a rich and full flavor braised lamb chop using Zinfandel wine and dried fruit..this is a great comfort dish on cold nights and also a fabulous dish for entertaining guests as well. I felt like the wine and fruit really help represent the calm and soothing voice of Norah Jones. And with the lamb chops ..you've got yourself a perfect Norah Jones dish ! Enjoy 🙂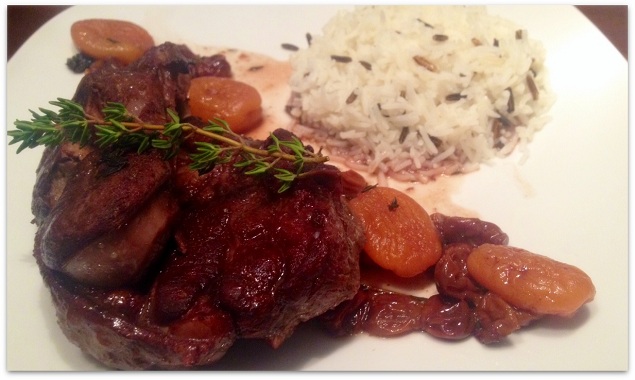 LOVE ME TENDER ZINFANDEL-BRAISED LAMB CHOPS
Ingredients
2 tablespoons extra-virgin olive oil
Four 8-ounce lamb shoulder chops (cut 1 inch thick)
Salt
Freshly ground pepper
1 tablespoon ground coriander
8 garlic cloves, halved
10 thyme sprigs, plus more for garnish
1 cup red wine, like California Zinfandel
1/2 cup dried cherries
1/2 cup dried California apricots
2 cups low-sodium beef broth

Directions
1) In a large, deep skillet, heat the olive oil. Season the lamb chops with salt and pepper and rub them all over with the coriander. Add the lamb chops to the skillet along with the garlic cloves and 10 thyme sprigs and cook over high heat, turning once, until the lamb chops are browned and the garlic cloves are browned in spots, about 6 minutes.
2) Add the red wine, dried cherries and dried apricots to the skillet and bring to a boil. Cook over moderate heat for 5 minutes until the wine is reduced by half.
3) Add the beef broth and bring to a boil. Cover partially and simmer over moderately low heat for 35 minutes until the lamb is tender and the sauce is thick ; turn the lamb chops once or twice during cooking. Discard the thyme sprigs. Serve the lamb chops at once, garnished with fresh thyme.