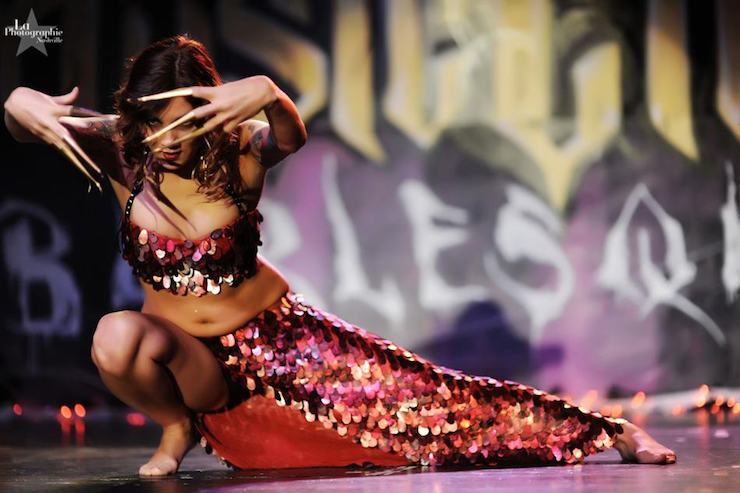 All Music City Burlesque Photos Courtesy of La Photographie Nashville
Author : Shap
And now we continue with Part Two of our interview with the talented ladies of Music City Burlesque.
Shap : What is one thing you would like fans to know about the group ?
BeBe: That we occasionally rent a cabin in the woods and act like fools together.
 Freya: That whatever you dream up happens backstage, probably does, and more. There is a lot of nakedness. And always a helping hand to glitter your ass. That's real love.
Shan: We wish we could get more naked for you? Well, the disrobed members anyway. We hate censoring our costuming WAY more than anyone in the audience ever could.
Bettie: That you haven't lived until you've watched someone who you thought was quiet, sweet and virtually innocent lick a one dollar bill and slap it on the g-string clad ass of a sexy dancing lady and walk away like she dropped the mic.
Rose: We LOVE when you come to our shows and scream as loud as possible 🙂
Lux: We "sext" each other…ALOT!
Kiki: As Bettie B. Cupp said, we are truly Sparkle Sisters. Currently, I'm 15 hours away at circus school in bloody cold Vermont but I know I can call, text or email anyone in this group for any reason. We'll fight tooth and nail with and FOR each other, because we're sisters and that's how we roll. And who else am I going to call on the eve of my 30th birthday (this March!) and share a long-distance birthday shot with? These girls right here, that's who.
Shap : What is your all time favorite performance song ?
BeBe: Rhapsody in Blue for a classical number and Fashion by David Bowie for a contemporary piece. That's two. Sue me. LOL.
Freya: Led Zeppelin's Dazed and Confused. I created a 70's Fantasy sorceress and she's the most fun to play on stage. I also love being a living, shimmying typewriter to the Typewriter Song by 101 Strings Orchestra. What? Bebe broke the rules first!
Shan: Oh man…IMMA PICK TWO TOO! Marlene is my hands down baby. It's my debut number that I have worked on for the past few years and it just keeps getting better and more fun…but I am a SUPER nerd so when I get to dress up as Wonder Woman and strip to the stylings of Bruce Springsteen, DEAD.
Bettie: My favorite will always be my debut act. It was to "Just One Dance" by Caro Emerald. That is my favorite costuming I've ever created, my favorite song, my favorite night of performing, my favorite everything. It just makes me feel pretty and you can't help but want to dance when you hear it.
Rose: Hmmm … My all time favorite so far is. I don't know. Honestly, every new one is my favorite which is why I don't typically dance the same thing twice. Sounds weird, but I guess I should bring some back. My day of the dead/Apologize number had the most personal emotion behind it. But my new Titanic number debuted at our Feburary 8th show, makes me cry every time I perform it.
Lux: Mr. Sandman (Nan Vernon's version) it was my very first act and I think it will always be the one closest to my garter belt;)
Kiki: Really, really glad Bettie said "Thrift Shop," 'cause that was soooo much fun and I'd love to do it again. Anyways, I have a hard time picking a favorite, so here goes my top ones: "Beautiful People" – one of my hoop acts from Boolesque 2010. I let my goth emo rocker side out and just f**king went for it. Pretty sure I was almost headbanging at one point. It's also the act many of our fans and friends have requested for me to bring back to the stage. One day! And "Fear and Loathing" – my acro-tease duo with Freya, performed at the Spring 2013 show. Who DOESN'T want to dress up as Raoul Duke and Dr. Gonzo, act slightly tripped out on acid & ether and bend and tumble with one of the sexiest women in Nashville in Ralph Steadman ink-splatter-style leotards?! I mean, we had rain boots and feathers going EVERYWHERE and I got to climb all over Freya. Way fun. Also, "Let It Be" – my hoop performance at our Super 70s Varie-Tease in July 2013 before I left for circus school. That song already held so much history and emotion in it for me, as I grew up singing the Beatles with my mom, and it really was the perfect song for that moment. I knew I would be a bit sad but between King Dado's intro, the audience singing along at one point – which I didn't expect! – and the love I could feel from the audience and all of the performers, I ended up crying on stage at the end. Even now, just thinking about it, I'm a bit teary-eyed. This is the one number I know I will never perform again because there will never be a better performance of it.
We'll have more on all things Music City Burlesque tomorrow so stay tuned. Meanwhile, I was inspired by Rose and Freya to create today's dish. When I think of Music City Burlesque, I immediately think of femininity and wanted to make a dish with a soft feminine touch to it and still packed a powerful flavor punch.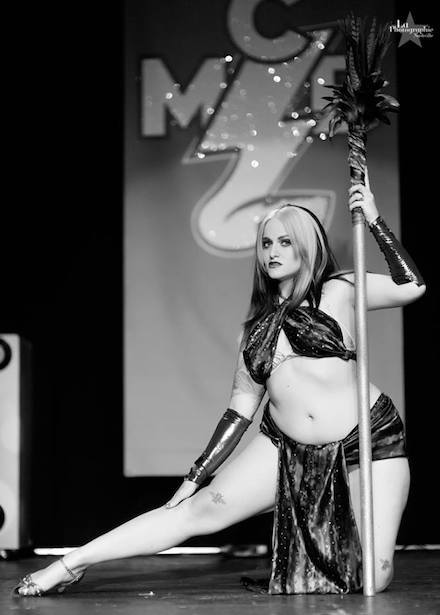 When I asked Freya what her favorite thing to eat or cook is , she said ," ..Favorite thing to eat, definitely something with cheese. I'm lucky that my husband loves to cook and I love to eat, but I love making candies! Peppermint bark is a favorite in the winter time, just make sure you're getting a really high quality, darkest dark chocolate, and that your white chocolate actually has cocoa butter in it. Temper those with a dab of peppermint oil, and top with soft peppermints (it tastes way better!)." And when I asked the same question to Rose, she responded by saying: "Oh I can put back some food now. I love food. But I'm super picky. I try to only eat whole/organic/non-processed/non-grotie foods because I want to live FOREVER. So if I don't know where your chicken came from in that chicken salad you made for that party, I ain't eatin' that sh*#! However, I make exceptions sometimes. Monells being that exception."
With these two specific tastes in mind , I decided to create a very healthy way to eat chocolate through a Chocolate Avocado Mousse Trifle Topped with Fresh Raspberries. It combines Freya's love of chocolate with Rose's love of all things healthy and organic. A decadent, healthy and feminine dish I felt represented another side of the Ladies of Music City Burlesque. Enjoy !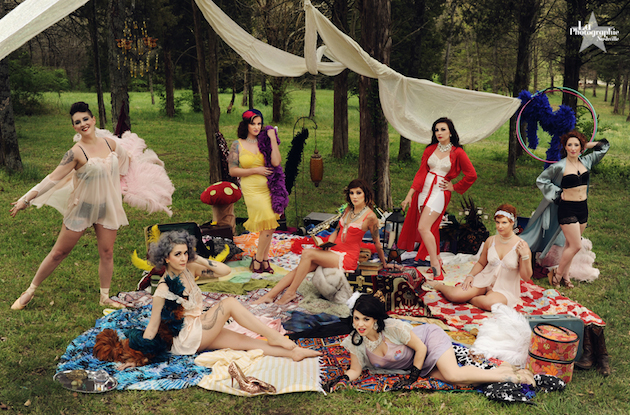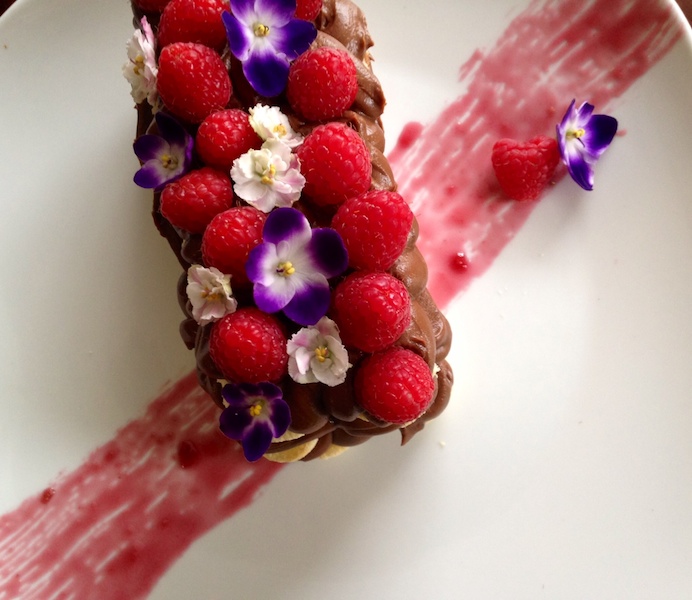 Ladylike Chocolate Avocado Mousse Trifle Topped with Fresh Raspberries
Ingredients
4 ripe Avocados
8 pieces of Lady Fingers
1/4 Cup Fresh Raspberries
A few fresh mini flowers of your choice for decoration ( make sure they are not harmful if consumed)
16 ounces semisweet chocolate chips
1 cup coconut milk (Make sure to use the thick portion of the milk at the top of the can)
2 tsp real vanilla extract
1/2 cup agave syrup
pinch of salt
Directions
1) Combine the chocolate chips and coconut milk in a microwave-safe bowl. Heat in 30 second intervals, stirring in between, until the chocolate is melted and well incorporated into the milk. Stir well and let cool slightly.
2 ) Place the avocados, vanilla, agave, and salt in a food processor and puree until smooth. Pour in the chocolate-coconut milk mixture and pulse until everything is well-incorporated and smooth.
3) Put the mousse in a piping bag (or zip top plastic bag with a corner cut off). Chill overnight until mousse is firm.
4) On your serving plate, layer four lady fingers and pipe some of the chocolate mousse. Cover with remaining lady fingers and top with chocolate mousse once again. Decorate with raspberries and flowers. Serve.