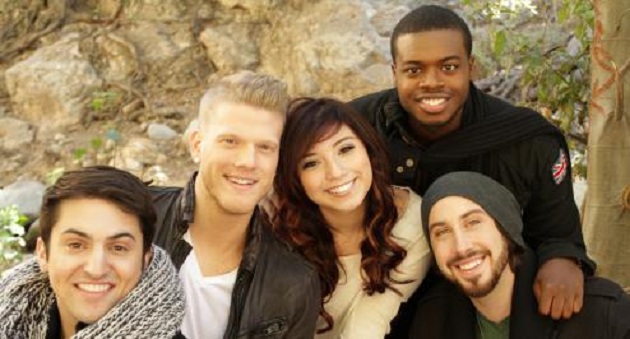 Author: Shap
I saw these guys live in Atlanta over the summer and was absolutely blown away. Over two hours of singing with NO INSTRUMENTS..all a capella..I can't take it ! I really don't know how Pentatonix does it for one song let along a two and half hour set with two encores ! Absolutely one of the best live performances I have EVER seen hands down. Can you tell I'm a big fan ?
About three weeks ago, Pentatonix put out an amazing and flawless rendition of "Little Drummer Boy" on Youtube. I watch this video with my little boy at least once a day since he has very picky music tastes and when he likes something, we have to watch it once a day….particularly at meal time…music is mandatory. But enough about me lets talk more tonix. With The Sing Off back on after a two year hiatus, Pentatonix is the cream of the crop of what the groups on The Sing Off can do. I was amazed by this group when I watched them on the show over 2 years ago, I was amazed by their live performance and I absolutely love this version of "Little Drummer Boy". These guys were great when they first started and have continued to grow their craft to be even stronger over the years as they do more videos and more touring.
For all things Pentatonix, check out : http://ptxofficial.com/
Ok..now on to the food, for this particular Pentatonix song, I was inspired to make something that reminds me of what kids like to eat since the song is called "Little Drummer Boy"..and the cookies kinda reminded me of drum tops..lol.. so I decided to make yummy Snickerdoodle cookies. Simple, buttery and full of cinnamon and sugar…the perfect holiday cookie.
Snickerdoodle Cookies

Ingredients
2 sticks unsalted butter, softened to room temperature
1 and 1/3 cup sugar
1 large egg
2 teaspoons vanilla extract
3 cups all-purpose flour
2 teaspoons cream of tartar
1 teaspoon baking soda
2 and 1/2 teaspoons ground cinnamon
1/2 teaspoon salt
For Topping Sugar
1/4 cup sugar
1 teaspoon cinnamon
Directions
1) Preheat oven to 375F degrees. Line two large cookie sheets with parchment paper. Set aside.
2) Mix topping sugar and cinnamon in a small bowl and set aside
3) In a large bowl using a hand-held mixer cream the softened butter for about 1 minute on medium speed. Get it nice and smooth, then add the sugar on medium speed until fluffy and light in color. Mix in egg and vanilla. Set aside.
4) In a medium size bowl, whisk together the flour, cream of tartar, baking soda, cinnamon, and salt. With the mixer running on low speed, slowly add the dry ingredients to the wet ingredients half at a time. After you had mixed the wet and dry ingredients, mix the dough by hand.
5) Take 2 Tablespoons of dough and roll into a ball. Roll the dough ball into cinnamon-sugar topping and place on cookie sheet about 2 inches apart. Bake cookies for 11-12 minutes. The cookies will be very puffy and soft. When they are still very warm, lightly press down on them with the back of a spoon or fork to help flatten them out.
6) Allow cookies to cool on the baking sheet for 10 minutes and transfer to a wire rack to cool completely.