Peppermint Brownie Ice Cream Sandwich

The first dusting of snow has fallen over Baltimore. Watching the snowflakes drift down as my husky puppy tries to catch them is already one of my favorite memories. Downtown, the streets around the inner harbor are lined with stark trees flecked with
white lights. Every year, I fall in love with the holiday season. The giant, beautiful tree displays in stores beckon me. To me the holiday season is the most romantic time of year, urging me to dress up and go out dancing while listening to my favorite big band Christmas music.
There is no better flavor combination in my mind to reflect the season better than chocolate and peppermint. This brownie that serves as the outside is delightfully fudgy if you do it right. And guess what the big secret is to fudgy brownies? Under bake them. That's it people! And pro tip: Freeze the brownie layers ahead of time – they will be much easier to handle this way.
Getting a bit Martha Stewart up in here, but wrapping them with a bit of parchment and ribbon like a present was too adorable to pass up.
Dean Martin is singing in the background as I bake off the brownie layers – Marshmallow World is one of my favorites; partly because of my love of marshmallows, and partly because he sounds particularly drunk and it makes me giggle. I'm a sucker for the classics.
These make a holiday gift that your loved ones will remember forever. They will sing your praises for all to hear. Happy holidays!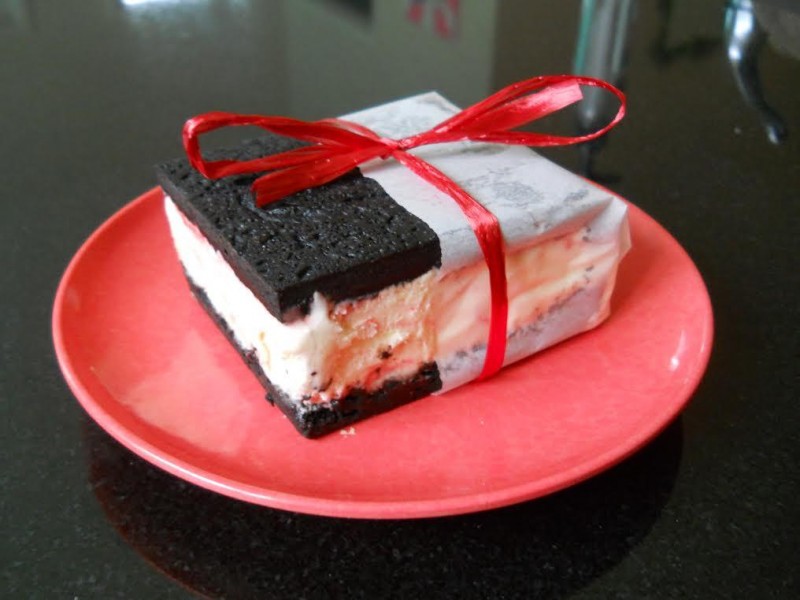 Peppermint Ice Cream
-3 cups cream
-1 cup whole milk
-1/2 cup sugar
-1/4 cup brown sugar unpacked
-6 egg yolks
-1/2 tsp salt
-1 ½ tsp pure natural peppermint extract
-4-5 drops red food coloring
In a medium saucepot, bring the cream, milk, and half the sugar to a boil. Temper with remaining sugar, egg yolks, and salt. Strain and then stir in the peppermint extract. Cool and then chill in fridge for at least 4 hours. Spin in ice cream maker according to manufacturer's instructions. As you transfer it from the ice cream maker to a container, swirl in the food coloring. Freeze for at least 2 hours.
Fudge Brownies
-4 large eggs
-1 1/4 cups dark cocoa powder
-1 teaspoon salt
-1 teaspoon baking powder
-2 tablespoons vanilla extract
-1 cup (2 sticks) unsalted butter
-2 1/4 cups sugar
-1 1/2 cups all-purpose flour
In a small saucepan, melt butter on low heat. Meanwhile, whisk dry ingredients together in a bowl. Whisk together the eggs and vanilla in a separate bowl. When butter is melted, add sugar. Stir together and bring to 110-120F. Place in a large mixing bowl, and then stir in egg mixture. Stir in dries in two stages.
Pour onto two greased, parchment lined cookie trays. Spread with offset spatula till even. Bake at 350 for 7 ½ minutes until done but slightly under baked. Once cooled, freeze the thin brownie layers for easier cutting and sandwich building.
To build the ice cream sandwiches:
Cut your brownie layers into squares based on how large you want your sandwiches – 3 or 4" squares work great. Save any scraps for a tasty snack.
Working quickly, scoop about ½ cup of the ice cream onto a brownie layer. Place another on top, smoosh lightly, and place in the freezer. Work through until all the ice cream has been used. If your ice cream is rock hard, stick it in the fridge for about 10-15 minutes or until it's easier to work with. And if it's too soft and runny, stick it in the freezer till it firms up.
You can either A) enjoy as-is or B) go over them with a knife or mini offset spatula dipped in hot water to smooth out the edges and make them look prettier. If you're feeling particularly motivated, wrap them halfway with a piece of parchment and then with ribbon. The parchment not only looks adorable, it also makes for easier eating.