A few weeks back I decided to check out my lovely friend , Tracee Perrin, at Jed's Sports Bar in Nashville for Lighting 100's Writers Night. That's when I first heard Peyton Parker sing an original song with Jon Latham and was blown away.
Peyton may only be 19 years old but her voice and lyrics in songs like , If It Was Worth Fixing are a level of musicality many artists never reach even after decades of singing and writing. Peyton's voice is soft but still carries so much conviction. I immediately knew I wanted to feature her on Lhyme.
Originally from Kennesaw, Georgia, Peyton moved to Nashville about a year and half ago to follow her dream of pursuing music full time. And if there were any doubts about her ability to succeed in the music industry, she proved all doubters wrong by signing a deal with Twenty Ten Music a mere 8 months after moving to Nashville.
Peyton describes the music scene in Nashville as very supportive with an amazing group of so many talented musicians. Peyton goes on to say, " Every time I go out I hear someone else who is more talented and its great ! It makes me want to be better and work on my music more and more each time."
For a young musician , Peyton has the perspective and maturity of a seasoned musician. Inspiration by acts such as The Civil Wars and Patsy Cline, really helped Peyton to develop her craft with maturity. As a young girl, her mother loved Patsy Cline which helped influence her country sound. However, The Civil Wars were the most influential in developing the Country Folk sound you hear from Peyton today.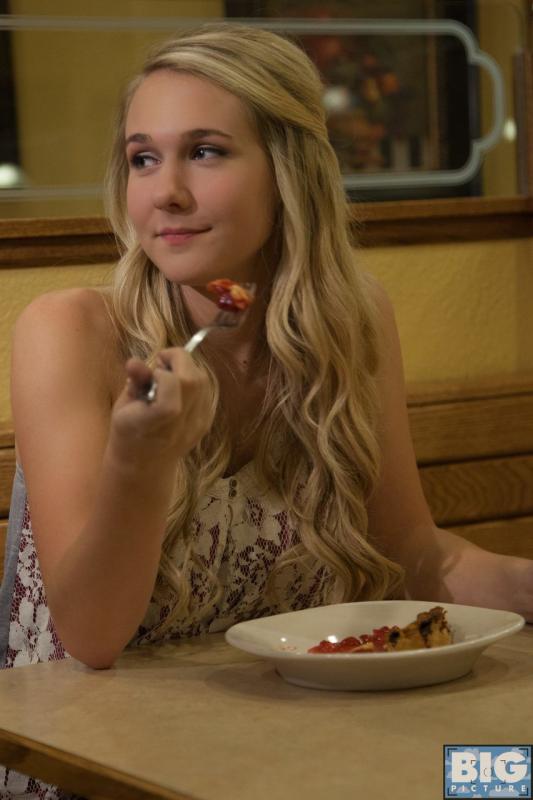 If the video for If It Was Worth Fixing is just a snapshot of where Peyton is going, she is going far. I don't consider myself to be a very big Country Folk fan and I absolutely loved this song. Peyton is currently working on her first album tentatively due May 2015. This album is a first for Peyton and her career. It will be the first release where she has control over her sound. When she was 16, Peyton released a Pop EP that wasn't a reflection of her true style. This will be her first album as a Country Folk artist. Working with great songwriters such as Charlie Peacock and Sam Ashworth , this is guaranteed to be a great project with beautifully written songs.
With a five year goal of a National Tour, a European Tour, performing ,and songwriting, Peyton Parker should be on everyone's radar for upcoming great artists. She is on the path to becoming a great musician in the Nashville music scene and there's no stopping that.
For all things Peyton Parker : http://peytonparker.com
Now on to the food !
Peyton's favorite foods are great comfort foods. Her favorite food of all time is Mac N Cheese which she admits she's not supposed to eat when recording because it bothers her voice. And when she's feeling a little homesick, Peyton craves her Dad's steak that she describes with one word as "Amazing". For her sweet tooth cravings, Peyton turns to homemade Cherry Pie.
After talking with Peyton, I was inspired to make a warm Cherry Pie to share with her. I decided to make a Swirl Top for the pie rather than the standard Lattice Top. I felt it captured Peyton's femininity and the swirls in her hair. Cherry Pie is a great way to capture Peyton Parker. It's sweet, warm , and an All-American Classic. These are all characteristics of a great upcoming musician.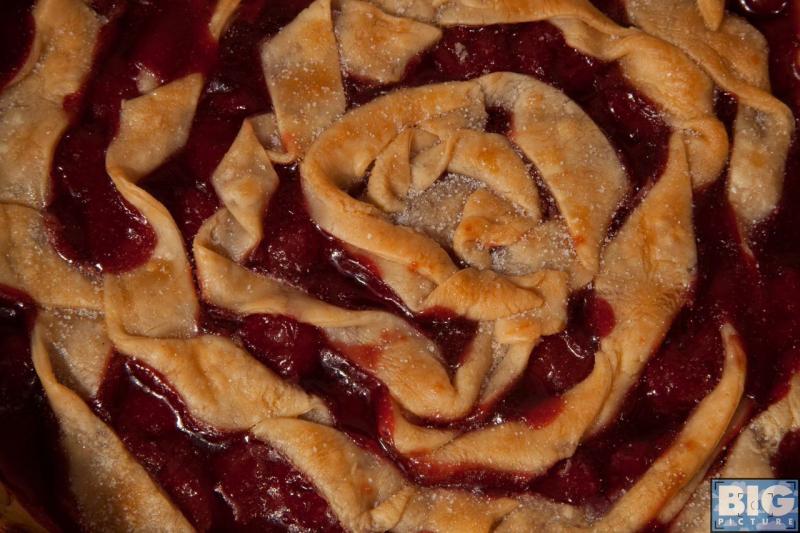 Swirled Top Cherry Pie
Ingredients
For the Dough
– 3/4 cup chilled unsalted butter
– 1 1/2 cups all-purpose flour
– 3/4 cup cake flour
– 1/4 teaspoon baking powder
– 1/4 teaspoon salt
– 1/2 cup plus 1 tablespoon chilled cream cheese
– 3 tablespoon heavy cream
– 1 tbs cider vinegar
For the Filling
– 3/4 cup plus 2 tablespoons granulated sugar
– 2 1/2 tablespoons cornstarch
– pinch of salt
– 1 1/2 lbs sour cherries, pitted, juices reserved
– 3 drops red food coloring
– 1/8 teaspoon pure almond extract
For the Glaze
– 2 tablespoons whole milk
– 1 tablespoon granulated sugar
Directions
1- Cut the butter into 3/4 inch cubes. Wrap them in plastic and freeze until hard, about 1 hour. Put the flour, salt, baking powder in a metal bowl and freeze for 1 hour.
2 – Put the cold flour mixture in a food processor and process for a few seconds to combine.
3- Cut the cold cream cheese into four pieces and add it to the flour mixture. Process for 20 seconds. Add frozen butter and pulse until none of the butter pieces are larger than a pea.
4- Add the cream and vinegar and pulse in short bursts until the dough starts to come together; the dough will still look crumbly but if you press it between your fingers, it should become smooth. Turn it out onto a clean work surface. Gather and press the dough together to form a unified mass.
5- Cut the dough in half and put each half on a large piece of plastic wrap. Loosely cover the dough with the plastic. Using the wrap as an aid ( to avoid warming the dough with your bare hands), shape one half of the dough into a flat disk and the other into a flat rectangle. Wrap each tightly in the plastic and refrigerate over night.
6- Remove the disk of dough from the fridge ( keep the rectangle in the fridge); if its very firm, let it sit at room temperature until its pliable enough to roll, 10 to 15 minutes.
7- Set the dough between two sheets of plastic wrap sprinkled lightly with flour. Roll it out to a 13-inch round that's 1/8 inch thick, occasionally loosening and reapplying the plastic wrap.
8- Remove one piece of plastic and flip the dough into a standard 9-inch metal pie pan. Fit the dough into the pan and carefully peel off the plastic. Trim the dough so there's a 3/4-inch overhang. Fold the overhang underneath itself to create an edge that extends about 1/4 inch beyond the rim of the pie pan. Cover the dough-lined pie plate with plastic wrap and refrigerate for at least 30 minutes.
9- In a medium bowl, stir the sugar, cornstarch and salt. Stir in the cherries along with juices and almond extract. Let the mixture sit for 10 minutes.
10- Remove the rectangle of dough from the refrigerator and let it sit at room temperature until its pliable enough to roll for about 15 minutes. Roll the dough onto a floured surface to an 11 by 14 inch rectangle that is no more than 1/8 inch thick.
11- Stir the fruit filling and few times and scrap it into the pie shell.
12- Cut long strips 3/4 inch wide. Then moisten the ends and join the strips together. Twist the long strip and swirl it atop the pie.
13- Lightly cover the pie with plastic wrap and refrigerator for 1 hour. After 30 minutes of chilling, set an over rack on the lowest run and put a foil-lined baking sheet on it. Preheat the oven to 425.
14- Brush the swirl top with whole milk and sprinkle with sugar after the pie is chilled.
15- Set pie on baking sheet. Bake for 55 minutes. After the first 15 minutes, cover the pie with foil or a pie shield and continue baking.
16- After baking, let the pie cool for 4 hours on a pie rack and serve.