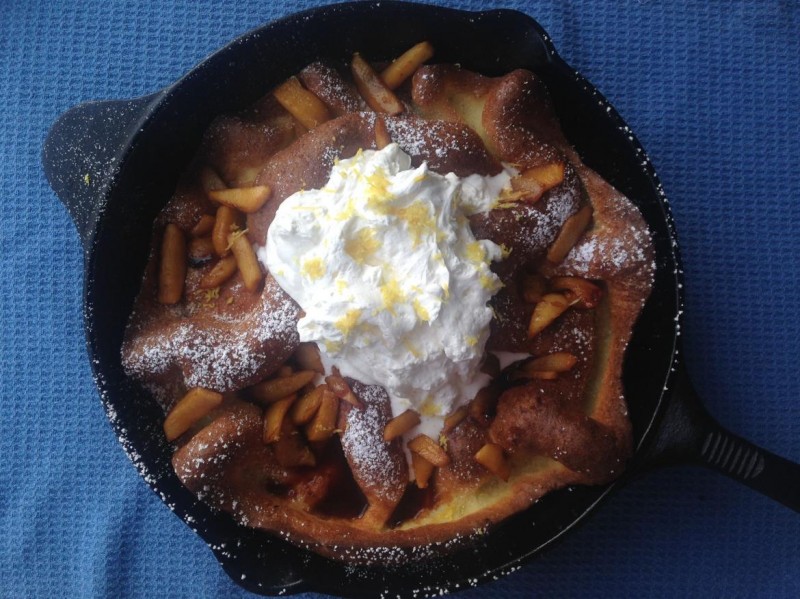 Author : Prashant Bajpai
If you ever truly wanted to savor a molecular cocktail of musical melodies, then you need to surrender sobriety before the intoxication even begins. Fortunately, Swiss/German pop duo BOY are just so damn endearing that they can get the heads of the most jaded metalheads bopping and reverse the scowl of the most gangster rappers. Good music is independent of genres after all.
Minimalistic production, maximum melody and zero pretentiousness is what this eminent indie duo is all about. However, before their discovery, came the story of their self-discovery, which began way back in 2005 when singer Valeska Steiner and bassist Sonja Glass joined forces during a pop music course they had both enrolled in. Here's a possibly accurate representation of what that moment looked like: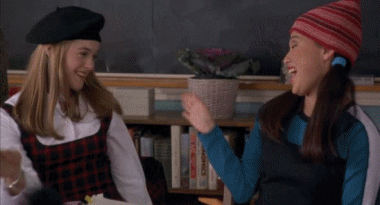 After a few adventurous years playing concerts together and honing their sound, this tale of sweet serendipity reached its climax in 2007 with the official formation of BOY. So why would a double female group want to be associated with a single male term? Their eloquent explanation to this was, "we just liked the sound of it" – an answer that is as simple and innocently endearing as their music.
BOY's grand comeuppance came with the launch of their debut album Mutual Friends in 2013 with their massive viral hit "Little Numbers" leading the charge. This uber-catchy, sunkissed acoustic guitar-driven piece of melodic pop magic showed just how evergreen the 'less is more' approach to songwriting can be when done right. It's a song that feels like the spiritual successor of Feist's "1 2 3 4". In fact, one of the most heartwarming live performance moments I've ever seen was their genuine elation hearing their audience sing aloud with them in a small bar on their first-ever USA tour. You can literally see the joy jolting out through their goosebumps as they realize that they've truly made it big.
The energy is not really electric, yet absolutely infectious. BOY's tunes get their life from their lyrics and their songwriting is perfect for capturing the scent of adolescence. Whether it's confronting the veiled melancholy of popularity chasers hoping to break through their skin by downing ice and gin, or motivating those with adventurous spirits, BOY's keyboard and guitar-powered brand of melodic pop is a sweet/bittersweet hug that anyone to take comfort in.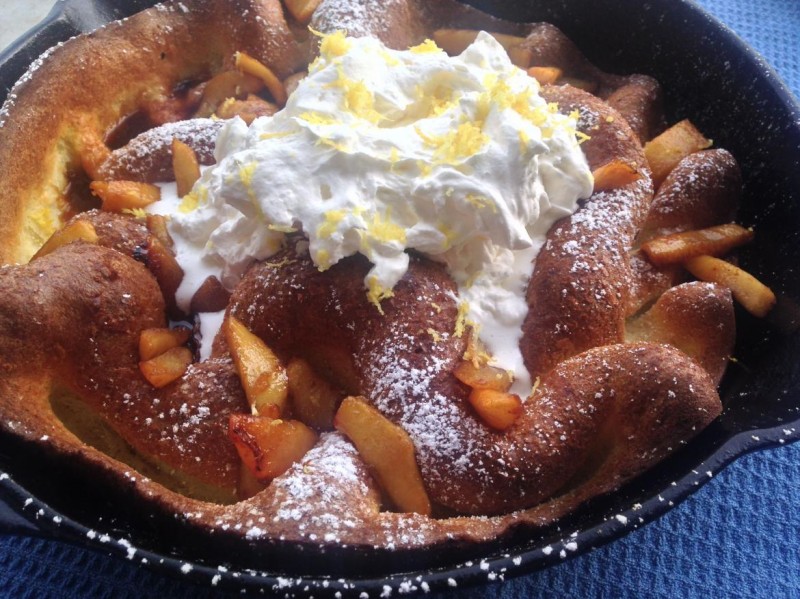 Author : Shap
While considering the Dutch heritage of Boy and everything Prashant Bajpai had to share about this band, I was inspired to make a rustic, sweet yet rough around the edges Dutch Baby. This dessert is still endearing and delicious just like Boy, but doesn't need to be all "fluffed up and decorated" for one to enjoy all its glory. Yum yum yum !
PS- Feel free to use sour cream or yogurt as substitutes for the whipped cream topping.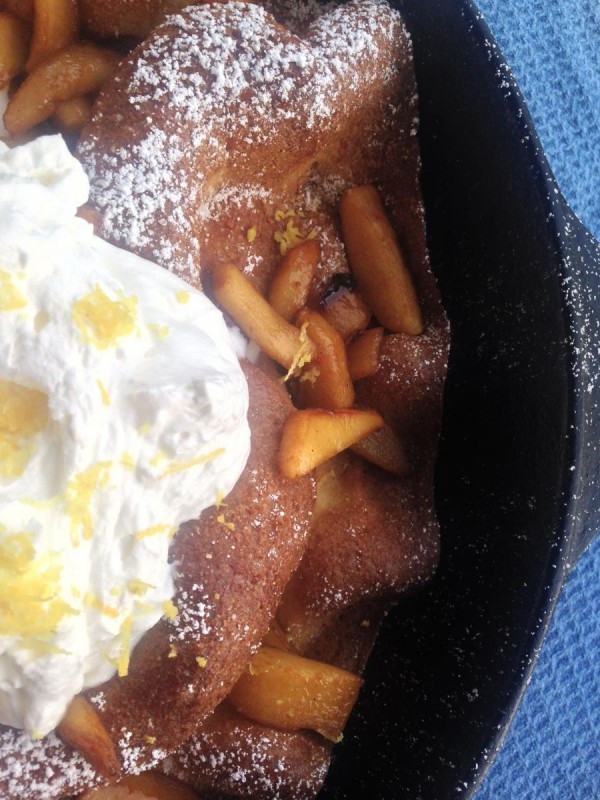 Dutch Baby With Spiced Apples
Serves 6 to 8

Ingredients
– 1/2 Cup All-Purpose Flour
– 1/2 Teaspoon Sea Salt
– 2 Large Brown Organic Eggs
– 1/2 Cup Whole Milk
– 1/4 Cup Unsalted Butter, divided use
– 3 Cups of Peeled and Sliced Apples ( whichever you prefer)
– 1 Teaspoon Ground Cinnamon
– 2 Tablespoons Packed Brown Sugar
– Powdered Sugar, for decoration
– Juice of One Lemon
– 1/4 Heavy Cream, whipped to soft peaks
– 1 Teaspoon Lemon Zest

Directions
1) Preheat the oven to 450 F
2) Sift the flour and sea salt together into a small bowl. Make a well in the center of the dry ingredients.
3) Put the eggs in a blender and blend at low speed. Add the flour mixture and the milk alternately, in thirds. Scrape down the sides of the blender and continue to blend until smooth. Blend in 2 tablespoons of melted butter.
4) Pour the batter into a well-greased 10-inch cast iron skillet. Bake for 20 minutes without opening the oven door. Reduce the heat to 350 F and bake for 10 minutes longer.
5) While the Dutch baby is baking, prepare the spiced fruit. Heat the remaining 2 tablespoons melted butter into a sauté pan over high heat. Add the apples, cinnamon and brown sugar. Continue to cook until the apples are browned for about 8 minutes.
6) Remove the Dutch Baby from the oven. Drizzle with lemon juice and sprinkle with powdered sugar. Fill the center of the Dutch Baby with the browned apples. Topped with whipped cream and lemon zest. Serve immediately.