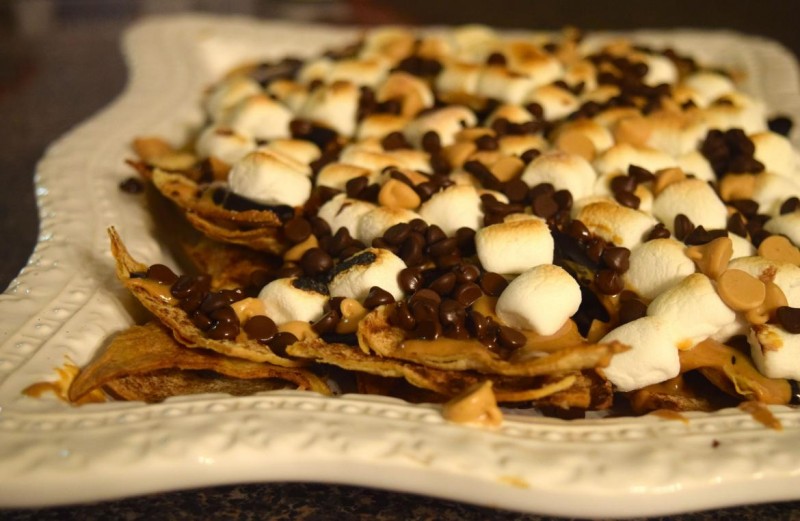 Author: Shap Malek
One word comes to mind when I think of Jazz Singer, Stephanie Adlington, "Classic". Her soft and sultry voice instantly transforms any listener into a fan. She gives you the class of Jacqueline Kennedy Onassis combined with the swagger of The Rat Pack from the 1960's. This Royal Academy-trained Nashville singer and songwriter gave me life when I heard her sing classics by Billie Holiday and Nina Simone alongside her own original songs during the recent Nashville Burlesque Jazz Soiree at Maddonna's.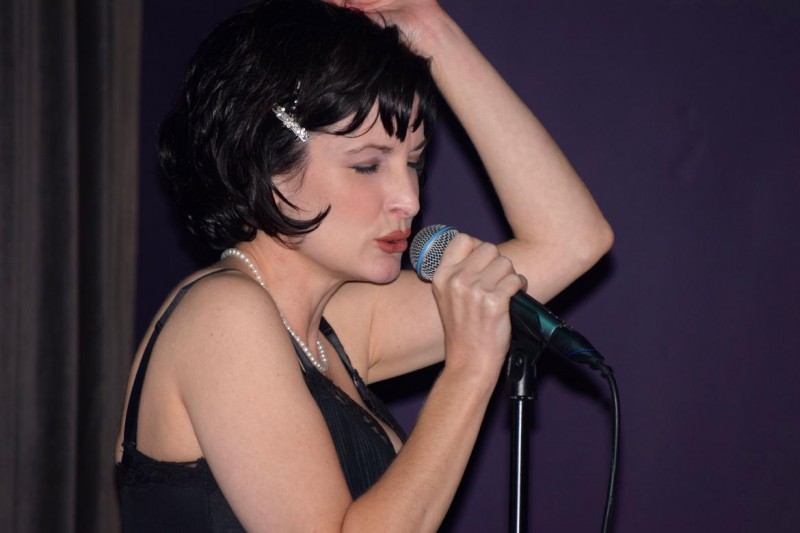 Adlington effortlessly belts out classic Jazz songs and lets her audience know she was born to do this. Many musicians attempt to perform era pieces or transform themselves into artists reflecting a specific era of music; and generally it comes off as cliche or forced. However, with Adlington, there is sheer natural sense about her style and musicality when she performs that is so smooth and innate. With her musical influences including Michael Buble and Harry Connick, Jr, Adlington builds her craft through the inspiration of classically trained icons.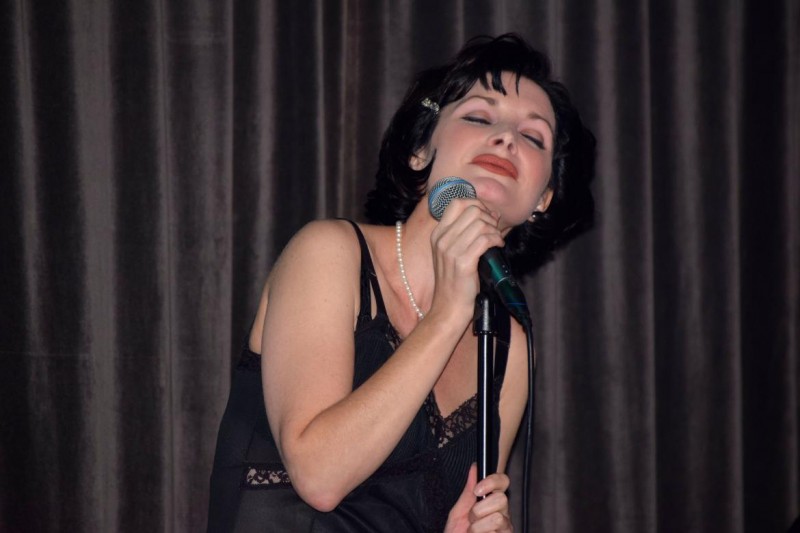 I absolutely love love love this singer/songwriter and cannot wait to hear her upcoming album where she plans to combine modern lyrics with the classic musicality of the 1960's Rat Pack Era. Amazing voice, amazing style and class equals amazing vocalist with serious star potential.
Here are a few of her songs on Soundcloud I am sure you will enjoy as much as I have.
So In Love By Stephanie Adlington
Deeper Shade of Blue By Stephanie Adlington
Eternally By Stephanie Adlington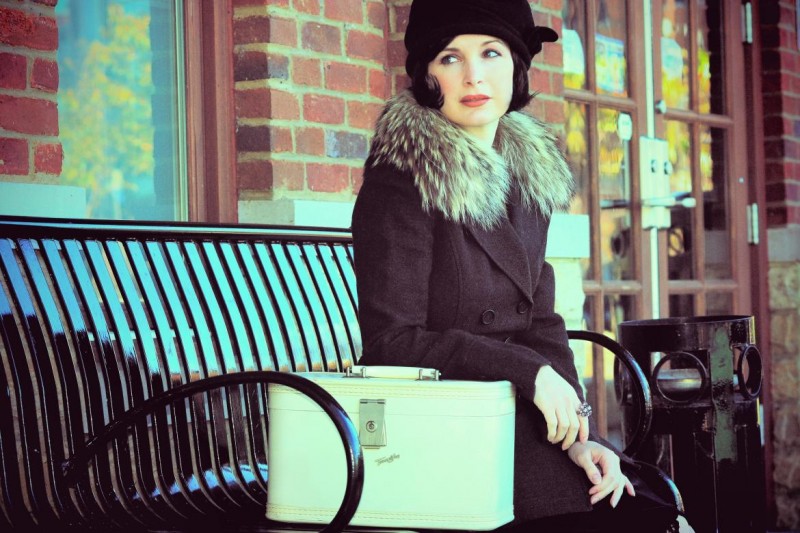 Stephanie was gracious enough to take time out and chat with me about her favorite noshes. When I asked her about her all-time favorite dish, Adlington responded with " homemade peanut butter balls dipped in dark chocolate. I literally squeal at Christmas when my Aunt makes them. If I could pair that with bourbon on the rocks I could die happily." On the day of a show, Adlington says, "I don't eat a lot before I sing but a very thin crust pizza or grilled cheese sandwich would be my first choice. After the show I want a glass of Cabernet and something savory like loaded nachos drowning in sour cream." And finally , when I asked her about a dish she loves that reminds her of home, she replied, "I was born and raised in WV and our pepperoni rolls are the absolute best! Homemade rolls filled with pepperoni and baked till the juice soaks through the bread. It's divine! Then you can slice and fill with saucy peppers/onions, or cheese, or chili, or just eat it plain. It will always taste like home."
After hearing such delightful recipe ideas, I decided to combine some of Adlington's favorite treats and create one dish I felt encompasses some of Adlington's favorite noshes and drinks. After much thought, I decided to make some luscious dessert nachos made with Chocolate and Peanut Butter. I decided to make homemade cinnamon sugar tortilla chips to really give the dish some authentic flavor; and as a nod to Adlington's love of bourbon, I made a divine chocolate bourbon sauce to drizzle all over these super rich nachos. This dessert is sure to satisfy any sweet tooth and is the perfect accompaniment to some relaxing Jazz music. They're not much work and are perfect for fall or winter. These nachos are love on a plate.
Be sure to check out the links below for all things Stephanie Adlington and the recipe inspired by her wonderful nostalgic voice.
Stephanie Adlington on Youtube
Follow Stephanie Adlington on Instagram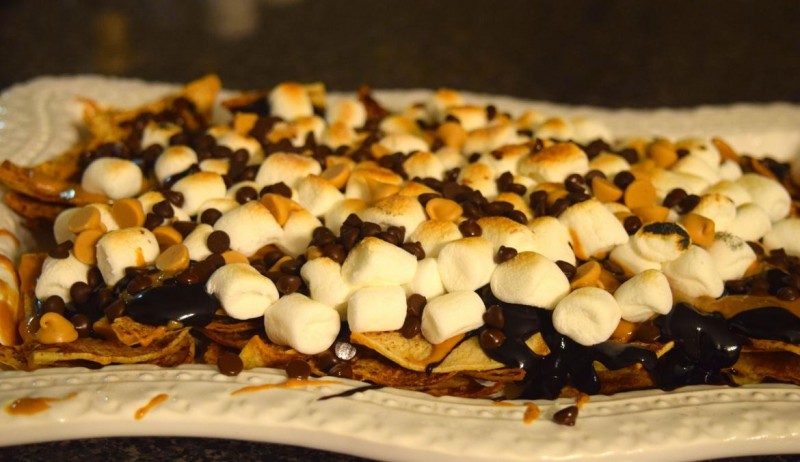 Bang Bang Chocolate Peanut Butter Nachos with Bourbon Chocolate Sauce & Homemade Cinnamon Sugar Tortilla Chips
Ingredients for Tortilla Chips
1 Small Package of Corn Tortillas
A Water Spritzer
Cinnamon ( as much as you like)
Sugar ( as much as you like)
Directions
1) Preheat the oven to 350.
2) Stack the tortillas on top of each other and cut into 6 wedges each. Lay each piece in a single layer on a nonstick cooking sheet. Lightly spritz the wedges with water and then evenly spread the sugar and cinnamon as much as you like on the tortillas.
3) Bake for about 10 minutes and they're done.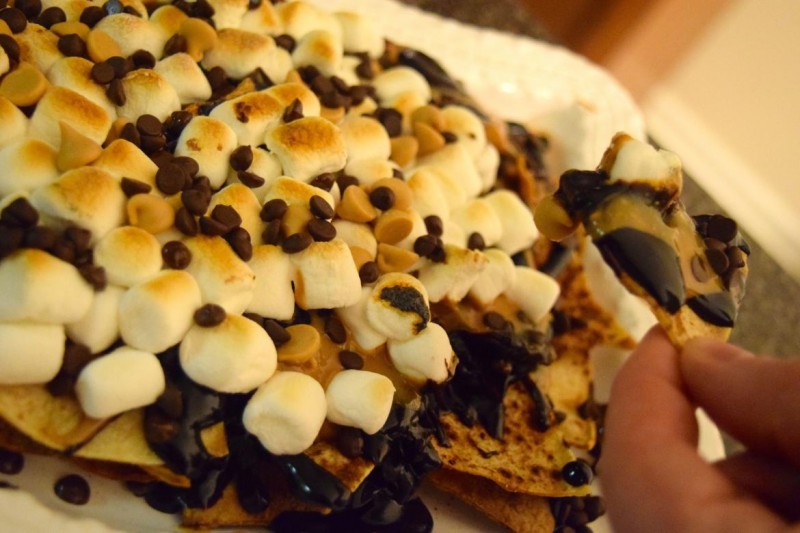 Ingredients for Chocolate Bourbon Sauce
2/3 cup whipping cream
2 tablespoons packed dark brown sugar
6 ounces semisweet chocolate mini chips
1 tablespoon your favorite Bourbon
1 teaspoon vanilla extract
Directions
1) In a small saucepan over medium heat, combine milk and brown sugar. Stir until sugar dissolves and cream just starts to boil.
2) Remove from heat, add chocolate and stir until smooth. Stir in bourbon and vanilla.
3) Serve immediately. Dip or drizzle on favorite dessert.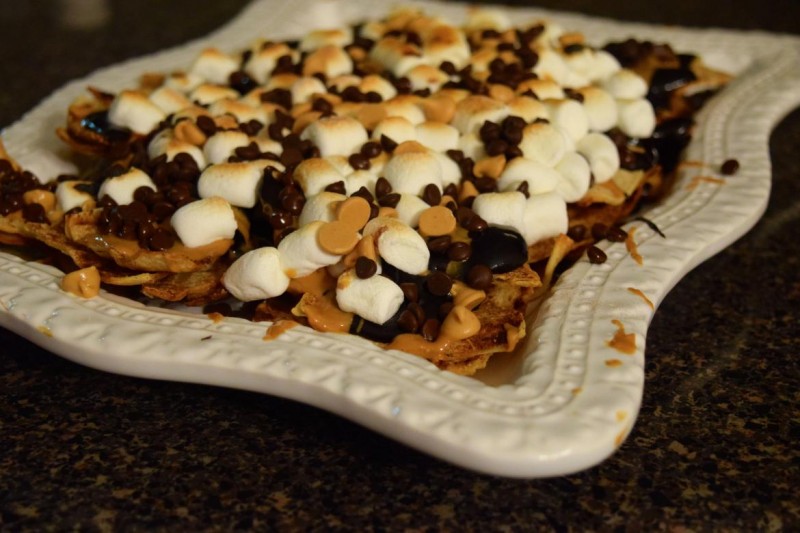 Ingredients for Bang Bang Chocolate Peanut Butter Nachos
Cinnamon Sugar Corn Tortilla Chips ( previously made)
1 cup Miniature Marshmallows ( really its up to you how much or how little you want on these bad boys)
1/2 Cup Milk Chocolate Chips
1/2 Peanut Butter Chips
Chocolate Bourbon Sauce ( Previously made)
Organic Creamy Peanut Butter ( Room Temperature)
Directions
1) Turn on your Broiler in your oven on High.
2) Using an oven safe plate, lay your chips evenly on the plate. Drizzle the chips with as much bourbon chocolate sauce and peanut butter as you like. Then top with marshmallows.
3) Place in the broiler for 3 minutes.
4) Top with chocolate and peanut butter chips. Serve Immediately.