Author : Chef Caitlin Howington
I'm not sure if there's anyone out there reading these entries, but if so – I've missed you! June was busy but I am BACK with a smashing treat that sings summertime. With this ice cream you will birth fans that shall "oo" and "ahh," reveling in your glory for years to come.
If you're reading this I can only assume you are a fan of ice cream (or just a fan of mine – hi Mom!). And as such, you may already be aware of the Ben and Jerry's flavor graveyard. Where their flavors that kissed the sun for a short time fall and die because they couldn't sell enough. This, my friends, is where Kaberry Kaboom rests. But I have brought it back – a zombie ice cream if you will – to grace others with its poppity flavors this summer.
Strawberry blueberry ice cream with white chocolate covered pop rocks and a blueberry jam swirl is what makes up this fun flavor. Make the ice cream with local berries if at all possible; berry season is a wonderful time.
A great soundtrack to this ice cream, in my mind, is Meghan Trainor. Partly because I've been on a Meghan Trainor kick, okay – which is a lot to admit for someone that doesn't usually like pop music. But moreso because her songs like "Lips are Moving" are bubblegum pop, with hints of doo wop, but she adds her own pop by dropping in a rap verse. Pop. Pop. Pop.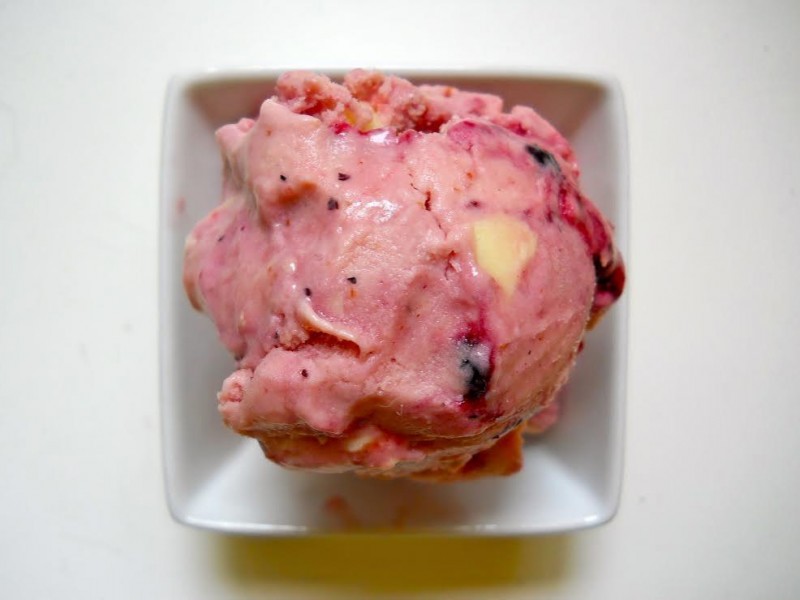 White Chocolate Covered Pop Rocks
-1 11-oz bag white chocolate chips
-2 packs strawberry pop rocks
Place the white chocolate in a microwave safe bowl and microwave in 30 second intervals – stirring in between – just until melted. Spread onto a parchment lined cookie tray until it's a thin layer and allow it to cool for a bit. Test the chocolate by tossing a few pop rocks onto it – if they pop, it's still too hot. Allow to cool until you can do this without them popping, and then add all of the pop rocks. Yes, this might mean you're hunching over a tray of chocolate listening for pops but it's worth it in the end.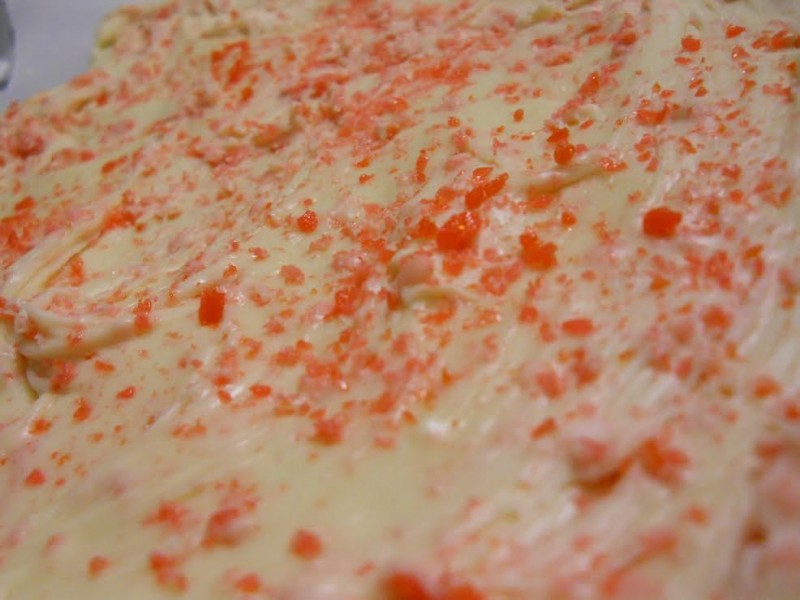 Once the chocolate is fully cooled and set, break or cut into pieces to fold into the ice cream.
Strawberry Blueberry Ice Cream
Yields 2 quarts
-3 cups cream
-1 cup whole milk
-1 cup sugar
-1/4 cup brown sugar unpacked
-6 egg yolks
-1/2 tsp salt
-12 oz fresh strawberries, stemmed
-8 oz fresh blueberries
-2 tsp fresh lemon juice
-1/2 cup blueberry preserves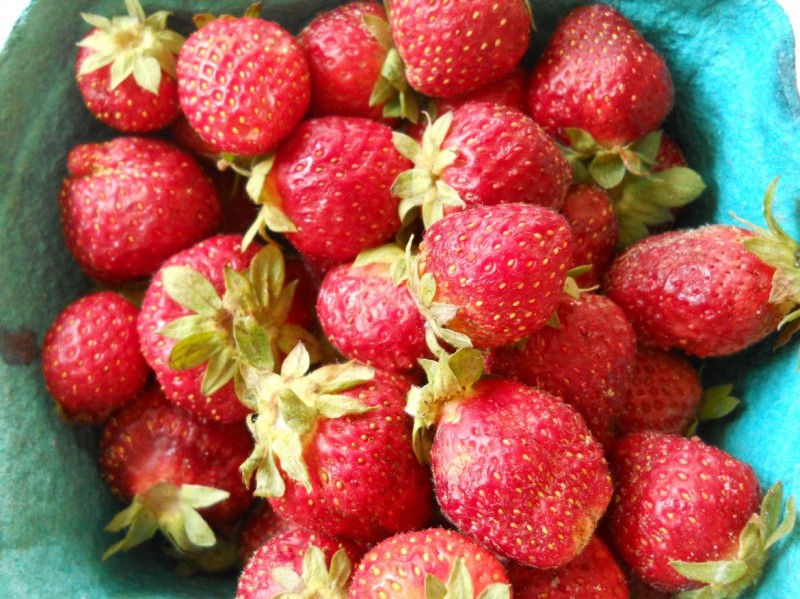 In a medium saucepot, bring the cream, milk, and half the sugar to a boil. Temper with remaining sugar, egg yolks, and salt. Pour into a blender, not more than halfway, and blend in strawberries and blueberries on low to medium speed until thoroughly incorporated. Strain. Cool and then chill in fridge for at least 4 hours. Stir in lemon juice.* Spin in ice cream maker according to manufacturer's instructions. Gently fold in the blueberry preserves and chunks of white chocolate covered pop rocks.
Freeze for at least 2 hours.
*Don't get ahead of yourself and add the lemon juice while the ice cream base is still hot or warm. Proteins coagulate in the presence of heat and acid. In other words, you'll have some lumpy curdled ice cream base and have to start over.