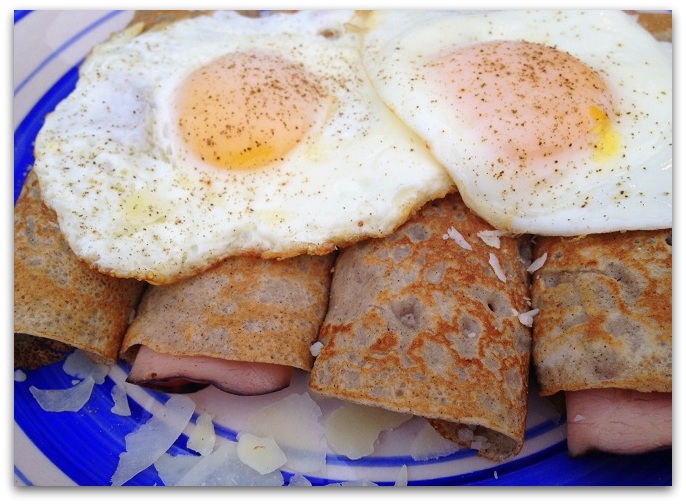 Author : Shap
I'll be honest, when Taylor Swift first came onto the music scene; I was not a fan of her music. That's until one night I was up late and happened to catch one of her live concerts on television. I actually got to see her perform and hear her music; and I immediately became a fan. Initially, I didn't really want to listen to her music or even give her music a chance because it was constantly on rotation on the radio. Rather than enjoying her music, it just became an annoying part of my car ride. But after I got the chance to watch her live and really listen to some of her music, I am definitely a fan…not a psycho obsessed fan but still a fan of her music.
After doing my food research I found out that one of Taylor Swift's favorite things to eat are buckwheat crepes with ham and Parmesan cheese and topped with a fried egg. I personally have never cooked with Buckwheat before but the artist gets what the artist wants and , so I decided to make and share a recipe for Taylor's favorite dish. Let me say this is one tasty, comforting and simple dish to make that's also very good for your body. I wasn't new to the experience of cooking a crepe ( at my old job we made the much thicker crepes), but with these Buckwheat Crepes you definitely want to cook them on an 8 inch nonstick skillet that makes the flipping process as well as the size of your crepe..perfect. This dish tastes great and is simply enough where it can be made or eaten as a meal anytime of the day. Now on to the food…enjoy !! 🙂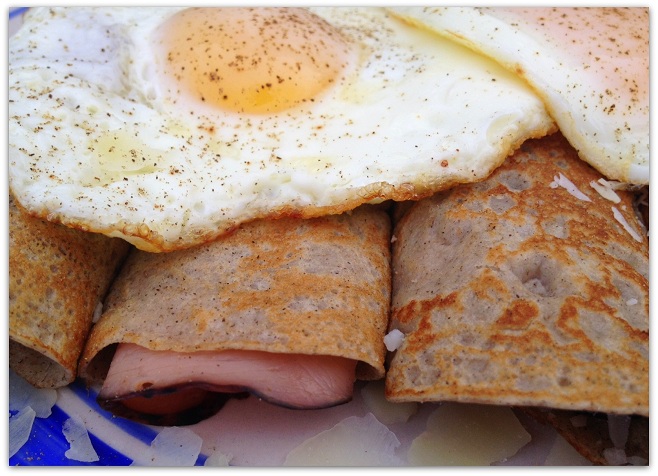 BEGIN AGAIN BUCKWHEAT CREPES WITH HAM AND PARMESAN CHEESE TOPPED WITH A FRIED EGG
Ingredients
– 1/2 Cup Buckwheat Flour
-1/2 Cup all-purpose flour
-1 teaspoon salt
-5 large eggs
-1 3/4 cups of whole milk
– 5 tablespoons of melted butter
-4 slices of Black Forest or Maple Honey Ham ( Used Maple Honey Ham)
-1/4 Cup of Shaved Parmesan Cheese
Directions :
1) Mix together both the flours and salt in to a mixing bowl. Add two eggs, milk and 2 tablespoons of butter, use a whisk and mix until the mixture is smooth.
2) Wrap your batter with plastic wrap and place in the refrigerator for at least 30 minutes to 8 hours. You can even leave the batter in the refrigerator overnight.
3) Preheat your oven to 200 F, so that you can put the crepes in there on a plate to keep them warm as you cook the remaining crepes and the eggs for your dish.
4) Heat a good nonstick 8 inch skillet to medium heat on your stovetop.
5) Add 1/2 teaspoon of the melted butter the bottom of the skillet and make sure you spread it around ( I used a crumpled up paper towel to spread it ) the bottom of the skillet so that it is evenly coated.
6) Take 1/4 of a cup of the batter and pour it into the hot skillet. Spread the batter around quickly again the bottom of the skillet to make sure the crepe comes out thin and even.
7) Cook for about One Minute and flip over ( I used my fingers for this) and cook the crepe for about another 20 seconds.
8) Repeat this until all of the batter has been cooked into Crepes.
9) You can cook your ham on the skillet for about 2 minutes until ham is cooked to desired temp.
10) Place your crepe flat on a plate and put a slice of ham on top. Sprinkle parmesan cheese on top of the ham and roll the crepe.
11) Place the crepe seam side down onto your plate. Repeat this for other crepes.
12 ) In another non-stick skillet..add 1/2 teaspoon of butter and fry your eggs to desired yolk consistency. I like my alittle bit runny.
13) Place the eggs on top the crepes . Eat !!!