Author : Tee Mayberry
Formed in 1976 originally known as the "Easy Cure", "The Cure" was a band formed by school mates Robert Smith "vocals and guitar," Michael Dempsey (bass guitar), and Laurence "LOL" Tolhurst (drums). The band was known for its gloomy dirges and Smith's Goth appearance. The band's ghoulish and gloomy appearance often hid the diversity of "The Cures" music which was an edgy pop sound and slowly transformed into a more textured rock sound. "The Cure" is known as one of the bands that introduced Goth as an acceptable genre. By the time the Gothic style had caught on, which was in the late eighties, the style of "The Cure" had already crossed over in the United States, England and Europe. The band remained a constant concert draw and reliable record seller throughout the nineties. Once "The Cure" had slowed down on releases, their influence could be heard on scores of new bands during the new millennium that had little or nothing to do with Goth.
The cure has released thirteen albums beginning in 1979 and ending in 2008 in which they have sold 27,000,000 albums comprehensively since 2004 with all albums offering a different flair. Though each album offered a different flair, they did stick to the signature sound which they were known for. You could always identify a song by "The Cure" when it started with dominant bass lines; whiny, strangulated vocals; and a lyric obsession that sounded like it was in literal despair.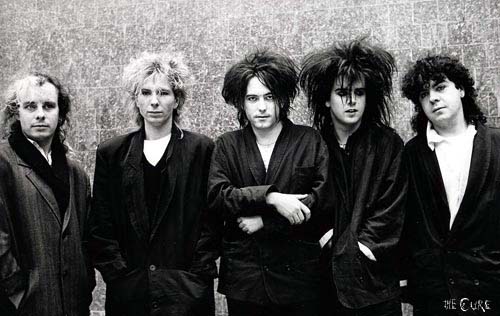 Several references are still taken from "The Cure". A number of films have used the title of a Cure song as the title. Including Boys don't cry in (1999) and Just like Heaven in (2005) The Cure's gloomy image has been the subject of many parodies at times. Robert Smith was also portrayed on the show "South Park" in which he transforms into the form of Mortha and battles Mescha-Streisand to saves the day for character Kyle just before he shouts "Disintegration is the best album ever!" LOL! Best episode ever! Though the great Cure hasn't released a project in a while, they are still referenced in by many musicians and inspire many of their hits today. To find out more about "The Cure" bios, tour dates, and more, check out http://www.thecure.com
Hey Shap! These recipes are getting harder and harder to find for these artist. You may be inspired to do something else for this band but the only thing that I found out about them is that they are meat eaters and they like ribs.

Author : Shap
Well Tee…since The Cure wants some good, meaty ribs..I'll give em' some good meaty ribs..but southern style and with a sweet and spicy kick ! Check this recipe out inspired by the carnivorous tastes of The Cure.
BURN SWEET AND HOT DRIED PLUM CHIPOTLE COUNTRY RIBS
Ingredients
– 4 pounds of Country Style Pork Ribs
– 1 Cup Dried Plums
– 1 Cup Vegetable Stock
– 1 Chopped Yellow Onion
– 3 Tablespoons Honey
– Juice of Two Fresh Limes
– 1 8 ounce can Tomato Sauce
– 3 Canned Chipotle Chile Peppers in Adobo Sauce, plus 2 teaspoons adobo sauce from the same can
– 2 tablespoons Fresh Chopped Cilantro
Directions
1) Preheat oven to 400 F. Place ribs in a large shallow baking pan. Add 1 inch of water to the pan and cover tightly with foil. Bake for 1 hour.
2) Meanwhile, combine all the remaining ingredients in a medium saucepan. Bring to a boil, then reduce the heat and simmer for 15 minutes.
3) Let cool slightly, then puree in a blender or food processor. The sauce should be fairly thick..if not pour back in the saucepan and cook until thickened. Set aside.
4) Remove the foil from the ribs and drain off the water. Bake uncovered for 30 minutes, basting liberally with the sauce several times.
5) Serve ribs with extra sauce and garnish with fresh Cilantro.