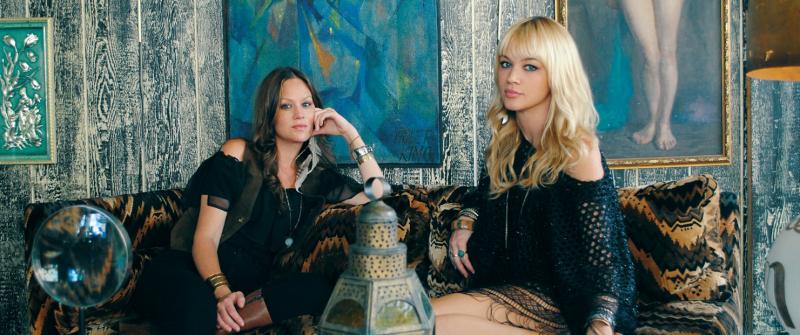 Author: Shap
The Pierces' Alabama roots inspired me to make a great fall dish with a good ole fashioned southern twist. Chicken N Dressing is Southern staple and could possibly be one of the best comfort dishes of all time next to Mac N Cheese. I decided to do something a little different and make some Chicken and Dressing Rolls filled with some nice Country Style Stuffing and serve it up with some fresh lemon sautéed green beans. A perfect dish to countdown to Thanksgiving or curl up and eat when you need some stick to your ribs kinda food 🙂
Scroll down after the recipe and Lara Manetta will school you on The Pierces while you wait for your chicken to bake.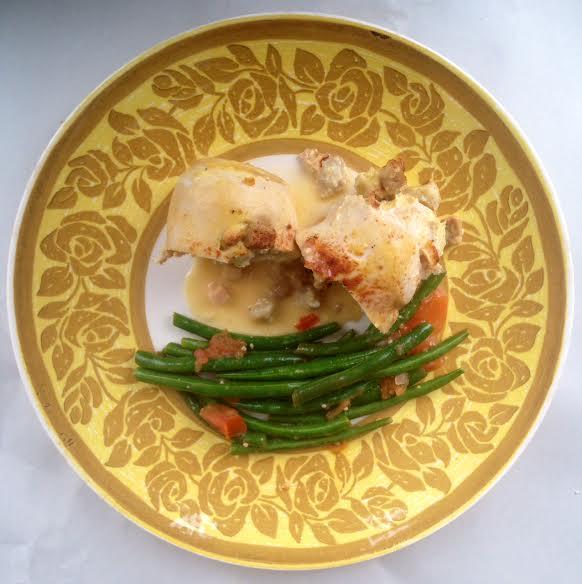 Country Chicken N Dressing Rolls with Lemony Sauteed Green Beans
Ingredients for Chicken
– 2 Cups of your favorite Stuffing Mix for Chicken ( I used Pepperidge Farm "Country Style")
– 2 Eggs , lightly beaten
– 5 Butterflied Boneless Chicken Breasts or Chicken Cutlets
– 1 Can ( 10 3/4 oz) Condensed Cream of Chicken Soup
– 1/2 Cup Whole Milk
– 1 Teaspoon Paprika
Ingredients for Green Beans
– 1 Tablespoon Extra Virgin Olive Oil
– 3 Cloves Garlic, Minced
– 1/2 Yellow Onion, Minced
– 2 Medium Tomatoes, Chopped
– 1 Pound of Green Beans, Rinsed and Ends Trimmed
– 2 Teaspoons Fresh Lemon Juice
– 1 Tablespoon Dry Red Wine
– Sea Salt and Fresh Black Pepper, to taste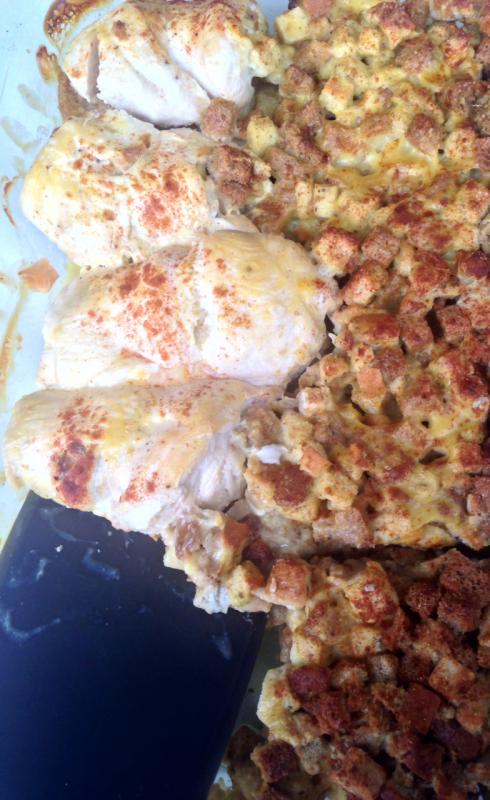 Directions for Chicken Rolls
1) Combine stuffing mix and 1 cup of water. Let stand for 5 minutes. Stir in the eggs.
2) Spread stuffing mixture over the chicken within 1/2 inch of the edges. Roll the chicken from short end close to enclose the stuffing mixture.
3) Preheat oven to 400 F. Spray a 9 x 13-inch baking dish with non-stick Olive Oil Spray. Place the chicken in the pan seam side down. I put the rest of the stuff on the side as an extra since Chris (BF) loves Stuffing but that's up to you.
4) Mix the milk and soup. Pour it over the chicken. Bake for 30 minutes.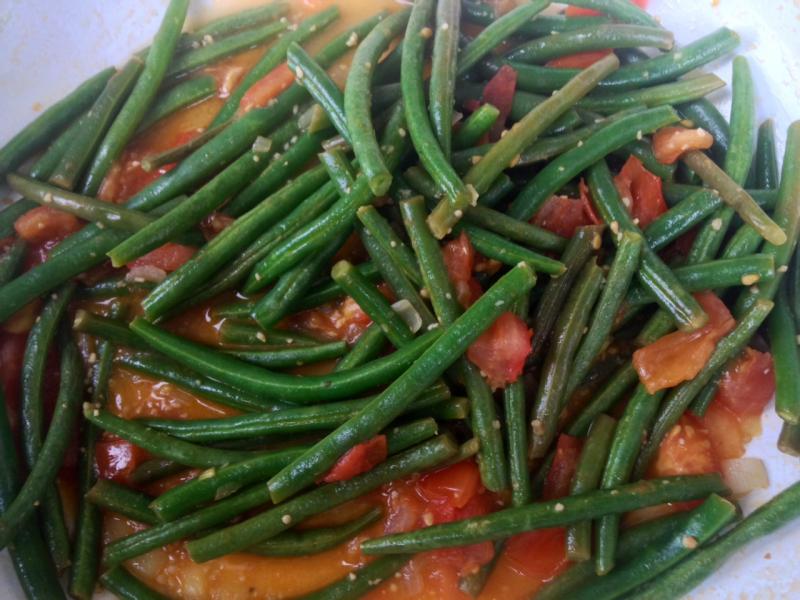 Directions for Green Beans
1) Warm the olive oil in a sautépan over medium heat. Add the garlic and onion and sauté for 3 minutes.
2) Add the tomato, green beans, lemon juice , wine, sea salt , and pepper to the pan. Simmer for 5 minutes. Serve with Chicken Rolls.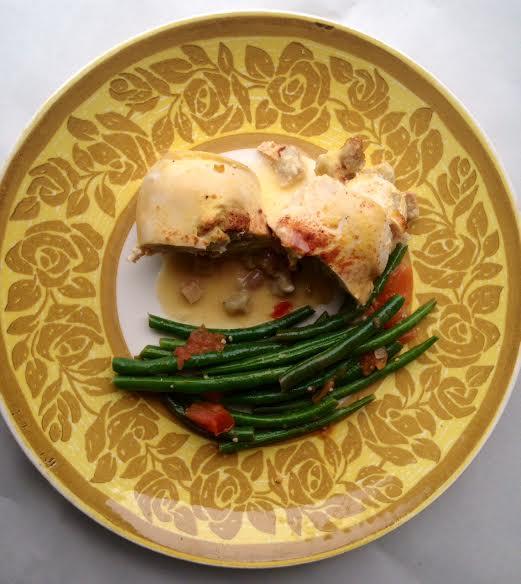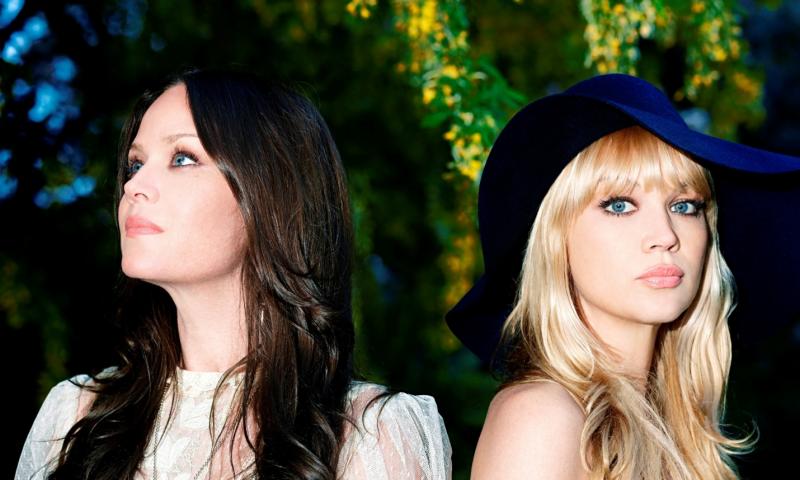 Author: Lara Manetta
I was pleasantly surprised to discover that the fifth offering from folk rock duo The Pierces, Creation, is an increasingly rare and wonderful thing: a cohesive album. Instead of a jumbled assemblage of singles bound by a few filler songs, Creation is a coherent whole that tells the story of the end of one relationship and the unsteady beginnings of a new one. When you sit down to listen, you can actually enjoy an unfolding story.
It's only been three years since their last outing, but, Creation was subject to a number of delays. It was initially due for a 2013 release, but was pushed back when the sisters decided that the songs did not have the emotional impact they wanted. A June 2014 release date was also scrapped in favor of a fall debut for the band's fifth studio album.
The thirteen-track album expands from their noirish folk roots. Tracks like Kings and The Devil is a Lonely Night retain and expand on the slick pop sensibilities that surfaced on 2011's commercially-successful You & I. But, the dark and fey influences that captured my attention on Thirteen Songs of Love and Revenge are still present in tracks like the retro-folk Monsters and the haunting and melancholy Elements. Those are tracks I already have added to playlists for plenty of repeats.
I found it a much safer entry than either You & I or Love and Revenge. But, Creation has plenty to recommend it. The enchanting, entwining vocals, strong lyrical imagery and infectious tunes make this an album I will come back to again and again.