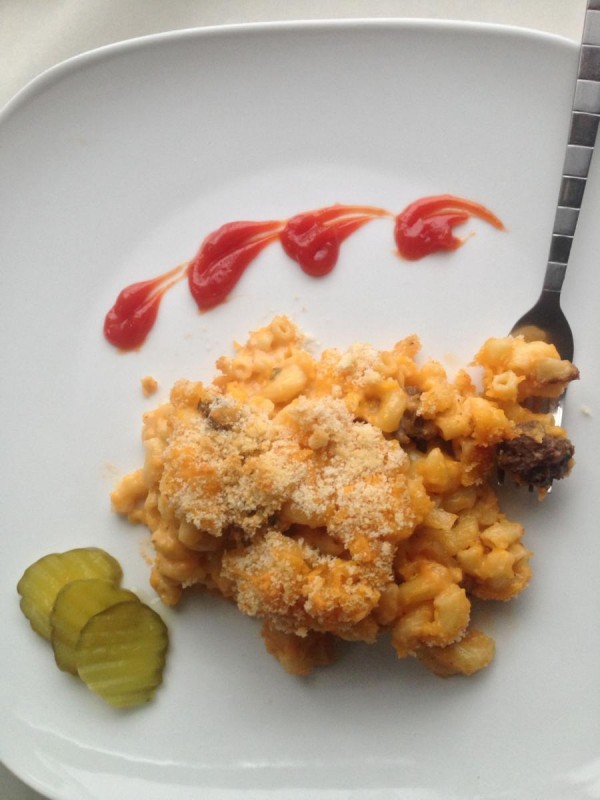 Author : Shap
With the recent release of his video ," Fight Your Fears ", Tom MacDonald is proving this professional fighter turned rapper is one strong contender in the game of Hip-Hop. This video is the first single from Tom MacDonald's upcoming release, "MacBeth", which I personally can't wait to check out. Be sure to scroll down below for our Tom MacDonald inspired Hamburger and Fries Mac and Cheese Recipe.
I recently had a chance to catch up with MacDonald during his busy filming, recording and writing routine in L.A.; and found out just WHO is Tom MacDonald ?
Originally from Vancouver, Tom wrote poetry as a kid and grew his craft under the influence of The Beatles, Janis Joplin and Led Zeppelin. Although,he didn't exactly have the voice for rock ; he channeled his energies into building his craft for the Hip-Hop genre. Self taught in production, lyricism and delivery; Tom MacDonald has worked hard at building his craft and it shows. Most recently writing and recording 85 new songs as well as filming two music videos all in the short span of 7 months. This is an artist who understands the commitment and grind it takes to succeed in the music industry.
I was immediately intrigued by MacDonald's style, which is very different from the stereotypical Hip-Hop artist. MacDonald's perspective on his style is simply " …clothes and music are eclectic.." They reveal the various layers, moods and personalities of an individual and don't have to fit into one compartment. This mentality has served MacDonald well in his music as it allows him to stand out amongst other generic musicians.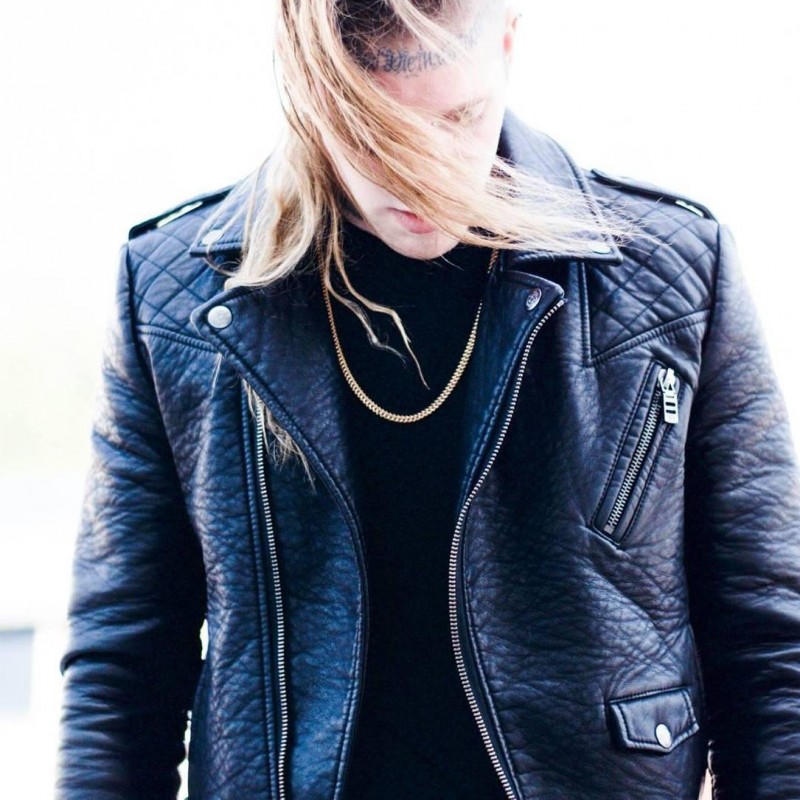 With over 3,000 views in just two days , the "Fight Your Fears" video release has been Tom MacDonald's most successful video release to date. "Fight Your Fears" is intimate, real and I absolutely love the track and message behind the song. It's love but with the real struggles many face in relationships. MacDonald reveals just how in tune he is with the delivery of his music by creating a video that is the perfect compliment to this single. Check out the video below and you'll thank me later.
So what does the future hold for Tom MacDonald ? His goal is to have a strong organic fan base to support himself with his music. Having already toured twice through Europe and a strong confidence in his product, the future looks quite bright for Tom MacDonald. I am positive he will be no stranger to success in music sometime soon.
For all things Tom MacDonald : http://whoismrmac.com
Like Tom MacDonald on Facebook : https://www.facebook.com/TheRealMrMac
Tweet Tom MacDonald @therealmrmac
Check out more Tom MacDonald videos : https://www.youtube.com/user/AllstarTWest
Now on to the food !
When writing and recording, MacDonald does not eat while writing. He is a devout whiskey drinker with Jameson or Jack Daniels being the poison of choice. When it comes to food, Tom MacDonald has some old school favorites including cereals like Cookie Crisps, Corn Puffs and Reese's Puffs. Growing up as a kid, MacDonald fondly remembers his mom's Lasagna, Meatloaf ,Perogies and Pot Roast. Nowadays when touring , MacDonald tries to eat whatever the locals eat. He did reveal however, that even with an open-minded palate, sometimes he gets homesick on the road like when he was in Paris. Sound check went on in an hour, but MacDonald was long gone on the hunt for a good hamburger in the city of Paris, France. He also revealed he is a connoisseur of Mac and Cheese and good quality Rootbeer ; both of which he is always on the quest to find the best.
I decided to fuse two of Tom's favorite things and create the ultimate Macaroni and Cheese recipe by combining hamburger, french fries, mustard, ketchup and pickles right into the dish. With the help of Elle's New England Kitchen, I was able to tweak a recipe to capture Tom's love of these two dishes. I made miniature hamburger patties and home fries to fold into this macaroni and cheese and topped it off with the basic burger trimmings and oven-dried hamburger bun crumbs.
Let me say this dish is absolutely delicious and not your typical Mac and Cheese. It is the ultimate comfort food that easily takes you back to your childhood and will make you forget about being responsible just for a bit. I found it to be the perfect compliment to an artist who stands out yet still appreciates the simple comforts of food no matter where the roads of success take him.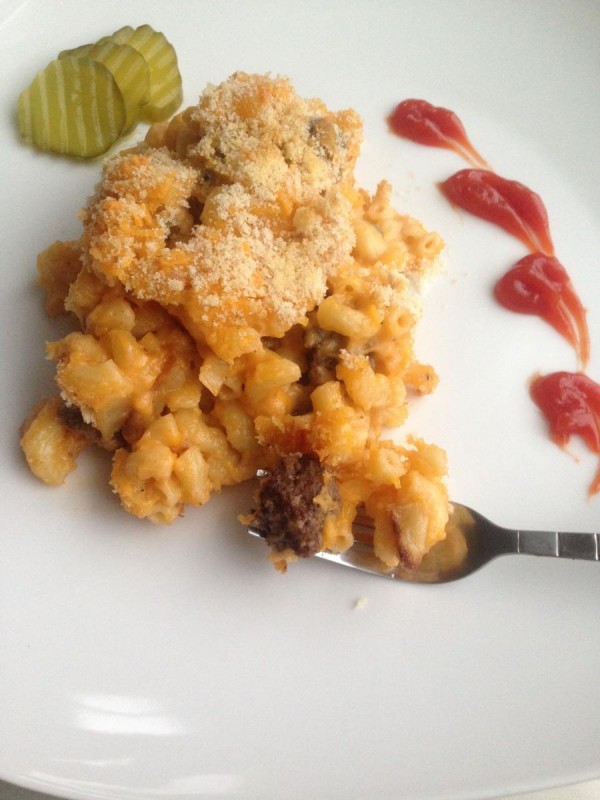 Hamburger and Fries Macaroni and Cheese
Use 9 X 13 Pan
Ingredients
-1 Russet Potato, cut into style of mini home fries or cubes
-2 Tbsp.Extra Virgin Olive Oil
-Olive Oil Non Stick Spray
-Sea Salt
-Freshly Ground Pepper
-1/2 Tsp.Onion Powder
-1/2 Tsp.Garlic Powder
-1 Lb. Organic Grass Fed Ground Beef
-1 Tsp Worcestershire Sauce
-1-16 oz box Elbow Noodles
-1/2 Cup Unsalted Butter ( 1 Stick)
-1/2 Cup All Purpose Flour
-3 1/2 Cups Whole Milk
-1 Lb. Shredded Cheddar Cheese , plus additional 1 Cup for Topping
-3 Tbsp Ketchup , plus additional for garnish
-1 Tsp Ground Mustard ( which I use in regular mac and cheese I make as well)
-1/4 cup Dill Pickle Hamburger Slices, diced plus additional whole slices for garnish
-4 Slices Oven Dried Hamburger Buns ( seedless), crushed in food processor
Directions
1) Preheat oven to 425 degrees. Toss the french fries on a baking sheet with olive oil, sea salt, pepper, and onion and garlic powders. Roast for 25 minutes, tossing the potatoes around a couple of times with a spatula while in the oven.
2) Remove from oven and set aside. Turn the oven temperature down to 350 degrees.
3) While the potatoes are cooking, place the ground beef in a medium mixing bowl. Add the Worcestershire sauce, sea salt and black pepper. Mix well, then form into small meatballs, using about 1 tsp of meat at a time. Flatten each meatball into a small burger patty. Heat up a large skillet on medium-high heat and cook the patties for about 3 minutes on each side. Set aside on plate with paper towel to drain excess oil.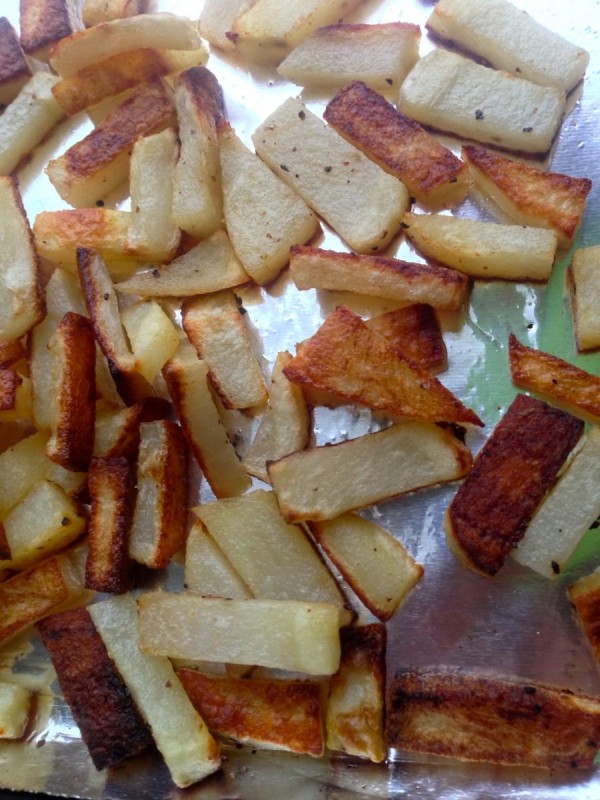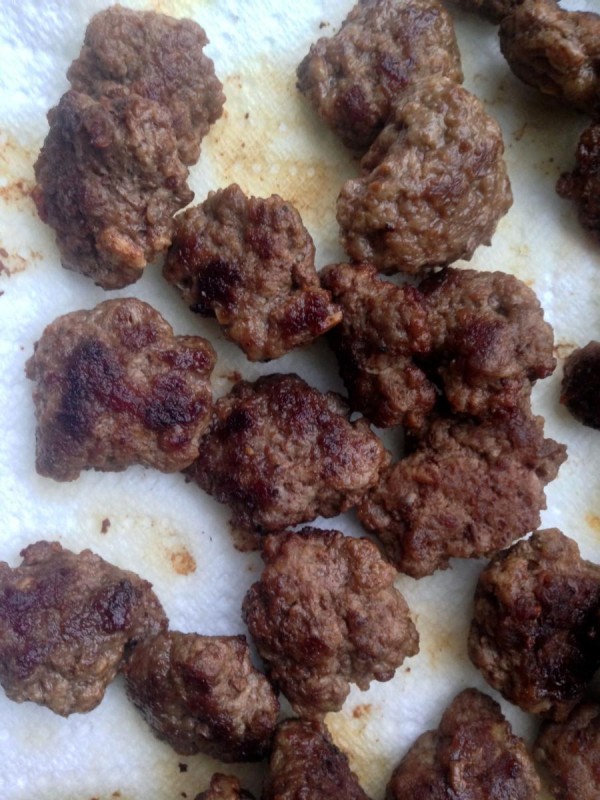 4) Cook the elbow noodles according to box directions to reach al dente, which is usually about 8 to 9 minutes.
5) While the noodles are cooking, melt butter with flour in a medium saucepan. Once the butter has melted, remove from heat and add milk. Then place back on heat and bring to a boil while constantly whisking. Remove from heat and add 1 lb of shredded cheese. Stir until cheese has melted.
6) In large mixing bowl, add cheese sauce, noodles, hamburger, fries, ketchup, pickles and mustard.
7) Spray baking pan well with non-stick spray and transfer noodle mixture to the pan. Top with additional cheese and breadcrumbs.
8) Cook for 35 minutes and 3 minutes on broil to get a nice brown topping.
9) Serve with garnishes of ketchup and pickle.