Author: Zack Madison
Call it rock music or call it country, The Cadillac Three is a southern band with a smoky, bluesy sound and a take no prisoners southern attitude that says they don't care what you call it as long as you sit up and listen. Made up of Jaren Johnston, Kelby Ray, and Neil Mason, The Cadillac Three is a band of Nashville natives known for their unique country fuzz sound and a marked tendency to play foot stomping anthems about their love of the South. You might be familiar with the band from their appearance on ABC's Nashville, where they performed their debut single, The South, or you might recognize the sound of the in your face southern swagger of I'm Southern off of their self titled debut album, The Cadillac Three.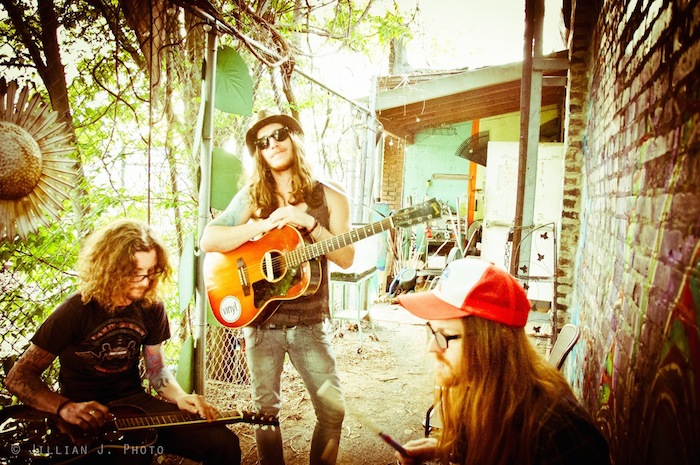 The band just got back from a European tour, and is already off again, joining Jake Owen on his Days of Gold tour, but in between we managed to ask Kelby Ray a few questions about the band and how they operate, and he answered us below with a little help from Jaren Johnston, in this exclusive Lhyme.com interview.
Zack Madison: I've seen your sound described across various websites as rock and as country, but I've heard you prefer to describe it as "country fuzz." Could you tell our readers a little bit about country fuzz, and how it differs from its country and rock roots?
Kelby Ray: Country fuzz actually is a mixture of country and rock, and metal and blues and everything in between. It's just taking all the sounds from the groups we grew up listening to and threw them in a blender and it's just the way the 3 of us sound on stage. It's kind of our own unique sound, so we decided to call it something unique.
ZM: Listening to your music, it seems like you have taken ideas and sounds from different genres, so I imagine your musical backgrounds are wide and varied. What are your strongest musical influences?
KR: Yeah our influences stretch pretty good. We all grew up listening to country and old southern rock. I was a member of the Bocephus fan club when I was 5 (no joke) and had all his tapes. My dad was always playing George Jones in the truck. Jaren listened to a lot of stuff like Garth and Keith Whitley, and Neil was always listening to great songwriters from John Prine to Neil Young. In high school we all got into some grunge and metal like Nirvana, Rage, and Metallica and I was always listening to classic rock like Zeppelin and all that. All those influences come out on stage, and we always like to top it off with a little Tom Petty.
ZM: How did you guys get started as a band?
KR: We started jamming together with each other's bands in high school when we were 14 and 15, hanging out on the weekends, stealing a couple of our dad's beers and trying weed for the first time. You know, all that good stuff. We were all in different bands but always ended up jamming together in local clubs and hanging on the weekends. Jaren and I went to the same high school, and Neil went to school across town but we all had mutual friends. We ended up in a band together not to long after high school and (some of our) college years, and the rest is history.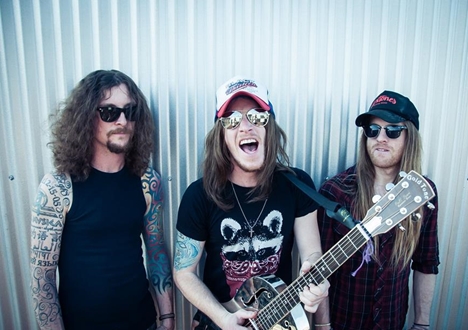 ZM: This may be a sore subject, but I feel I need to ask because I am super curious: you guys used to be in a band called American Bang, but with the departure of your lead guitarist you formed The Cadillac Three as a new band with the remaining members. A lot of bands are practically revolving doors for members, but retain the name for recognition purposes. Why did you guys choose to start with a fresh name instead of continuing on as American Bang?
KR: We've never really been a band of revolving players like so many out there. We felt like the American Bang chapter of our lives was over, and it felt like a new beginning. Our lead guitarist decided to step back, stay home and raise a family, and we didn't feel like it was the same band anymore. We were also taking a slightly different direction, allowing ourselves to incorporate our country influences into our songwriting, and it just felt like a whole different dynamic, hence the new name. We never made a big huge announcement to our American Bang fans, but the true fans kept up
ZM: Jaren, you have written songs for Keith Urban, Tim McGraw, and Jake Owen. When you are writing a song, how do you decide whether it's a Tim McGraw song or a Cadillac Three song? Do you go into the song writing process differently or do you just know when the song is finished?
Jaren Johnston: It's different every time honestly. I try to make a conscious effort to not go into a song thinking " I got to write something that would be great for Keith..," for me it needs to happen naturally and organically. I just try and write the best song possible and if it turns out that Keith, Tim or whoever like it , then great! As far as TC3 songs go, I tend to start with a riff and try my best to put some more personal lyric in it. The way I see it, if I'm gonna be singin' these songs every night , well I damn sure want the songs to have something to do with ME! Haha.
ZM: In the past, you have often used TV to get your songs out in a smart, nontraditional way. You guys played The South on ABC's Nashville, and your previous band, American Bang, recorded Wild and Young, the theme song for WWE NXT. How has it been to interact with the TV world as opposed to just music? Do you guys have any TV performances or promotions coming up that you want our readers to tune in for?
KR: TV is one of the best ways to get your music across to large audiences these days. (And it pays well) We've been lucky to get as much TV love as we have, but it's always fun to hear yourself on a show! Keep an ear out we may have some stuff in the works.
ZM: At Lhyme, we cover the intersection of music and food, so I have to ask: what are your favorite foods?
KR: We all do love to eat. Jaren and his wife love all the local Nashville good eats, and I like to try anything local whenever I get the chance wherever I am. But if we had to answer as a group I can tell you right now the answer would be Mexican!
ZM: You guys are on tour at the moment, which I imagine makes it a bit of a challenge to get your favorites all the time. What do you guys like to eat on tour?
KR: If I have the opportunity on the road away from catering at the venue, which is always hit or miss, I like to go visit the good local spots I can find on Yelp. (Find me at rayrayk.yelp.com) But if we need a consistent home cooked meal we know there's always a Cracker Barrel nearby haha. But seriously we love Cracker Barrel.
ZM: Based on your songs (and your Facebook interests listed as "Music & Whiskey"), I imagine a far more interesting question is: what are your favorite whiskeys?
KR: Always Jack Daniels!!!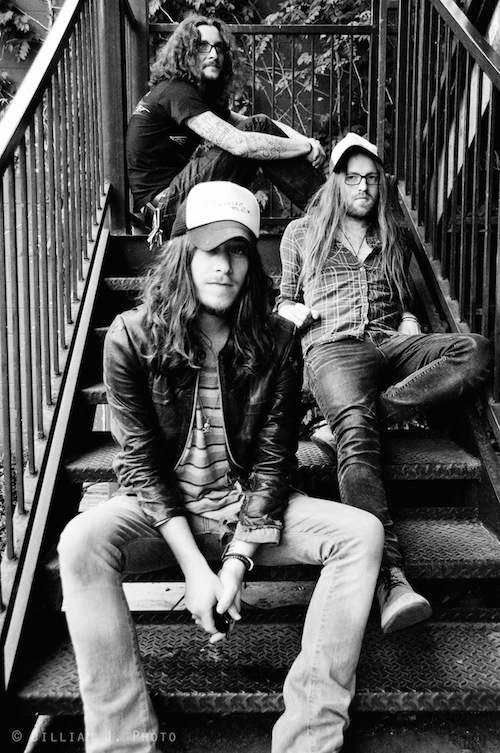 You can find out more about The Cadillac Three at http://www.thecadillacthree.com.
You can catch up with the band online at http://www.facebook.com/thecadillacthree or https://twitter.com/thecadillac3.
The Cadillac Three is on tour right now! They might be coming to a town near you: find out at http://www.thecadillacthree.com/tour/.
We decided to pay homage to The Cadillac Three by combining their two favorite things : Whiskey and Mexican Food ! And what did we come up with ? A Halibut Ceviche that is guaranteed to give you some spice with Serrano Peppers and a nice kick of Jack Daniels Black Label Whiskey. You'll thank us later.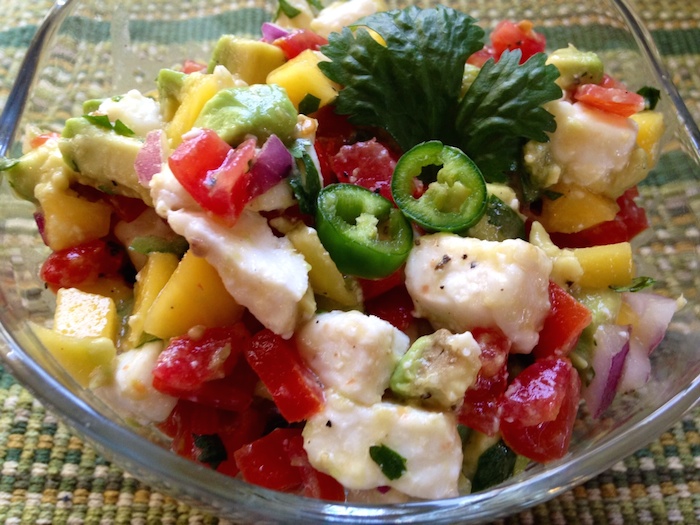 Halibut Ceviche With A Whiskey Kick
Ingredients
– 4 Six Ounce Halibut Fillets, diced into small cubes
– Sea Salt
– Freshly Ground Black Pepper
– 2 Tablespoons Jack Daniels Black Label Whiskey
– Juice of 4 Limes
– 1/4 Cup Red Onion, diced
– 1 Pound Juliet Tomatoes ( Mini Roma Tomatoes), diced
– 1 Mango, diced
– 1 Serrano Pepper, seeded and finely diced
– 1 large Ripe Avocado , diced ( make sure its not too ripe otherwise it will turn to mush when you're mixing the Ceviche)
– 1/4 Fresh Cilantro, Chopped
– 1 Tablespoon and 1 Teaspoon Extra Virgin Olive Oil
Directions
1) Place Halibut cubes in a glass bowl and season to taste with sea salt and black pepper. Make sure the bowl you use is a non reactive bowl for the Halbut as you will be marinating. Stir in Whiskey and Lime Juice. Marinate for 4 hours in the refrigerator.
2) Preheat oven to 350 F. Lightly grease your baking dish with 1 teaspoon Olive Oil and bake the Halibut for 12 minutes. Remove from heat and discard all liquids. Set the Halibut aside to cool for 20 minutes and then refrigerate for 30 minutes.
3) In a mixing bowl , combine the red onion, tomatoes, mango, serrano pepper, avocado, cilantro and remaining 1 tablespoon olive oil. Add the Halibut and gently toss until well incorporated. Be careful not to over toss, it will flake your Halibut and ruin the cube effect.
4) Season to taste with sea salt and pepper. Serve with your favorite tortilla chips.