Author : Zack Madison
All across America last weekend, people were celebrating the independence of their country by blowing up a small part of it. But before they did that, they each had another goal: eat food cooked over an open fire. Barbecues with friends have been a tradition to celebrate Independence Day since the beginning, probably, ever since George Washington invited Thomas Jefferson and Ben Franklin over to finish off his dinner after his wooden teeth broke.
Here at Lhyme.com we mostly celebrate music, but that does not mean we can't celebrate independence, too. In honor of Independence Day, I decided to celebrate the independents: independent bands or artists that create music outside of the standard record label process much like I was creating food outside of the house. I did so by catering an entire barbecue with dishes based on some famed independent artists. Without further ado, here are some tasty cookout recipes you can try out for Fourth of July that also pay tribute to independent bands.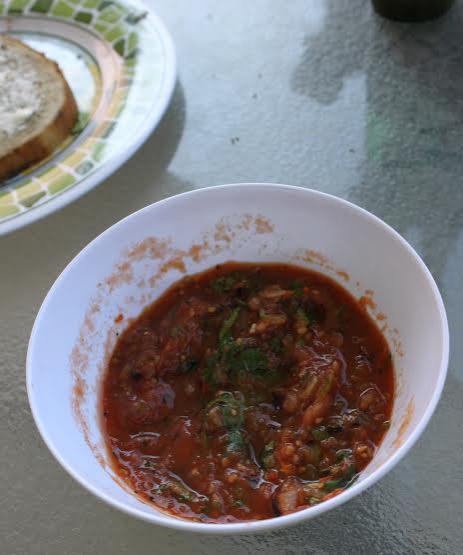 Ocean Breathes Salsa and Chips
Modest Mouse's Good News for People Who Love Bad News is an indie gem: a big hit album from an indie band who then went on to write a song about how having a big hit album destroys your street cred but all in all it could be worse. Their chill, relaxed sound is much like this salsa, a satisfying thing to keep your guests' attention and leave a good taste in their mouths while you fire up the grill and start all of the hot food for your cookout.
6 Plum Tomatoes
2 Serrano Peppers
½ of a Vidalia Onion
5 cloves garlic
A Handful of fresh Cilantro, cut into tiny pieces
Sea Salt to taste, because the Ocean Breathes Salty
Lime juice to taste
1. Stem the tomatoes and peppers, halve the tomatoes, and cut the onion into small pieces. Throw all of that stuff in a roasting pan, and broil it in the oven until the tomato skins brown up a bit.
2. Once everything is sufficiently roasted, let it cool for a bit, then separate out the tomatoes from everything else.
3. Run the onions, tomatoes, and peppers through a food processor, chopping them into big chunks.
4. Once the rest of the ingredients are out of the food processor, don't clean it out. Leave those delicious juices in there and add the tomatoes. Puree them into a paste.
5. In a bowl mix the tomato paste and veggie chunks. Stir in the cilantro, lime juice, and salt. You may want to drop a sprig of cilantro on top and let it float on.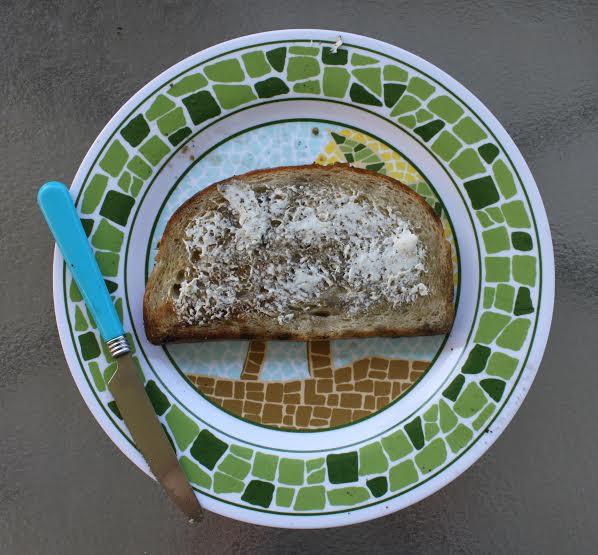 All Hail West Texas Toast with Mountain Goat Cheese
The Mountain Goats might be my favorite band of all time, and probably the hardest to write about, given that for most of their history they were just John Darnielle, making me unsure of which pronoun to use when describing them… him? This includes the period that produced the album All Hail West Texas, which John recorded on a boom box (perhaps the indiest thing one could possibly do). All Hail West Texas just got a remastered reissue last year, and it remains fantastic. Texas Toast, like The Mountain Goats, is both hard and soft in different places, and has a taste you want to savor all day.
Bread, as thickly cut as possible (ok, no more than like an inch)
1 Stick of Butter
1 tsp Garlic Powder
1 tsp Oregano
Goat Cheese
1. Melt the butter, mix in the garlic powder and oregano.
2. Fire up your grill to a medium low heat. Evenly coat both sides of the bread slices with the butter mixture and place directly onto the grill. Flip occasionally. Toast is ready when it starts to get grill lines and crisp up on the outside.
2a. If any slices catch on fire, feel free to sing the "Hail Satan" part from The Best Ever Death Metal Band out of Denton. You can probably still eat them, too.
3. Spread goat cheese over the toast.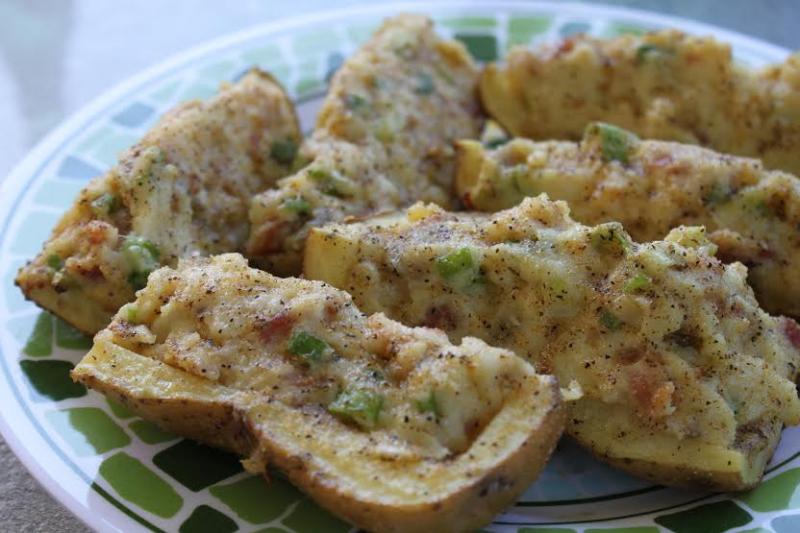 The Offspring Smashed Potato Skins
"The Offspring isn't an indie band!" I anticipate that you are saying aloud right now. This is true, but their album, Smash, is the highest selling album released by an independent label… ever. Once I learned this I felt that it was irresponsible not to honor them in this independent music feast. I originally thought about an OffSpring Rolls appetizer for this, but Smash is more of a crowd pleasing fan favorite, much like a potato side dish.
2 huge Potatoes (you could probably use 4 regular size potatoes, I used huge ones)
4 slices Bacon, cooked and crispy
2 Green Onion, sliced into small pieces
1 cup Monterey Jack Cheese
1. Quarter your potatoes and cook at about 350 for 5-10 minutes to soften them up a bit. Pull them out and let them cool a bit.
2. While they are soft, cut the insides of each potato away from the peel, leaving a thin rind. From now on you've got to keep em separated. Set the skins aside for now.
3. Cut the potato insides into small cubes and boil in a pot with water, then let simmer on low heat for 10 minutes.
4. Smash those newly soft potato interior pieces. Crumble up the bacon and mix that in, along with the onion and ½ cup of the cheese.
5. Spoon the smashed potato mixture back into the potato skin rinds from earlier, and try to approximate their original shape, because aesthetics are important.
6. Mix olive oil, pepper, onion powder, and garlic powder in a small bowl.
7. Fire up your grill on medium low heat. Brush olive oil mixture onto potato skins, then cook on grill until the outsides of the peel start to get crispy.
8. Sprinkle remaining cheese over the loaded potato skins after they come off the grill.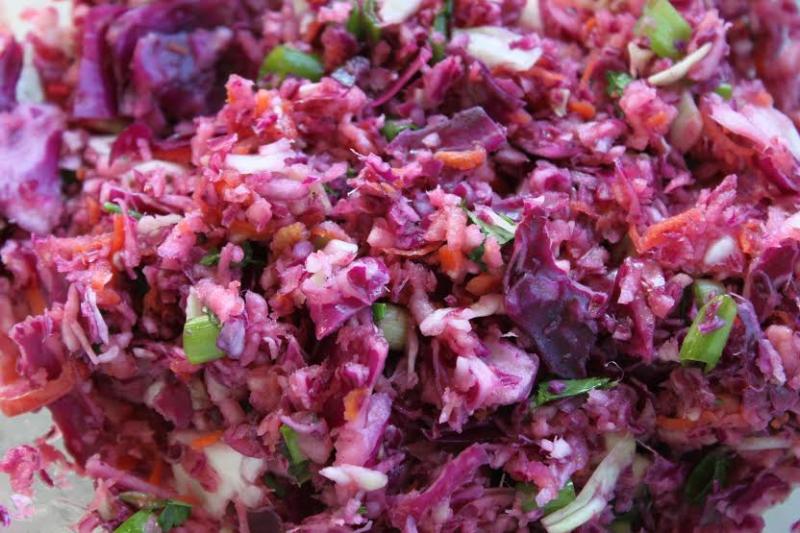 Slaw Bells
Sleigh Bells is a pop punk band in reverse, a punk pop band if you will. Instead of taking ideas from pop music and using it to refine punk rock, they do the opposite, taking guitar shreds and rebellious shouts and weaving it into some crazy web of electro pop music that gets your blood pumping and leaves you screaming for more. Clearly they were crying out for a dish that emphasizes their crispness and tanginess, while sporting a neon purple color scheme that might look garish to some but is obviously the height of fashion to the rest of us. I give you Slaw Bells. (NOTE: I don't know much about slaw, so this is heavily based off a much more thorough recipe found online here)
1 cup Green Cabbage
2 cups Red Cabbage
3 chopped Green Onions
1 cup Sliced Carrots
1 sliced up Gala Apple (it's always a gala if Sleigh Bells is involved)
¼ cup chopped up fresh cilantro
2 tbsp Olive Oil
2 tbsp Honey
2 tbsp Apple Cider Vinegar
1 tbsp Lime Juice
¼ tsp Salt
¼ tsp Black Pepper
¼ tsp Red Cayenne Pepper
1. Combine the sliced up cabbages, onions, carrots, apple, and the cilantro in a large bowl. Mix them up.
2. Combine the remaining ingredients in a small bowl and mix thoroughly to make the vinaigrette.
3. Pour the vinaigrette over the shredded veggies, then do what we do to all good music: remix.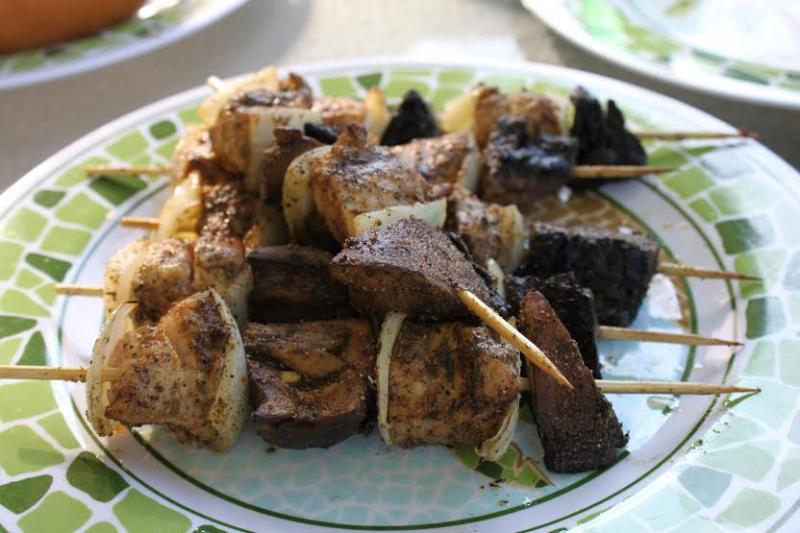 Death Kabob for Cumin
Death Cab for Cutie is one of the quintessential indie rock bands in my opinion, not only because of their do it yourself attitude and beginnings as a solo act without a major label backing them, but because their sound has been so thoroughly sought after by so many other bands in the genre. There are a million bands that want to be Death Cab, and none of them are. This kabob will be good and spicy, which is not really how I would describe Death Cab's sound at all, but, umm… maybe it is an emotional burn?
1 Chicken Breast
1 Portabella Mushroom
½ of a Vidalia Onion (You might still have half left if you made Ocean Breathes Salsa. What a coincidence!)
2 tsp Cumin
2 tsp Ground Red Cayenne Pepper
2 tsp Ground Black Pepper
2 tsp Chili powder
2 tsp Garlic Powder
2 tsp Cilantro
2 tsp Thyme
1 cup Olive Oil
1 tbsp Lime Juice
1. Mix up 1 tsp of each of the spices, ½ cup of olive oil, and the whole tbsp of lime juice to make a marinade. Cut the chicken into large chunks and let marinate in this marinade overnight. If you listen, this is the sound of seasoning.
2. Cut the mushroom into large chunks, and the onion into chunky slivers.
3. Construct your kabobs as follows: onion -> chicken -> onion -> mushroom. The onion around the meat will help to flavor the chicken.
4. Mix up the remaining seasonings and olive oil, this time without lime juice, to make a seasoning mix.
5. Place the kabobs on the grill over medium low heat, and brush on seasoning mix. You may have realized that I like medium low heat.
6. Rotate kabobs every 2-3 minutes, they should be done in about 10. I brush additional seasoning mix on when I rotate the first couple times.
7. Tell your guests they are free to push everything off the skewers and eat with a fork, or bite it all off with their crooked teeth.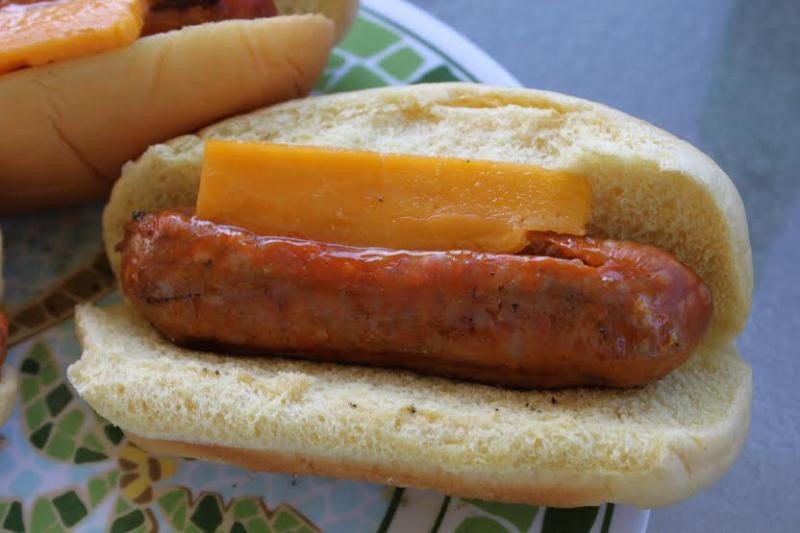 Chedward Sharpe and the Majestic 'Rizo's
According to that graphic showing the distinctive bands by state for the US that went around the internet a few months ago, Edward Sharpe and the Magnetic Zeros are THE distinctive band of Pennsylvania, where I live. This would come as a surprise to my cookout guests, who had apparently never heard of the quirky indie folk gospel group. It's their loss, although perhaps it was all a ploy to get me to not go on about how I still can't believe Edward Sharpe is the same guy from Ima Robot. That is probably another article, though. In their honor, we are making chorizo, and let's be honest, it's mostly because I love that Zeros and 'Rizo's are pronounced the same but with the consonants swapped.
Martin's Hot Dog Rolls (So Pennsylvanian (Yes, I know the band is from California))
Chorizos
Sharp Cheddar Cheese
1. Look folks, I'm not gonna lie, cooking a chorizo on a grill is not rocket science. It is molecular gastronomy, I think. Put it on the grill, rotate every once in a while. Avoid becoming a Man on Fire.
2. When the chorizo is done, cut a slit into it and cram the cheese in there. Place it on a bun. If done correctly, it will look like it has a mohawk. ROCK MUSIC.
3. That's it. If you still have some left, we had luck adding a little Ocean Breathes Salsa and making an indie rock double feature chili salsa dog, which I am henceforth dubbing a Split 7 Inch.
It was all delicious. Don't believe me? I have some testimonials written by actual humans who may not actually have these names, but have actually consumed these foods and not just survived, but thrived:
"The Chedward Sharpe and the Magnificent 'Rizos was complemented by the Ocean Breathes Salsa in a very unexpected way! After sampling the various concoctions cooked up by the author, I truly feel as though I am the Gourmandest Mouse." –Horatio Sobriquet
"I COULDN'T STOP EATING! THE COLESLAW WAS MAGNIFICENT" –Stevii Nicks
"The food was great and the names were good fun. I wish I had eaten more Death Kabob for Cumin, but I was stuffed! They Might be Giant™ brand chorizos, but they were superb." –Justin Timberlake
"My stomach is full, my eyelids are heavy. I am slowly slipping into a food coma. A coma of such epicness that hasn't been felt since the likes of Terry Schiavo" –Eric Griffin
If you aren't completely stuffed after all of that, I don't know what else to feed you. I hope you enjoyed this tasty tour of indie rock, and I encourage you to try some of these recipes yourself, even if it's not the Fourth of July. It's never too late for fireworks in your taste buds.